Ross Martin, a former poetry doyen, now Viacom Executive Vice President of Marketing, Strategy & Engagement-- builds bridges between the corporate world and the artist's expression, rendering beauty and thought to the lobby of Viacom.
After attending a few of Viacom's art installation previews, I wanted to know more, so I asked some questions people from either universe would like to know. I sincerely hope that more corporations follow Viacom's lead; to integrate other worlds with voices awaiting to be seen and heard in corporate lobbies, staircases, elevators, wherever...Increasing our awareness of how the science of aesthetics effect our everyday lives. Since our society sometimes seems estranged from organic, unique, real time experiences, it is important for people to take a moment to smell the roses before turning on their computers and getting on conference calls. As for artists-- expression is everything and appreciation is a fragrance everyone loves.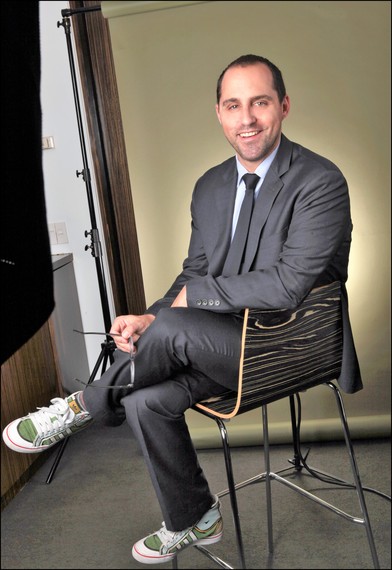 How did you get started creating these shows for Viacom?
We launched Art at Viacom a year ago to curate immersive conceptual design experiences in our offices in New York, Los Angeles, Miami and around the world. Viacom is a creative community that thrives on artistic expression. It's been incredible to see how deeply the thousands of people who work here have embraced the idea of collaborating with fine artists, using our own work-space as a platform for amplifying their work.
How do you pick your artists?
At first, we relied on colleagues across the company to recommend artists they love. Once we began reaching out to the artists, we were blown away by their response. They come to visit and see our space, then they share their creative vision with us. In 2015, we launched our first big exhibition, "Flowers: Inside Out," by British artist Rebecca Louise Law. Artists from around the world saw it and began contacting us. Rebecca really set the bar high; she inspired people.
Art at Viacom brings our employees that much closer to a diverse range of artists, all working across different mediums. I can speak for my colleagues when I say we really enjoy discovering and supporting artists together as a creative community. It's a team effort, we're always looking for great talent.
Usually, I'll be in the elevator or our cafeteria or one of our lounges, and someone will come to me and ask, "Hey, have you heard of this artist who just did this thing in Tokyo?" It usually starts something like that.
We give artists a unique platform for their work, and we also design a deeply collaborative, creative process with each artist that includes how they'll work with and involve our employees in their exhibit.
What are the financial perimeters for these shows?
We work in service of creative ideas, and we won't stop until we've done everything we can to empower creative people to bring their vision to life. We favor projects you're less likely to discover in a traditional gallery or museum space, work that challenges our own assumptions and provokes us to think differently. We champion artists who connect with our creative culture, who dive in and get to know the incredible people and work that goes on here.
Does the artist write up a proposal?
Yes, each artist spends time in our space, and they get to know the unique culture of creativity and innovation at Viacom. They embed themselves, they get to know us, and that informs and inspires their work. They propose projects that reflect their creative vision. We encourage our artists to try something they've never done before, to stretch themselves in new ways. That leads to fresh, provocative work.

How many shows per year do you do?
We go big with at least 4 large-scale installations a year. Each one's different and wildly intricate, so we approach projects with a very fluid schedule to accommodate the entire creative process.
Last year we welcomed Crystal Wagner with her winding, plastic and wire creation titled "Wild Efflux." Before that, Rebecca Louise Law had her first U.S. show with us - a floral, overhead suspension of 16,000 flowers called "Flowers: Outside In." We kicked off 2016 with the Emmy award-winning artist, HOTTEA. His massive yarn installation, called "Telephone," is his most ambitious project to date. There's still so much more to come, this year.
That said, Viacom has a collection of thousands of works of art, collected over the past 30 years. Much of it hangs in our offices around the world, and we love it. Soon we will be announcing a partnership between Art At Viacom and the new Viacom Lab, a project that will for the first time catalog and make it all available for people to search, discover and experience themselves.
What is the time frame for the installation to be up?
We showcase the work of our artists in residence for a couple of months each. Timing is also determined by the installation and the materials used - for example for Rebecca Louise Law's installation we used fresh flowers so that impacted the length of the show.
Do artists solicit you?
For the past three installations, we reached out to artists we admired and thought had a trans-formative quality that would work well within our space and our creative culture. Lately, we've been excited to hear from artists around the world who want to work with us, and Art at Viacom continues to build momentum.

What has the buzz been like when shows open?
We've received such a powerful response to the program both internally and publicly. It's amazing to see the look of surprise and delight when people experience a new project for the first time.
The biggest surprise, though, is how attached we all become to the installations. For example, people loved Crystal Wagner's installation so much, we kept it up a month longer than we'd planned. Then, Crystal came back and carved a large section of her piece and moved it to its permanent home on the 7th floor of our Times Square office.
People were so blown away by Rebecca's flower installation, she returned from London to curate dioramas in glass displays that we sent to our offices around the world for permanent display.
How much of the space are they given to use?
We work with each artist to understand what they want to create and the space they need to create it. From our entrances, lobbies, the visitor's center and more, there's ample space across multiple floors to work with. Partnership is key to the design process and determining the spaces to activate in, because we are creating art in the heart of a fully functioning office building with thousands of employees.

Do you have any advice for other companies who would consider presenting art projects?
My advice would be to let the artists be who they are and don't be afraid to experiment. The only way to figure out the best way of presenting art, especially within a corporate space, is simply to be open to trying new things.

Any plans for the future?
I hope to continue to build on the incredible support for the program, and encourage everyone to follow the creative journey on Instagram and Tumblr
REAL LIFE. REAL NEWS. REAL VOICES.
Help us tell more of the stories that matter from voices that too often remain unheard.