I've spent a good deal of time rolling my eyes whenever my friends and colleagues in the food and travel media show their ignorance about Dallas by referencing stereotypes that might just as easily be applied to anywhere in Texas, so I'm not about to do that here. For, not only is Dallas very different from any other city in Texas, including nearby Fort Worth, it is now the state's most diversified, having weathered both the recession and the recent drop in oil prices far better than other cities so intimately tied to the oil industry.
Texas needs no apologists. Hell, its favorite sons and daughters carp loudly enough to drown out the city's rampant boosterism--none more than the late Dallas-based Molly Ivins, who once said, "I dearly love the state of Texas, but I consider that a harmless perversion on my part, and discuss it only with consenting adults." Indeed, I've found Dallasites far more introspective about themselves and their city than a boom town mentality requires.
Now that it's springtime and the blue bonnets are blooming, it's the ideal time to visit what I wincingly will call, just once, Big D, for come summer, the weather gets brutally hot and as humid as Guatemala. Right now the Texas sun's brightness makes the whole city gleam, nowhere more impressively than in the Dallas Arts District--the largest in the U.S.--lined with the Dallas Museum of Art, Nasher Sculpture Center, Crow Collection of Asian Art, and the Winspear Opera House, whose architects include international masters like Edward Larrabee Barnes, Renzo Piano, I. M. Pei, and Norman Foster. In fact, the sun gets so intense that the reflective glass from a building across from the Nasher has been damaging the statues.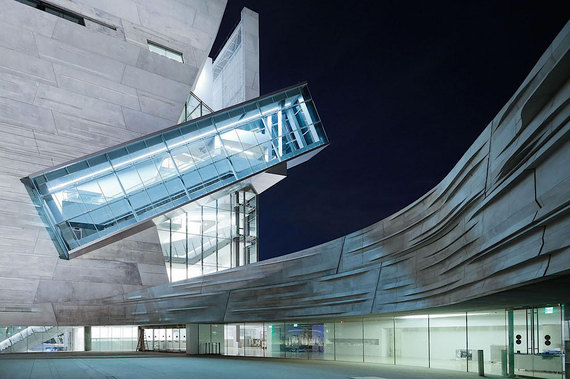 Not far away is the stunning Perot Museum of Nature and Science (above), founded with a $50 million gift from the children of hi-tech billionaire Ross Perot and built by Pritzker Architecture Prize Laureate Thom Mayne as a cube of pre-cast concrete panels on whose façade a tilted 54-foot escalator runs within a 150-foot glass-encased tube.
Such spaces of course beg for major arts events, which include Broadway shows at the Opera House; an adaption of Jane Austen's Sense and Sensibility at the Dallas Theater Center; and staged readings of the Complete Works of William Shakespeare at the AT&T Performing Arts Center. There is also the funkier Bishop Arts District, composed of 60 boutiques, eateries, cafés and art galleries, which hold upcoming events like the Brew Riot (May 17), the Wine Walk (June 4), and the annual celebration of Bastille Day (July 14) with a mussels competition, outdoor markets, wine tastings, Vespa rally, crêpe stands, pétanque courts, French music, and dancing.
The architecture of downtown, which three decades ago included fine examples of the post-international style, is again gaining stature from a slew of new buildings soon to be topped off. This is Texas, however, so size matters, especially when Dallas comes in as the fourth-largest metropolitan area in the nation, with a population of 1.2 million people. Odd then, that at midday, you could throw a horseshoe down most streets and not hit anyone. By comparison with New York, Chicago or Boston, Dallas can seem something like a ghost town, even if traffic coming into the city in the morning can be irksome. DFW Airport is a royal pain to get to, but Love Field is fifteen minutes from downtown.
The city fathers, led by a progressive Democrat mayor named Michael Rawlings, proudly boast that Dallas is the number one tourist destination in the state, with 14 entertainment districts, and that its diversity comes from 18 area Fortune 500 companies, which include AT&T, Southwest Airlines, Texas Instruments, and Wal-Mart, as well as Exxon-Mobil.
Everything here is measured by factors of being the tallest, biggest, widest, deepest, and most-est, including the kitschy totem of "Big Tex," a 52-foot statue of a cowboy at the entrance to the State Fair of Texas. With the roof closed, the Statue of Liberty, torch and all, could fit into Cowboys Stadium. The Galleria is home to the country's largest indoor Christmas tree. The largest permanent model train exhibit in the country is on display in the lobby of the Children's Medical Center. When completed, the Trinity River Corridor Project will be more than 10 times the size of New York's Central Park. They even brag that Dallas is the largest metropolitan area in the nation not on a navigable body of water. And, of course, the city is home to five pro sports teams--the Cowboys, the Texas Rangers, the Stars, the Mavericks, and FC Dallas soccer.
The Dallas entertainment and food scene is exploding right now, and next week I'll write about where to stay and eat in town.
By now I think you should have gotten my drift on how the city trumps all stereotypes lodged against it as some relic of that trashy eponymous TV show that was at first filmed out at the Southfork Ranch (you can still visit it) but later shifted production entirely to a Hollywood studio lot. Indeed, if I'd take the name "Dallas" out of this article, one might not think I was speaking about a city in Texas at all.
One of the enduring reminders, however, of the Dallas of another, darker era is the stretch of Elm Street at Dealey Plaza, site of the assassination of President John F. Kennedy by Lee Harvey Oswald, who fired a rifle from the sixth floor of the Book Depository Building above the route. Everything is still pretty much as it was on that grim afternoon of November 22, 1963--two "x's" mark the spots on the route where the bullets hit Kennedy, and the infamous grassy knoll is still there. And the Book Depository now has a museum devoted to the event.

Talk to any ten Dallasites and you'll still, after all these years, get ten different stories of what happened that day, ranging from yarns about numerous shooters at every angle to the notion that Oswald was really trying to kill Texas Governor John Connolly. The whole ghastly story has become part of American folklore, but, when you're standing right there,where it always quiet, it still carries the power to make your heart sink.
A few blocks away a somber, colorless concrete monument to Kennedy by Philip Johnson sits on Memorial Plaza. Intended to be a place for quiet reflection, the monument is stark, without any sense or reminder of the President himself, whose assassination tainted Dallas's image for decades.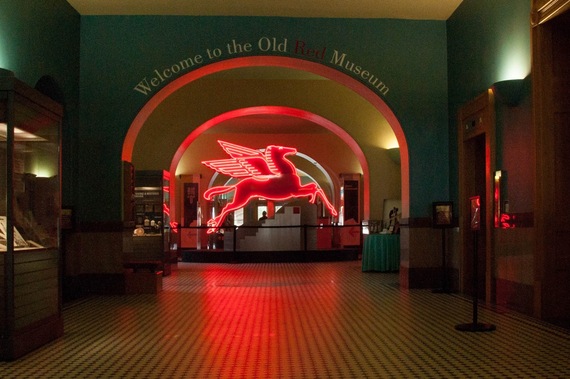 (Photo by Rick Turner)
Which is why I recommend going next door to the Old Red Museum of Dallas County History & Culture (above)--a splendid red sandstone Victorian structure dating to 1892 as the city's original County Courthouse. Today it is a museum of wide-ranging exhibits (through June 8 it has a show of "The Architectural Styles of Dallas"). But what I love most about this beautiful space is the oversized (of course) neon sculpture of Pegasus, the flying horse of Greek mythology that was once the icon of Mobil Oil (formerly Magnolia) gas stations. Displayed in a large room with an arching ceiling, it glows with a fiery symbolism that seems as much Texan as it is Hellenic.

What's more, the original porcelain and enamel Pegasus, created in 1934 to sit atop the Magnolia Hotel, has been again mounted for everyone in Dallas to see, hoisted onto an oil derrick-like structure outside the vast Omni Hotel. Watching the shiny red horse turn slowly, like a weather vane, you'll get a true sense of where Dallas came from while imagining which way it goes from here.