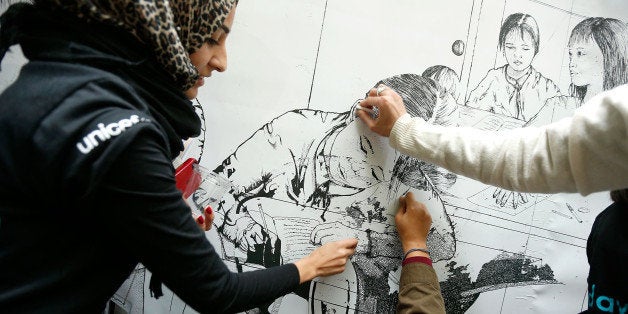 It's a universal truth that access to both knowledge and support in achieving one's goals can make a significant difference in life. So this year, for International Day of the Girl, I wanted to reflect on the tremendous opportunity we have to make a difference in the lives of girls everywhere through education and by providing support for their healthcare needs. Indeed, the recently-enacted Affordable Care Act allows those of us in the medical field to provide proper access to both patient education and medical care -- a huge step in the right direction for millions of girls who might otherwise have neither.
I have seen firsthand what happens when girls in need fall through the cracks. Sadly, many families suffer from severe stresses resulting from conditions such as poverty, unemployment, lack of access to healthy foods and substance use and alcoholism -- facets of life that deplete their ability to maintain a nurturing environment.
And yet, there are other, more terrible factors. At the Mount Sinai Adolescent Health Center in New York, where I work, approximately 25 percent of our girls and young women have been sexually abused, and nearly seven out of 10 have experienced some type of trauma.
What can we do about this epidemic?
Positive, skillful interventions at any point can make a major impact so that not all abused and neglected children experience problematic outcomes. Such interventions can only happen if a child has access to high quality, age-appropriate medical and mental health care. By engaging young girls in a long-term, positive relationship with the healthcare system -- as well as helping to give them access to education -- we truly can ensure a nurturing presence in their lives.
Access to high quality health care and health education, including sexual and reproductive health, is essential for the fulfillment of the promise with which each girl is born. In early childhood, regular medical care, including immunizations, provides a healthy foundation for life, while allowing for the detection of health and behavioral issues that can be improved or alleviated through early intervention.
Our society must ensure that we create services in which caring and responsible adults can provide a nurturing role. Having a caring adult involved in their lives over the long-term is a protective factor even for those who have suffered severe trauma.
Once in our care, we as medical professionals, parents and caregivers have an obligation to listen to our patients and children with an open mind, and an open heart. Girls are full of promise, and when we give them a confidential, respectful, non-judgmental and safe forum in which to share their lives, we gain their trust. This allows us to provide a supportive and nurturing presence for them.
When we educate girls on their health, they feel empowered to take responsibility for their choices, to hold their wellbeing in high regard, to stay in school and to become productive adults, and to involve their parents and caregivers in meaningful dialogue.
The city of New York recently launched a public awareness campaign not just aimed at empowering girls and bolstering the self-esteem of young women -- "I'm Beautiful The Way I Am" is the tagline -- but it's also geared towards fighting back against societal expectations of how young women should appear, dress and act.
It is precisely this kind of forward thinking that we need to help ensure our girls continue to lead healthy lives -- and safe lives, too.