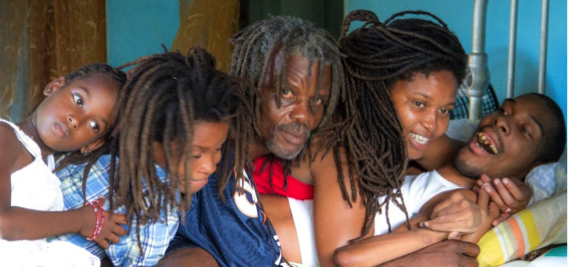 Glendon with sister Giselle, father Noriga and his nephew and niece
The Plumfund Story: My Second Family in Trinidad & Tobago
In 2011, I moved to Trinidad & Tobago to pursue an employment opportunity that would keep me in the country for a year. Within the first two weeks after my arrival, a friend introduced me to a local family; Noriga, Veta and their children Giselle and Glendon. Without hesitation, the family opened their home to me making me feel like one of their own. Never in my life had I encountered such a positive and supportive group of people. Every few weeks I would travel south to conduct research as part of my work there and they would house and feed me without ever expecting anything in return or asking for compensation.
Noriga worked as a minister, after-school tutor, and community organizer for most of his life. Noriga and his wife, Veta, weighed their options and made the difficult decision to leave the church and return to agriculture, Noriga's first occupation, to provide for their family despite facing rejection from their families. The couple struggled to survive and raise their two children, one of whom is disabled. Glendon was born with cerebral palsy and Veta has devoted her life to looking after him. Glendon cannot speak nor use his arms or legs, but understands and communicates with his eyes and frequent laughter. Government support and access to good health care has been limited, which has placed an even heavier burden on the family. Yet they never complained or spoke ill about anyone, and always remained grateful and worked hard. Even after my year in Trinidad & Tobago came and went, they remained in contact with me and continued to treat me as their own with frequent communication and check-ins.
This past February, we lost Veta, Noriga's wife, to stomach cancer. The first thing Noriga said to me when he delivered the devastating news was, "It's amazing, you can live your whole life and not know you were among an angel." Knowing they may never know how grateful I was to have their support while I lived in an unfamiliar place, I wanted to do something to express my gratitude. I decided to start a plumfund to help ease their difficult time and attempt to re-pay them for their kindness toward me.

Plumfund Giving in Action: Glendon's New Life
My goal was to raise enough to purchase a reclining wheelchair for Glendon so he could travel to and from the farm and the beach—two places he loves dearly—and easily visit with relatives. The chair would also allow Noriga and Giselle to continue working together on the farm and financially support the family.
In just three weeks, the plumfund has raised more than $3,300. I am overwhelmed by the love and support of friends and family who want to help give a better life to a family desperately in need. With the funds we are raising, not only will we be able to purchase this equipment, but Glendon will also receive a year's worth of diapers, new padding for his bed and a dental visit. Should we exceed the goal, we will be able to get dental appointments for the whole family, purchase necessary water filters, fix their leaking roof, and build a greenhouse for the farm.
Today, the family pushes forward by transitioning a large portion of their farm from chemically treated produce to more desirable organic practices, and by ensuring that the grandkids stay on track with their education. Glendon is cared for and loved by his father and sister and I think of him every day, knowing how much he will benefit from these gifts. We are so close to reaching this goal and I am looking forward to wheeling Glendon all over town when I visit him next in February.
This post is part of a series produced by The Huffington Post and Plumfund, in conjunction with Giving Tuesday. In the series, we'll feature inspirational stories of giving and receiving from users and friends of Plumfund, the free crowdfunding site. You'll find one post every weekday in November leading up to Giving Tuesday. To learn more about this campaign or start your own, visit Plumfund.com.
Calling all HuffPost superfans!
Sign up for membership to become a founding member and help shape HuffPost's next chapter