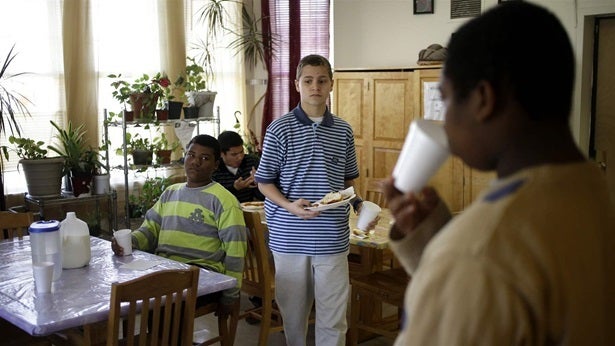 Back in the day, they called them orphanages, a place for kids who had nowhere else to go. Today, they're called "group homes," and while their use has decreased over the years, they're still very much a part of the U.S. child welfare system: 1 in 7 foster children lives in an institutional setting.
Recognizing that children fare best when they're living at home with a family, child welfare officials have pushed to minimize the use of group homes. And a new federal law — the biggest reboot of the foster care system in nearly 40 years — will place even greater restrictions on their use.
The Family First Prevention Services Act, signed into law in February, caps federal funding for group homes for the first time. Previously, there were no limits, child welfare experts say. Now, the federal government won't pay for a child to stay in a group home longer than two weeks. Exceptions would be made for teens who are pregnant or parenting and children in residential treatment programs offering round-the-clock care.
California and New York opposed the legislation, saying the group home restrictions were too narrow. New York state officials worry the limits on federal group home funding will cost counties too much money.
The group home provision follows a 2015 U.S. Department of Health and Human Services report showing that 40 percent of foster teens in group homes had no clinical reason, such as a diagnosed mental disorder, for being there rather than in a family setting. Child welfare experts saw this as more evidence that group homes were being used as a first, rather than a last, resort.
"From a strictly philosophical perspective, there are certainly states that hold the belief that well-run, congregate care for kids is at least as good as a mediocre family — or better," said Carroll Schroeder, executive director of the California Alliance of Child and Family Services, which advocates for child welfare agencies in the state.
But in California, Schroeder said, most child welfare officials believe that residential care should be reserved only for those youth whose needs for care and treatment cannot be met safely and effectively in a family setting.
"Our goal shouldn't be to increase the number of good institutions," he said. "But to increase the number of good foster families."
Wide Variation
About one-quarter of all states rely heavily on group homes. For them, the new law will mean dramatic changes, including caps in funding and new standards of care for group home providers, such as 24/7 nursing and clinical staff on site. States with programs that don't qualify under the new rules will have to either shut down or foot the bill with no federal support, child welfare experts say.
Each of those states has its own peculiar circumstances that, collectively, contribute to the wildly disparate use of group homes across the country, child welfare experts say. Even within states, the number of group homes varies across counties, according to a 2016 report by Chapin Hall, a child welfare research branch of the University of Chicago.
Colorado, Rhode Island, West Virginia and Wyoming have the greatest percentage of foster children living in group homes, according to a 2015 report by the Annie E. Casey Foundation, a Baltimore-based child welfare research and advocacy group. Around the country, however, the number of children living in group homes has decreased by about 20 percent since 2009, the Chapin Hall report found.
For some states, the use of group homes goes back centuries, at a time when faith-based orphanages took in children, in part, because out-of-wedlock births were considered scandalous and poor parents were deemed unfit. For other states, such as Colorado and North Carolina, group homes are part of an entrenched business model.
"About one-quarter of all states rely heavily on group homes."
And for still others, it's a lack of infrastructure: Some states don't have the computer systems in place to quickly find appropriate foster families, so kids end up in a group home as a last resort. Other states, such as Kansas, simply don't have enough foster families to go around.
One reason for the wide variation in recorded group home use is the way these facilities are defined, said Dana Weiner, a policy fellow at Chapin Hall and the co-author of the 2016 report.
The official term for children living in an institutional setting is "congregate care," and that term encompasses several different housing situations. Group homes typically house 7 to 12 children, and adult supervisors.
Residential treatment facilities are a cross between a group home and a hospital. They provide clinical treatment to kids with behavioral and mental health disorders.
Meanwhile, some states have a large number of faith-based congregate care facilities, which may be located on large campuses, she said. Also included in the congregate care category: emergency shelters where children stay before being placed with a foster family. Some states lump all the children living in a group setting together, even if it's a temporary shelter, which can skew their numbers upwards, Weiner said.
In Colorado, which has historically relied heavily on congregate care, 35 percent of children in foster care are living in such institutions, the largest percentage in the United States, according to the Casey Foundation report.
Neighboring Kansas has one of the lowest rates, at 5 percent. Yet the state's foster care system is overwhelmed, and children often end up sleeping in child welfare offices until they can be placed with a family.
If a state has a lot of group homes or shelters, it's more likely to rely on them as a default mechanism, said Tracey Feild, director and manager of the child welfare strategy group at the Casey Foundation. And if a child is placed in a group home on a temporary basis because that's the easiest place to find, she said, and then the caseworker is busy, the child will end up living in a group home much longer.
"If you build it, they will come," Feild said. "If those beds are available, they will be used."
Boys are 29 percent more likely than girls to be placed in a group home, according to the Casey Foundation report. And black and Latino youth are much more likely than white kids to be placed in a group home. African-American children are 18 percent more likely than white children to be placed in a group setting.
These disparities have deep roots in U.S. history, dating back to colonial times when many Native American children were removed from their homes and placed in orphanages or Indian schools, said Jeremy Kohomban, president and CEO of the Children's Village in New York City, a child welfare organization that was founded as an orphanage in 1851. Poor, minority children were often seen as problems to be solved by removing them from their parents and communities, he said. These schools and group homes were often seen as the answer.
"There's a historical business model around putting kids in beds," Kohomban said. "And there is an implicit bias we have: These children are predominantly black and brown, including Native children. When those two things come together, you've got a force that continues to push kids into residential care."
Fourteen years ago, 95 percent of the kids served by the Children's Village lived in residential facilities, according to Kohomban. Now, 40 percent are in group care while others live with families, either their own or foster, and are offered a variety of services, such as in-home counseling and affordable housing assistance, he said. (The center is run with a combination of state, local, federal and philanthropic dollars.)
"If you don't prepare an alternative, you get stuck with what you have," Kohomban said.
Business Opportunities
For nearly a hundred years, Colorado has relied on group homes to care for children whose parents weren't able to take care of them, placing more children in group settings than with foster families or kinship caregivers. In the past, the state institutionalized as many as a thousand foster children a year, according to the Denver Post.
The state still has the nation's highest rate of children placed in group homes, according to the Casey Foundation report. But in the past decade, the state has pushed to place more children with families, said Reggie Bicha, executive director of the Colorado Department of Human Services.
And that's meant bumping up against group home operators, who have been in business for years and who pressure state legislators to keep the funding flowing to them, he said. As the state has pushed to place more children with foster families, at least 20 Colorado group homes have closed, the Denver Post found.
Running a group home is an expensive proposition, according to Christina Murphy, CEO of the Griffith Centers for Children in Colorado Springs, a 90-year-old child welfare agency that serves 700 children each week, about 40 of whom live there in a group setting. She said state and federal funding is never enough to keep the doors open.
Instead of group homes closing, Bicha said he'd like to see them change their focus from institutional settings to using their staff to provide troubled families with counseling so that they can stay together.
"Work that's going on in residential treatment centers isn't bad," Bicha said. "It's just that we have to tear families apart."
Murphy said she supports the state's push to reduce the use of group homes. Her worry: There aren't enough foster homes to meet the need. Every day, she says, she gets more than a hundred queries from caseworkers looking to find foster homes for displaced kids.
"We have an overabundance of children who need a place," Murphy said. "If there's an open bed, and there isn't a foster family, they're going to go to a group home."
Warehousing Kids?
There's a misperception about what group care looks like and that kids are being warehoused into group homes, said Sean Hughes, a California-based child welfare consultant and former Democratic congressional staffer who opposed parts of the new law.
Reducing the number of children in group homes makes sense, and there are bad group homes in every state, Hughes said. But sometimes there's no choice but to place foster youth in congregate care, he said.
The vast majority of foster youth in group homes are there because their placement with a foster family didn't work out, Hughes said, citing a 2015 report by the U.S. Department of Health and Human Services. The kids may need a higher level of care. Most have experienced trauma and are much more likely to have mental health and behavioral issues. Some also have been involved with the juvenile justice system.
He'd like to see more money funneled into community-based alternatives, such as foster homes where the parents have received special training for kids with special needs. Caseworkers help the foster parents to ensure kids get the specialized therapy they need — in a family setting.
"These are really vulnerable kids," Hughes said. "It's not like you can shut down these programs, kick these kids back into the community and all is going to end well. You've got to figure out where they can go."

Support HuffPost
The Stakes Have Never Been Higher
Related
Popular in the Community