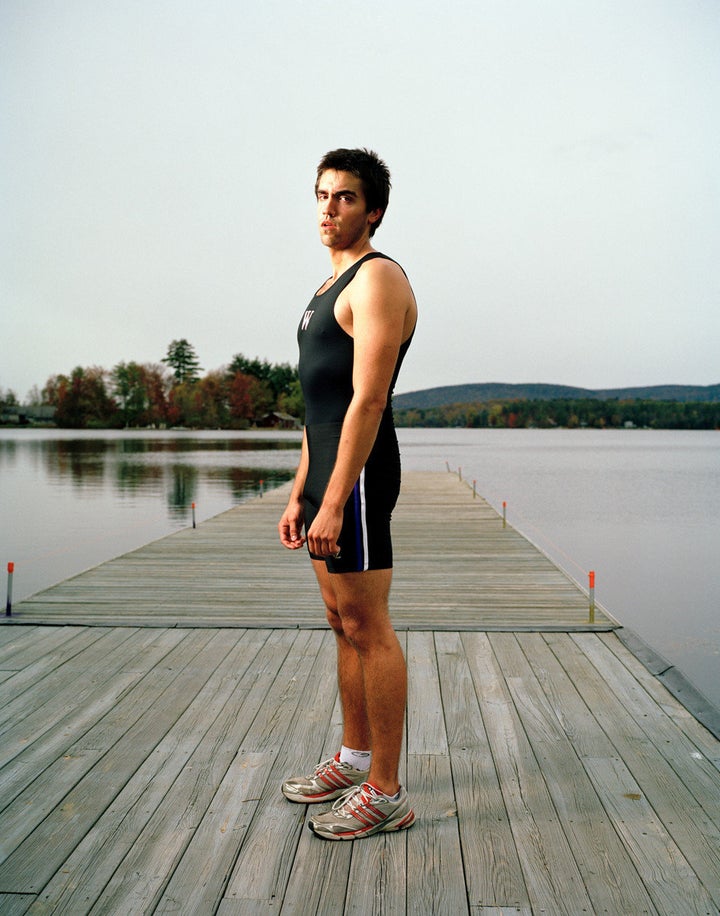 When former NBA basketball player John Amaechi offered to help me withthe Kickstarter drive for my"Fearless" project by taping a support video, he asked if there was anything in particular he should mention. "Yes," I wrote back in an email. "It would be great if you could introduce the new video feature and website that showcases LGBT student athletes talking about their coming-out experiences to their teammates."
For over nine years I have been photographing lesbian, gay, bisexual, and transgender (LGBT) student athletes on high school and college sports teams for a series I titled "Fearless." It began as a modest art project in 2003, but over the years it has slowly grown into a collection of portraits of over 150 athletes. However, over the course of working on "Fearless," I always felt that something was missing: the stories and voices behind the photographs I took. Despite the power contained in the visual images of these brave student athletes, for the most part they were silent. Standing on a field or by a pool, staring back at the viewer in a gesture of defiance, these out LGBT student athletes weren't able to share more about their inspirational lives through their photographs.
Meanwhile, there has been a recent, encouraging trend of visible straight allies in sports appearing in videos and speaking out in support of LGBT teammates, most notably through the work of such organizations as GLAAD, GLSEN, the You Can Play project, the StandUp Foundation, and Athlete Ally. But I also noticed that among all these straight allies, the images and voices of actual LGBT athletes talking about their experiences as out athletes have been lacking.
Earlier this summer, I created my own video talking about my difficult coming-out process as a former student athlete. This was done as a voiceover as part of a slideshow of "Fearless" portraits for an exhibition at Pride House at the 2012 Summer Olympics in London. In making this video I discovered a unique power in telling my own story about my struggle with homophobia in sports. And the words of encouragement I received from others afterwards signaled to me that this needed to happen more. So I decided to expand my "Fearless" project to include a video feature to allow other LGBT athletes to share their own experiences in self-submitted videos.
To make this happen, I worked intensely with some of the top Web designers at liveBooks.com to come up with a solution for a new website design that could host such a video page. With additional contributions from some of the athletes whom I'd previously photographed, I am very excited to present their self-created videos at FearlessProject.org. This new website took a lot of energy and patience to build and is still being improved, but it's a beautiful site that showcases both my photography project and the new videos. It can also eventually host hundreds of athlete videos, if needed. My hope is that the new "Fearless" project site will serve as a valuable resource for LGBT athletes and coaches and become an important place of inspiration and support for those who are closeted.
It is also an honor to have John Amaechi, a former professional athlete and someone who is openly gay, talk about the new website and video feature while simultaneously encouraging other LGBT athletes to share their stories. And while we know that it is sometimes very difficult to open up on camera about such a personal part of your life, it is important that other athletes hear about these struggles and triumphs over homophobia in sports. Know that you could make a difference in someone's life by sharing your story, and I hope many of you take the time to create a video for the new website for me to share with others. (Submission instructions can be found here.)
And while many of the videos on the website are very encouraging, those stories that aren't very positive need to be told, as well. Last month, 89.3 KPCC/NPR in Los Angeles invited me to be a guest on the Patt Morrison show, hosted that day by Alex Cohen. Alex and I talked about my project and then answered calls from listeners regarding homophobia in high school and collegiate sports. Halfway through the show a caller named Chris shared his experience: "I went to a Christian high school, and I was on the football team. When I ended up coming out to those around me, the coach asked me to leave the team, because he felt like it wasn't morally safe for me to be on the team with the other guys... And then I stopped playing sports altogether."
I was almost moved to tears by his live, on-air testimonial, and for a split second I wasn't sure how to respond. And even though Chris tried hard to brush off the experience as something in the past, you could still hear the pain and hurt in his voice. His life, altered forever by homophobia, became a reminder for me of why I do the work I do, and it encouraged me even more to make sure that voices like his are heard.
It was a brave act of Chris to share his experience of coming out in sports, and I hope that with the added video feature on the new "Fearless" website, there will be many more athletes who can volunteer their stories, as well.
Watch LGBT student athletes tell their coming-out stories:
See portraits of LGBT student athletes from the "Fearless" project: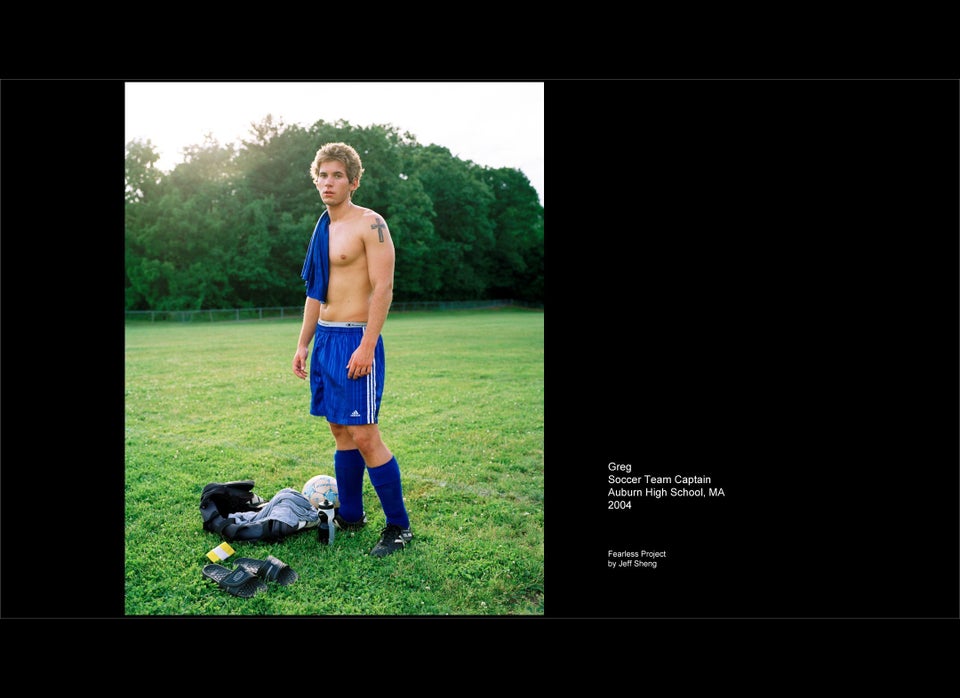 Fearless
For more information about the project and to view the video of John Amaechi talking about the Fearless project at the Kickstarter site, please go to FearlessPhotobook.com. To see more athlete videos and/or to submit your own story, please visit FearlessProject.org.
Popular in the Community