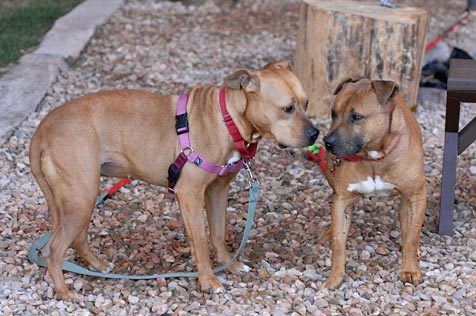 Ray and I were recently invited to address college students who were spending spring break volunteering at the sanctuary. They were gathered to attend a workshop presented by Ledy Van Kavage on breed discrimination laws. Ray and I were the opening act. It was an opportunity to educate people about pit bull type dogs, and a reminder that not everyone knows the full story.
In April of 2007, a young man named Davon Boddie was arrested on drug charges. He gave his address as a home in Surry County, Virginia, which belonged to his cousin, Atlanta Falcon's Quarterback Michael Vick. When a search warrant was served to look for additional drugs, the police were surprised to find a large number of dogs. An additional search warrant was obtained to look for evidence of animal neglect or abuse.
What they found left little doubt that this was a large-scale dog fighting operation: a blood stained "pit", a "rape stand", training equipment, performance enhancing drugs and dogs chained with heavy log chains, in a clearing in the woods, some with injuries consistent with dog fighting.
Fifty-one dogs were seized and moved into several different municipal shelters in the area. Traditionally suspected fighting dogs were held as evidence until the trial was completed, and then euthanized. They were referred to as "kennel trash" and shelter employees tried not to become attached to them, given their dismal outlook for a future. Even un-weaned puppies were routinely killed as being irredeemably tainted by dog fighting.
This time things were different. A few vocal animal welfare groups, including Best Friends Animal Society, petitioned the court to have the dogs evaluated individually for possible rehabilitation. Just as vocal were the groups who maintained the dogs couldn't be saved. That they were "ticking time bombs" or "the most aggressively trained killing machines in America". Thankfully the judge decided to give the dogs at least a chance to prove themselves. He appointed Rebecca Huss as Guardian and Special Master to the court. It was her job to arrange individual evaluations for the dogs and determine each one's fate.
Behavior experts from the ASPCA, Bad Rap from California, and Best Friends Animal Society arrived to complete the evaluation process. Each dog was to be tested for dog aggression as well as human aggression. It was hoped that two or three of the 49 surviving dogs (two died while in care) would be deemed salvageable. Imagine everyone's surprise when all but one of the dogs showed at least some degree of ability to be rehabilitated. That one dog, who had been bred and fought repeatedly, was just too emotionally and physically damaged to try and save. She was humanely euthanized. The remaining 48 dogs were dispersed to eight different rescue groups for adoption, rehabilitation or sanctuary.
Best Friends Animal Society took 22 of the most challenging dogs. The dogs who were going to need a little more help to become eligible for a home. Two of the dogs were court-ordered to remain at the sanctuary for life: Lucas, who was Bad Newz Kennel's Grand Champion and Meryl, who in her fear had snapped at her evaluator.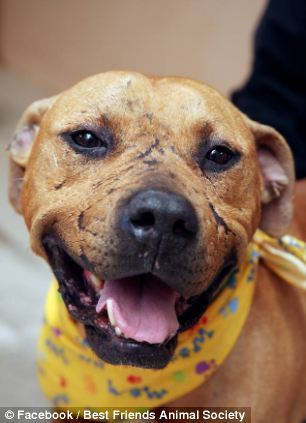 When the dogs first came to Best Friends, caregivers and trainers were with them 24 hours a day, as everyone tried to get an idea of what this task was going to require. The dogs quickly bonded with these humans who were kind and patient. It didn't take long for staff to figure out the biggest issue with them wasn't aggression -- it was fear.
These dogs had lived a life that was painful and frightening. They were totally unsocialized. They had never know kindness, good food, fresh water, and a warm, safe place to sleep. They didn't know how to walk on a leash. They had never spent a night under a roof. And some of them were ill with Babesia, a blood born parasite that fighting dogs pass through deep puncture wounds. (Babesia can also be contracted by tick bites).
Some of the Vicktory Dogs (as BFAS renamed them) were able to be adopted as soon as the trainers felt they would be able to be successful in a home. Some of the dogs who were more damaged were court-ordered to complete their Canine Good Citizen (CGC) test before they could leave. The CGC is an incredibly difficult test for any dog. For dogs who were dealing with crippling fear, it takes a Herculean effort on the part of both the dog and his trainer.
One by one, the dogs started passing their tests and finding wonderful homes. The court had also put some stringent requirements in place for potential adopters. Every interested person was required to pass a Federal Background Check. They had to come to the sanctuary and meet the dogs. They had to provide a home that could pass an inspection for safety and security. Yards had to be fenced with six-foot fencing.
Since these were the first fighting dogs ever saved, it was critical that they went to stable homes with people who would be willing to do what was necessary to keep the dogs safe and happy. And all the safe-guards worked. The dogs have been integrated into homes with small children, cats and other dogs. There has never been a single issue with any of the dogs who were placed in loving homes.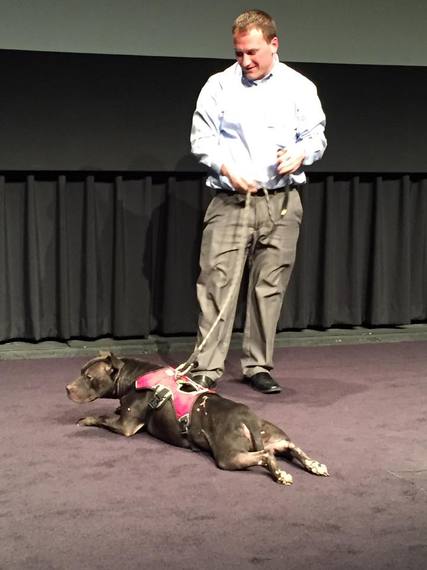 The dogs act like they are on a mission to prove to the world that they are dogs... just dogs. Not "killing machines", not aggressive, dangerous animals. But dogs like any other dog. Dogs with individual quirks that just endear them to their families. Dogs who have become therapy dogs, agility champions and emotional support animals.
Dogs like Cherry, who stood on a stage in New York City last week and happily met his many fans who were attending a screening of the Best Friends PBS show Visionaries. Dogs like Handsome Dan, who is so amazing that he inspired his parents to start a dog rescue of their own, in his name. Dogs like Layla, who is working hard to become a certified therapy dog. Dogs like Ray, who trustingly follows me wherever I choose to take him.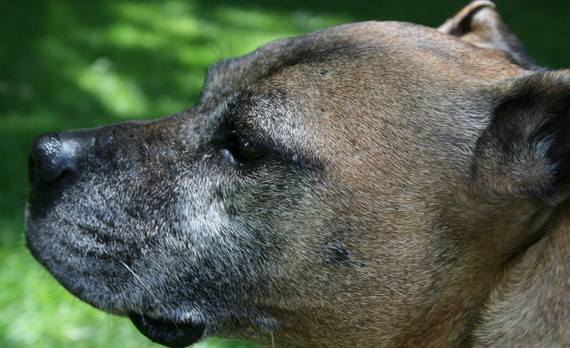 Ray not only tolerates the people who want to meet him, he actively solicits their attention. This little dog who was once so very frightened is now an ambassador for pit bulls and fighting dogs everywhere. He is gentle and patient with children, and often is used to teach them how to approach a strange dog safely.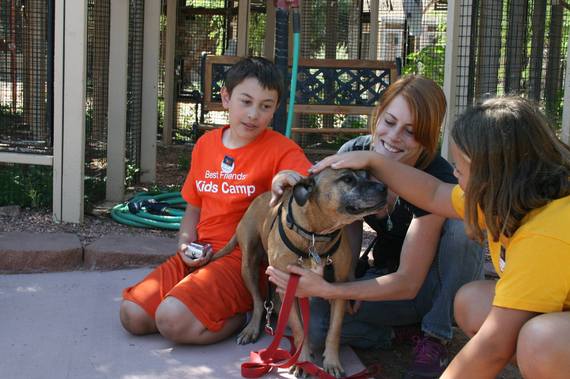 The Bad Newz Kennels bust that happened eight years ago and captured the attention of dog lovers all across the country has changed the shape of the world for pit bull terrier type dogs. Dogs that are seized are now routinely assessed for rehabilitation. There is no longer a belief that these dogs are somehow responsible for the life that was forced on them -- that they are damaged goods, better off dead.
The Vicktory Dogs are aging. In the past few years, we have started to lose some of them. Last August, Lucas, the Grand Champion (snuggle bug, lap sitting, amazing dog), passed away from complications of Babesia.
We know our time with these amazing dogs is limited. Many of them are dealing with health issues directly related to the abuse they suffered. But even when they cross over the Rainbow Bridge they will continue to influence policy. These 48 dogs who have proven, beyond a shadow of a doubt, that fighting was something that was forced on them, not something they were born to do. Once they had the opportunity to become companions, they took it and ran with it.
Ray's sigh when he lays his head in my lap says it all. These dogs were victims, not criminals. And because of their bravery and loving nature they have taught us all so much. If dogs like these -- dogs who were trained, fought and abused -- can become loving family members, how can anyone say that pit bull type dogs are inherently dangerous? It just doesn't make sense.
I understand the anger some people feel towards the man who bankrolled Bad Newz Kennels and who is once again playing football, making tons of money. But frankly, I never even think about that. I know Ray doesn't. He lives totally in the moment, enjoying the good things happening in his life now. I take my cue from him. We only have so much time left to spend together, and we are going to enjoy every second of it.
Related
Popular in the Community