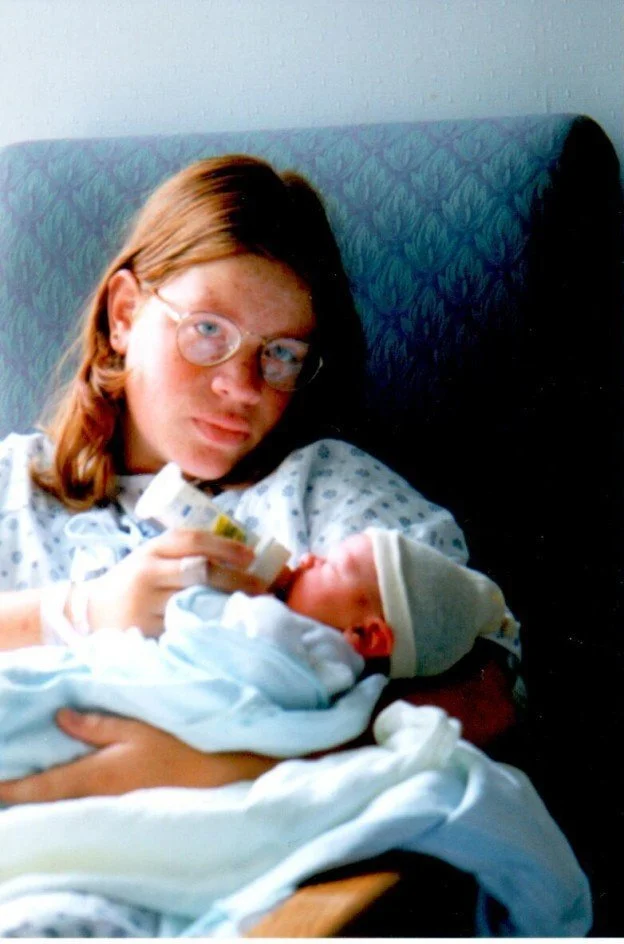 This is the twenty-eighth post of "30 Adoption Portraits in 30 Days," a series designed to give a voice to people with widely varying experiences, including birthparents, adoptees, adoptive parents, foster parents, waiting adoptive parents and others touched by adoption.
I've always known that I was adopted. My adoptive parents used to tell me the story about how they got the phone call from the adoption agency on their tenth anniversary, telling them they'd been chosen by my birth mother. I'm incredibly grateful for always having known this, as I've seen first-hand what other people have gone through discovering as older children -- or even as adults -- that they were adopted.
My family is unique. I am the oldest of three children, my middle brother and I were adopted, and my youngest brother was the surprise biological child. Not many kids can say that none of their siblings are at all blood related to each other.
I had a very happy childhood; being an only child for eight years, I was the center of everyone's universe. Exactly what a kid wants, right? But, despite this, I always felt oddly different. When I was about 5-years-old, one of my older cousins made a comment that still stands out in my mind: "You know your parents can take you back if you are bad, right?" That set the wheels in my little mind working. I didn't want to be taken back, given away again, and thrown out like yesterday's garbage.
So it became my mission to NEVER disappoint my parents.
As I'm sure you can imagine, that did not go well. Every kid makes mistakes and does stuff that their parents don't appreciate. And of course, my parents proved my obnoxious cousin wrong, time and time again, even when I put them through what I would consider to be one of the most trying things a teenager could do: At 17, I found myself pregnant.
For nine long months, I hid this information from everyone. I managed to get away with wearing baggy clothes, and nobody was the wiser. Inside, I was scared to death, to the point where I'd find ways into fooling myself into thinking that this wasn't happening to me. I managed to keep my secret until I was in the hospital giving birth to my baby girl. All along thinking "this time I've really done it, my parents are going to wash their hands of me for sure."
My parents stood by my side.
My dad called the same agency they had adopted me through to see if they would send someone to talk to me. They did. And in my drugged up, hormonal 17-year-old state, I made the decision to place my daughter for adoption. I imagined what my birth mother went through making the same decision, at the same age. I tried to be strong, like everyone told me she was.
I know now that research has shown that adopted girls are significantly more likely to find themselves pregnant around the same age their birth mothers did. Scary.
It's been fourteen years since I made that decision. While in my mind I know that I did what was right for that defenseless baby, in my heart I wish that I had been strong enough to find a way to keep her and make it work. I hope that her parents are as wonderful as mine are, and that they tell her every day how loved she is, both by them and by me.
Someday I hope that she will seek me out, just as I did with my birth mother, and want to know me better. I wish I could give her the letters I write to her every birthday.
I've since reunited with my own birth mother.
I had searched on and off since I turned 18 with no results. Then I was lucky enough to be able to obtain my original birth certificate when the laws were changed in Illinois, and I found her. For the first time, I have been able to share my experience with the one person in this world who completely understands. It's been amazing to finally find someone that I actually look like, sound like and act like.
I find it fascinating to see exactly how much influence nature and biology have on my personality, even though I did not get to speak to my birth mother for the first time until I was in my 30's. And after all these years, she's still my mother, just as much as my adoptive mother, and I love her and am so happy to have her in my life after decades of wondering about her.
Finally knowing my birthmom and talking to her has helped me write my own daughter her most recent birthday letter. I pray that she will be able to read it someday.
My dearest daughter,

Happy birthday! It's hard to believe that you are 14 years old already. I imagine you are getting ready to start high school in just a few short weeks. I envision the beautiful, smart woman you are rapidly becoming and it brings a smile to my face.

There are so many things I wish I could tell you. The most important of all is that I love you. I've loved you since the day you were born, and I miss you terribly. I spend a lot of time wondering if you know that. I spend a lot of time wondering if you're happy. I pray that you are.

August 13, 1998 was the hardest and scariest day of my life. I had never been more alone than I was when I carried you inside of me. I was alone when you were born. You were the most beautiful thing I had ever seen. I only had moments with you before it seemed like the world came barging in to counsel me about what was "best" for you. How you'd be better off with parents who were old enough, well off enough, together enough to give you what you deserved. How if I dared keep you, I'd wind up resenting you for changing my life and keeping me from my education, or even worse, how the sight of your beautiful face every day would remind me of the horrible event that brought you into being in the first place.

I was young and scared, and I bought what those people were selling me. They made me think that there was no way I could ever provide you with what you needed, and that I'd be the most selfish person ever for keeping you. How I wish I had been strong enough at that point in my life to prove everyone wrong. There is no way a child could EVER cause regret or anger in her mother.

But, now I hope and pray that the choice I made has kept you safe, healthy and happy. I hope the parents I helped choose for you treat you like a princess, make certain you work hard in school, and have helped you develop a kind and loving character.

I look forward to the day I am finally able to see you again and tell you all the things I want to tell you. But most of all, I want to hold you close to my heart and make sure that you know that you have always been loved and wanted, fully and completely, by your mother.

I hope your birthday is a special one.

I love you.

Love,
Mom