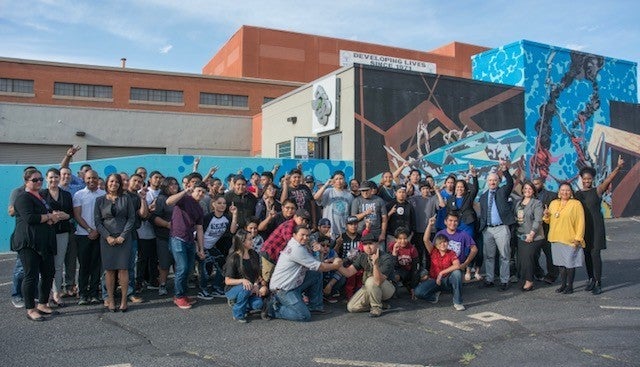 Co-Authored by Richard J. Berry, Mayor of Albuquerque, New Mexico
When you provide young men of color a prime seat at the table, a powerful shift happens. Not only do these youth improve their own futures, but they have the opportunity to transform their entire generation. Matthew Shoulders, who originally comes from the Oglala Lakota and Ihanktowan Dakota people of South Dakota, is an example. Matthew's Native American identity is crucial to the lens in which he views the world, and his place therefore in it.
"No one can take your identity from you," Matthew shares. It is his identity that served as his strength, when he met challenges in the height of his teenage years. Becoming a father at 17, it seemed as if his chances of success were slim. With a new daughter in tow, Matthew relied heavily on his network of mentors, teachers and family leading up to high school graduation. He went on to defy the odds, becoming a Gates Millennium Scholar and earning a bachelor's degree in psychology and a master's degree in counseling from the University of New Mexico.
Now, though still very young himself, it is Matthew's turn to give back to youth. As a school counselor at a local Albuquerque high school, Matthew spends each day sharing his insight and experiences with young people, reminding them of their self-worth, ability, and pride in identity. For the generation behind him, he believes that My Brother's Keeper (MBK) is imperative in helping our young male community members connect with one another to create a supportive and nurturing network – another family.
The City of Albuquerque is one of the nearly 250 cities, towns, counties, and Tribal Nations that accepted President Obama's MBK Community Challenge. Albuquerque along with other communities has focused on including the voices of youth in the conversation about how to dismantle systemic inequality and overcome barriers to success, and now the city is seeing results. In fact, Albuquerque is a prime example of how communities, informed by boys and young men of color (BYMOC), can create clear pathways to opportunity for all of our kids. MBK Albuquerque is proving that the success of our young people is directly related to the success of our cities.
When the City of Albuquerque accepted President Barack Obama's My Brother's Keeper Community Challenge, community leaders have been determined to listen to – and reflect – the concerns of the city's boys and young men in shaping the approaches needed to ensure every young person has an equal opportunity to achieve his dreams. As a result, the city executed an extensive community engagement and planning process to identify disparities, develop recommendations, and expand partnerships to address key challenges.
Albuquerque collaborated with community stakeholders, including local youth, to develop an action plan aligned with MBK's six milestones:
1) entering school ready to learn;
2) reading at grade level by third grade;
3) graduating from high school ready for college and career;
4) completing post-secondary education or training;
5) successfully entering the workforce; and
6) reducing violence and providing a second chance.
To date, MBK Albuquerque (MBK ABQ) has engaged over 400 BYMOC in topics spanning college and career readiness, federal educational reform, and teen suicide prevention. Armed with feedback from youth, MBK ABQ has started to implement programs designed to address the pressing issues of truancy, low graduation rates, and juvenile criminal justice that disproportionally affect Albuquerque's Native American community and other young men of color.
MBK ABQ's youth engagement work has led to a Native Youth Hackathon, which exposed Native youth to tech careers, MBK Day at the Labs, an event that raised awareness of science, technology, engineering, and math (STEM) careers at our national labs and a Job Ready Hire Fair scheduled for May 11th that will connect 500 BYMOC to jobs in the local community.
Three guiding principles influence MBK Albuquerque's efforts and achievements: youth and community voice and empowerment, data reporting, and collective and sustainable commitment. Each pillar enhances the work being done and lays the foundation for the application of the challenge, allows for analytical data and feedback, and provides avenues for monitoring progress and measuring effectiveness.
The recent "Empowering & Equipping Tomorrow's Native Leaders" MBK Alliance Youth Summit hosted collectively by MBK Alliance, MBK Albuquerque, and the Gathering of Nations Pow Wow, brought together 100 Native young men to discuss positive youth-led efforts to bring about change across Indian Country.
The summit, designed to urge the leaders of the next generation to develop strategies that will create safe and supportive native communities and expand opportunities for success, drew Native young men between the ages of 16-25 to engage in a dialogue on the key issues affecting their local communities. As well, the young men discussed and celebrated their rich cultural heritage and what it means to be a Native American in the 21st century.
The City of Albuquerque is proud to be a part of this national effort and is inspired by what the young men of our city have already and will accomplish It is heartening to see what we can achieve to address the challenges facing our BYMOC with continued and active collaboration. No matter what, we must keep the young men engaged in critical discussions that impact the future of their success; we will not make the progress we can and should make without hearing their ideas and perspectives loud and clear. The more progress MBK Albuquerque makes with diverse stakeholders working together, the more youth can be put on a path towards success—a victory for us all.
Richard J. Berry is the twenty-ninth and current Mayor of Albuquerque, New Mexico, and a former two term member of the New Mexico House of Representatives. Broderick D. Johnson is the My Brother's Keeper Alliance Board Chairman. He previously served as Assistant to the President and Cabinet Secretary to former President Obama, and Chair of the My Brother's Keeper Task Force.
For more information visit, www.mbkalliance.org, like us on Facebook or follow us on Twitter: @MBK_Alliance.
Calling all HuffPost superfans!
Sign up for membership to become a founding member and help shape HuffPost's next chapter