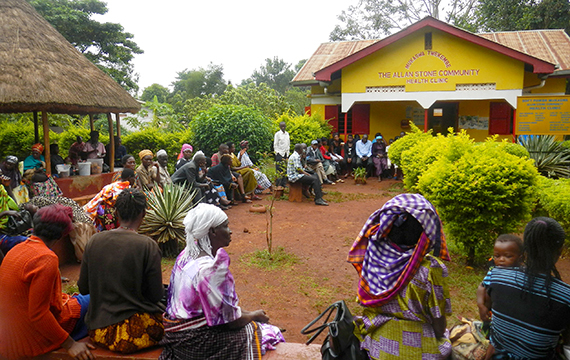 Patients wait to be seen. Photo credit: Soft Power Health
This is a guest post by Dr. Jessie Stone, founder and director of Soft Power Health.
It's ten minutes to five on a Friday afternoon. The clinic has seen over 100 patients today, normal for a weekday. We are winding things down to close when a woman and her daughter approach me outside, and the woman begins talking very quickly. Despite having spent 12 years in rural Uganda as the founder and director of Soft Power Health, I am still working on my fluency in Lusoga, the local language on our side of the Nile. I ask one of the nurses to translate for me.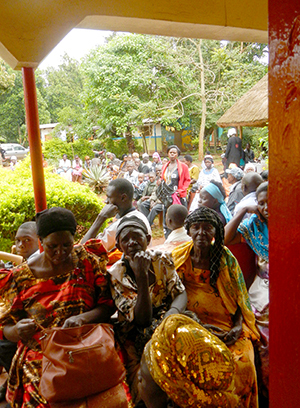 As it turns out, this lady and her daughter have travelled all day to get to our clinic from a small village deep in the neighboring district of Kamuli, a notoriously underserved area. They began their journey early this morning by walking for three hours to public transport that would get them a shorter walking distance to us. Since the Ugandan government healthcare system has failed to help them, they are in search of other options. Though government healthcare is supposed to be free, it is not, and if you can't pay up front, you don't get treated. Many people spend a lot of money on healthcare and still don't get the treatment they really need. This is painful to see, especially when people are in dire circumstances.
I look at the daughter, who appears about 10 years old, and see that she has a handkerchief tied around one leg, just below her knee. Initially, I think it's probably not too serious since she walked here and does not appear to be in pain--however, every time I think that, I remind myself of the countless times I have been completely flabbergasted by what I have seen. There is not a day that goes by that I don't see something I've never seen in a medical pathology textbook: advanced tumors or widely-progressed infections or extreme cases of malaria. Part of the reason for this is that decent healthcare is not readily available for the vast majority of the population, so problems that start off as simply treatable can become quite complicated.
Since the clock is ticking, we quickly get the girl into the treatment room. Once she is sitting calmly and quietly on the examination table, all of us gape at her leg. She has an open wound that is nearly the length of her shin, and her inner tibia is exposed. The smell of rotting flesh and decaying bone is intense. How this girl walked in to the clinic today is a mystery, but I am so glad she did because we can help her--even at this late hour. It is clear she has an infection of her bone known as chronic osteomyelitis, and, if untreated, she will definitely lose her leg. When we ask the mother what happened, we get an all-too-common story. The daughter was treated at a rural clinic near them for a small wound, but despite a variety of treatments, the infection progressed, getting worse with each visit instead of better. Along the way, the family spent a lot of money on treatment. In desperation, they sought out our help, hearing about Soft Power Health from a friend of a friend.
Luckily for this woman and her daughter, our clinic will charge them a very small fee and refer them into our community patient program reserved for the poorest patients who can't pay for medical care they desperately need, such as surgery or chemotherapy. We partner with a hospital in Entebbe known as Corsu Rehabilitation Hospital that can surgically treat this girl, and we can send her right away. In the U.S., this would be considered a medical emergency, but in rural Uganda where there are limited healthcare resources, there is no such thing as a medical emergency. People just have to make the best of whatever situation they find themselves in--no dialing 911 for an ambulance.
The good news in this girl's case is that we will ensure that she gets good treatment. Once she has had surgery and is started on antibiotics, she has a good chance to recover well. She'll be able to use her leg and live a normal life. The biggest challenge will be making sure the mom brings her daughter back for follow-up on a regular basis.
Today we focus on doing what we can to clean her wound, treat any other medical problems she might have (as it turns out, she has malaria too, the leading killer of children in Uganda), and get her ready to go to Corsu. All in all, I am so grateful that this lady made the journey with her daughter and came to talk to me because now the girl has a chance! Thanks to the ongoing support of organizations like the Segal Family Foundation, Soft Power Health can continue to provide quality inexpensive healthcare and health education to those--like this young girl--who need it most.
Postscript: Yesterday morning, I got a call from one of our drivers who said that this patient was waiting to see me at the clinic. We had been trying to track her down since before Christmas. In November, she had a scheduled follow up appointment at CORSU hospital, which she had missed. We made contact with her father who said he would bring her to clinic, and he never did. I was definitely concerned about how her post-operative healing process was going because we had gone a couple of months without seeing her. Remembering how bad the infection had been, I was not optimistic. Boy, was I surprised when I finally saw this girl: her leg was perfectly healed, and she had no pain in the leg and no signs of infection. She was walking and running around like a regular kid--now with a big smile on her face. I think that made my whole day, week and month!
Related
Popular in the Community