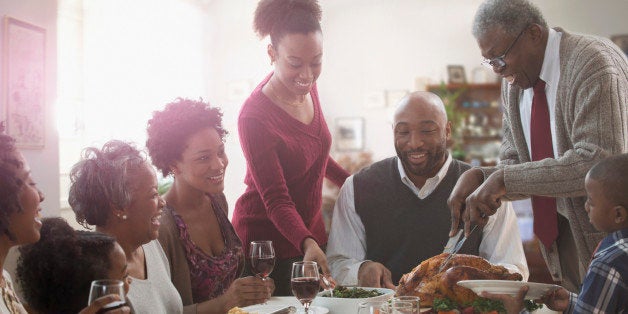 Giving thanks in the midst of dark times is a core insight of the Christian tradition; we need to practice it.
It is understandable that many feel that now is not the time to give thanks. Our country seems to be going insane with neo-fascist rhetoric. Persons running for the highest office in the land fan the flames of explicit anti-Muslim, anti-black, and anti-immigrant hatred and violence. There is talk of creating databases for all Muslims and torturing suspected terrorists regardless of its effectiveness. Black persons are being killed by police in the streets and Black Lives Matter protestors are being shot in cold blood by white supremacists. Clearly, now is also a time for lament.
We don't give thanks to ignore all that's wrong with our world but to help us keep walking when we feel the tug of despair. Giving thanks is not an instance of naïve optimism that things are going to be all right. In fact, things might get worse before they get better. We may be called upon to sacrifice certain comforts in order to resist the anti-gospel of hate and exclusion that seeks to pound our ears and our spirits into submission.
We need to give thanks for the faithfulness of God, who walks with us in the midst of suffering, cries out with us in our distress, and inspires us to pray with our feet and hands so we can be the welcoming presence of grace to others. We need to give thanks; here's what I am thankful for this week:
For being alive in a time where being a witness to the way of Jesus is sorely needed.
For the millions of people and organizations like Church World Service who are welcoming refugees and migrants desperate to find safety.
For activists who speak up for those who are mistreated and dehumanized.
For the creativity and wisdom of communities that survive persecution and endure to pass on their traditions.
For the message that even in the midst of oppression, murder, and hate, the Divine Presence never leaves us.
For Christ's invitation to love our enemies as ourselves.
Giving thanks to all that is good and worth protecting in our world does not deny the threats that seek to undo them. A witness to the gospel does not ignore current traumas and violations. To do otherwise would be what some have wisely called "theological malpractice."
Giving thanks is our witness that the systems and demons of our world do not have the last word. ISIS does not have the last word. Trump does not have the last word. The talking-head-neo-cons of intervention and death do not have the last word.
The last word is one of hope, for our world and its transformation to a realm of peace, justice, and the beloved community. To that, I give thanks.
Calling all HuffPost superfans!
Sign up for membership to become a founding member and help shape HuffPost's next chapter