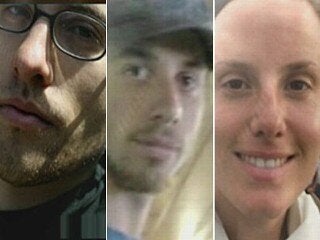 Thanksgiving feels empty with my brother Josh still sitting in Evin Prison in Iran for no good reason. Rather than wallow in his absence I want to reflect on some of the amazing people I'm thankful for. Without them living life amidst this peculiar international crisis would not be possible.
* My many friends - for supporting my nomadic lifestyle with an air-mattress or pullout couch and cups of tea.
* Mom and Dad - for being strong enough to sit around the dinner table and laugh at the absurdity of the situation. The laughter covers up the pain and frustration for moments that I wish could last longer than they do.
* My basketball hoop - for being the best therapist ever.
* Shannon Bauer and Nicole Lindstrom (Shane's sisters) - the two other people who know what it's like to have a brother pointlessly imprisoned in Iran. I am continually touched and impressed by their emotional intelligence.
* Desmond Tutu - for making four statements calling for Josh, Shane and Sarah's freedom and continuing to embody peace and reconciliation.
* Alita and Renée Holy and David Marcus - who are oh so gracious about being woken up at any hour to update freethehikers.org and keep the site humming.
* Sarah Shourd - who walked out of 410 days of solitary confinement and into an intense limelight and made it look easy. I am thankful for Sarah's freedom, her giddiness after a long day of meetings, and her anecdotes about Josh.
* Ban Ki-moon - for adding his voice to the call for Shane and Josh's freedom
* The guy who ran past me the other day while I was shooting baskets and shouted "we're all praying for you" - for not plying me for the latest on the case but sharing his prayers.
* Cindy Hickey (Shane's mom) - for piquing my interest in the wonders of Minnesota and volunteering to host the first of the many homecoming celebrations (hopefully soon).
* Everyone who has made banners and signs to 'Free Shane and Josh' and sent in pictures, from Berlin to Rio de Janeiro, Istanbul to Bogotá.
* Bob Dylan - for writing "Mississippi," "I Shall Be Released," "Every Grain of Sand," and "Lord Protect My Child."
* Jeff Kaufman and his team - for making a compelling documentary that brings you to the beauty of Ahmed Awa and clarifies the circumstances of July 31, 2009.
* Gloria Blier (signatory 1602 of the new petition for Josh and Shane's release) - for writing "It's a nice time of year to show compassion, and would resonate loudly to a lot of people." I never met Gloria but I couldn't agree more. Whenever my spirit flags I read the petition comments and take solace in the fact that thousands and thousands of people are pulling hard for Josh and Shane.
* World leaders and men and women of goodwill - whose quiet outreach will hopefully help us fast-forward to the happy ending.
* Habichuela Steele - for being born with a Ph.D. in friendship.
* Josh and Shane's lawyer Masoud Shafii - for his valiant struggle for justice.
* Harvard University - for understanding my peculiar circumstance.
* Samantha Topping for her selfless support in handling the many-headed hydra known as 'the media.'
* Al Bauer (Shane's dad) - for teaching me what a Bobcat is, building one from scratch and raffling it to raise money for the campaign.
* Mairead Maguire (Nobel 1976) and Noam Chomsky - for standing up for causes such as the rights of the people of Gaza, criticizing many elements of US foreign policy, and calling out for Josh and Shane to be free and able to return to their families.
* Pari and Shirin - for the late nights and early mornings spent translating the calls to Josh and Shane's lawyer.
* My extended family and Shane's and Sarah's - for keeping us well supported in often-invisible ways.
* Safe World for Women - for continuing to call out for Josh and Shane's freedom even though they're not women.
* Everyone who has organized an event or vigil, lit a candle, or said a prayer for the hikers and our families - for keeping our spirits up and sending positive energy through the stone walls of Evin.
To everyone mentioned above and countless others, I give thanks for you. You have made each day Josh and Shane are not free more bearable. Hopefully there aren't too many more barely bearable days left.
Related
Popular in the Community