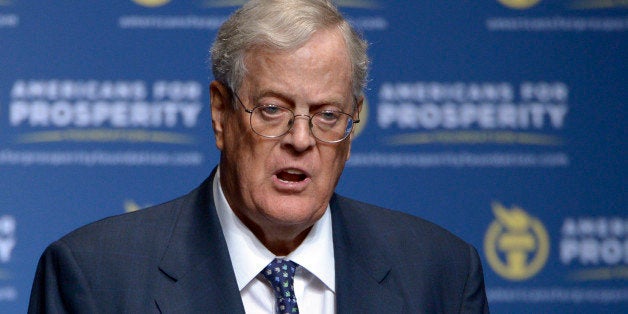 The integrity of American democracy is at stake -- and there's nearly a billion dollars standing between a solution to climate change and the future of our children.
Last year, I challenged the Koch brothers to meet me for a debate so that we could have an open, transparent exchange of ideas. Unfortunately, they refused, so I'm about to give them another chance.
I am formally inviting the Kochs -- again -- to participate in a public debate. To stand up, be counted, and publicly justify themselves to the American people who are about to be overwhelmed by their electoral buying power.
The Koch brothers and their allies have pledged to spend nearly $1 billion dollars on the 2016 election helping politicians who are willing to ignore the science and bury their heads in the sand. With each dollar, they're building a political system that is responsive to their bottom lines -- not to the will of the people.
This isn't how America is supposed to work.
The science on climate change has long been settled, and scientists agree that we must take urgent, aggressive action. The good news is that American businesses have the tools to solve these problems. We're the most innovative country in the world!
I am confident that we have the guts and the know-how to find solutions that work -- making our society more sustainable, while also strengthening our economy. To do this, however, we need leaders who accept the facts and have a plan to solve this crisis.
Instead, as we stand at this energy crossroads, the Koch brothers appear to have a strong self-interest in maintaining the status quo -- they seem to have no qualms about peddling falsehoods and obscuring the facts. Do they really intend to keep profiting from pollution that endangers our families?
In Detroit for example, the Kochs bought petroleum coke from a refinery in the state's most polluted zip code, and dumped three-story high piles of it by the Detroit River -- putting the health of Michigan's children at risk. Why? Is there any explanation they'd care to make publicly? We want to give them that chance.
We've seen before the kind of harm that politicians can do when competing for the favor of the Koch brothers. In Florida, Republican Governor Rick Scott allowed a Koch-owned Georgia-Pacific paper mill to dump cancer-causing chemicals into the St. Johns river. Then, the Kochs' political organization budgeted $6 million to promote Scott and his allies in 2014.
The 2016 election is still nearly two years away, but we're already seeing this vicious cycle gathering steam. After all, when presidential hopefuls like Ted Cruz are traveling the country calling climate scientists "flat-earthers," one thing is clear: they're listening to the Koch brothers, not to the American people.
American democracy is a beautiful thing -- the engine that drives our country's incredible innovations, national prosperity and global leadership. The rules, in theory, are simple: if you cast your vote, your voice will be heard and the public interest will prevail.
This is the system we're fighting to defend.
In our democracy no one person, company or organization -- not me, not the Kochs, no one -- should be able to use their financial resources to override the will, or the voice, of the individual voter. But in an election where the Koch network plans to spend nearly $1 billion dollars to advance their economic self-interest at the expense of our children, there is no real other option than to be a David to their Goliath by seeking to provide some balance so the American people have a chance to be heard.
That's why, in 2014, NextGen Climate set out to level the playing field. We wanted to use our funds -- openly and transparently -- to help ensure that every voter, on Election Day, has the opportunity to make their decision based on the facts and elect leaders who will fight for a cleaner, more sustainable future for our children.
But while we try to use our money for good, people like the Koch brothers are seemingly trying to buy our democracy while hiding in the shadows. Earlier this week, we launched the Hot Seat, an effort that will track Koch-backed presidential candidates and hold them accountable for their positions on climate.
Next up? An open, and honest exchange of ideas. If there's a high-minded explanation for their behavior, I'd like to hear it.
If the Koch network is going to spend nearly $1 billion inundating voters with falsehoods during the 2016 race for the presidency, the least they can do is come to a battleground state and be transparent about their motives. Let's give voters in Iowa, New Hampshire, or any other battleground state of their choice the chance to see us put our mouths where our money is.
They can pick the time. They can pick the place. But I will be there, because I believe in our democracy and it is long past time to give the facts a fighting chance.
The American people deserve nothing less.