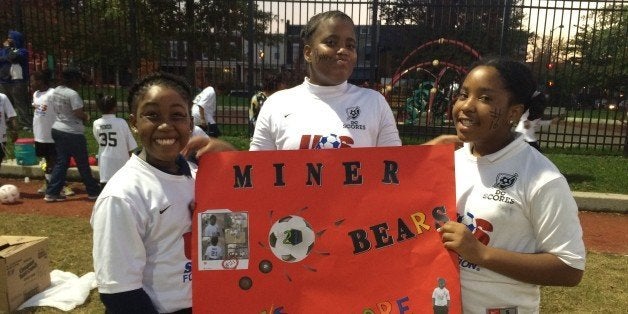 Growing up, I thought I was living the pretty typical American childhood. I spent most afternoons and weekends playing sports -- first t-ball, then volleyball, swimming and basketball. Art classes were a staple of my school day, bolstered by weekly after school piano lessons and school band, choir and theater clubs. In my free time, I did countless volunteer projects with my family, my synagogue youth group and school clubs. It never once occurred to me that those basic elements of childhood -- sports, arts and service -- weren't accessible to all kids.
Even after becoming a parent, I assumed that sports, arts and service opportunities were a reality for all kids. They certainly are for my kids. Although my girls are only five and seven, emails and flyers already come home from school practically weekly inviting them to try out for lacrosse, wrestling, t-ball, soccer, ballet, gymnastics or swim leagues. Other emails and flyers promote a wide range of art classes and music lessons. All of these activities take place within a few miles of our home; many are even offered on their school campuses during after-school hours. And while we have to pay for them, the prices are within our means.
Our neighbors and synagogue regularly organize kid-friendly service opportunities. In just the last four weeks, my kids have participated in The Teal Pumpkin Project, donated some of their Halloween candy to both the troops and kids in hospitals, filled a bag with canned goods for Scouting for Food, and decided to set aside a portion of their weekly allowance to donate to charity.
Sports, arts and service. My kids will never know what is like to not experience these basic elements of childhood. But thousands of kids who live within 15 miles of us may never know what is like to experience them.
Nearly one-third of D.C.'s kids live right at or below the poverty level. 89 percent of DC kids living below the poverty level live in single-parent households, and in 54 percent of those families, the kids don't have a parent who works. Organized sports are few and far between in their neighborhoods. Nearly half of the families my youth development nonprofit, DC SCORES, serves report their kids have no access to organized sports outside the soccer leagues we run. Organized arts programs are even more rare. Organized service opportunities are practically non-existent. And forget about access during the school day. The focus on test scores has pushed P.E. and extracurriculars to the fringes. Today's norm: 30-45 minutes once a week. Although pay-to-play leagues and fee-based classes have expanded to fill the gap, families struggling just to put food on the table can't afford their entry fees. Nor do most of those families have the ability to regularly transport their kids across town to neighborhoods where such programs take place.
DC SCORES, the youth development nonprofit I lead, is working to level the playing field for all kids. Through free after school programs and summer camps on school campuses, we provide organized, team-based soccer, poetry, and service-learning experiences to 2,000 children living in poverty across Washington, D.C. Children like Ingrid, who at 17 is now the first person in her family to go to college -- an accomplishment she credits to the discipline she learned and support network she built through DC SCORES. Children like Betelihem, who grew from a tearful 3rd grader regularly bullied by classmates to a confident and respected leader of her 5th grade class. Children like Carlos, who learned to channel his anger constructively under the guidance of a caring coach, transforming from a first-day-of-the-season bully to a season-ending team sportsmanship award winner. Children like Claudia (now a college graduate working for a women's policy nonprofit) and her younger brother Jose (now a college senior) whom she cared for after school from age 10 on while their single mother worked multiple jobs to support the family. DC SCORES helped both Claudia and Jose find their footing academically, and also gave Claudia the freedom to become a high-school soccer star because she knew Jose was safe, supported, and having fun after school.
What Ingrid's, Betelihem's, Carlos', Claudia's and Jose's stories show is the transformative impact that sports, arts and service can have on young children's lives. An impact you don't realize is missing until you experience a childhood without them. An impact I took for granted before meeting the extraordinary young people in DC SCORES.
As this annual season of giving approaches, I encourage you to think about what you took for granted in your own or your kids' childhoods, and then find a way to make those same experiences a reality for a kid who wouldn't otherwise have them. While #GivingTuesday may only be one day for you, the smile you can put on a child's face just may last them a lifetime.
This post is part of a series produced by The Huffington Post and the 92nd Street Y, founders of #GivingTuesday, a global day of giving that will take place this year on December 1. These stories highlight the work of organizations and people around the world who are committed to giving back and doing good this #GivingTuesday.
Related
Popular in the Community