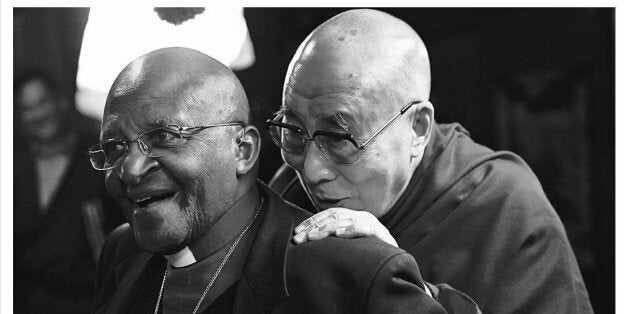 In April 2015, His Holiness the Dalai Lama and Archbishop Desmond Tutu met in Dharamsala for a historic conversation about joy. The Book of Joy (on sale now) chronicles the week-long discussion. Learn more at bookofjoy.org and on social media with hashtag #sharethejoy.
"This question comes from Micah in South Africa. She asks, 'How can you be of service to people, nature, and causes in need without losing yourself completely to a crisis mentality? How can we help the world heal and still find joy in our own life?'"
"My younger brother, here, go first," the Archbishop said.
"I think you know better."
The Archbishop laughed. "This is the first time, please note, that he said I know better."
"Is the question about Africa?" the Dalai Lama inquired.
"No, this is about the world."
"Okay," the Dalai Lama said, preparing to answer. "Now, I am always sharing with people that the problems we are facing today are very difficult to solve. An entire generation has been brought up with a certain mentality, with a certain way of life. So when we think about the future, how to build healthy humanity, we really have to think about how we create a new generation of citizens with a different kind of mind-set. Here education really is the key. Christianity has wonderful teachings, so does Buddhism, but these teachings and approaches are not sufficient.
"Now secular education is universal. So now we must include in formal education of our youth some teaching of compassion and basic ethics, not on the basis of religious belief but on the basis of scientific findings and our common sense and our universal experience. Just complaining about the present situation is not much help. It is very difficult to deal with our current world crises because of our basic mentality. As you mentioned, your father was usually a very good man, but when he was drunk he behaved badly. Today I think many human beings are drunk. They have too many negative emotions like greed, fear, and anger dominating their minds. So they act like drunk people.
"The only way out of this drunken stupor is to educate children about the value of compassion and the value of applying our mind. We need a long-term approach rooted in a vision to address our collective global challenges. This would require a fundamental shift in human consciousness, something only education is best suited to achieve. Time never waits. So I think it is very important that we start now. Then maybe the new generation will be in a position to solve these global problems in their lifetime. We, the elder generation, have created a lot of problems in the twentieth century. The generations of the twenty-first century will have to find the solutions for them."
"I mean, people are fundamentally compassionate," the Archbishop said, coming back to one of his core points.
The Dalai Lama jumped in. "Yes. That is the basis of our hope."
"I am speaking," the Archbishop shot back, playfully.
"Even the most selfish person," the Archbishop continued, "must have a modicum of compassion for his family. So we're not speaking about something alien. We are saying that we have discovered that we are interdependent."
"Actually, Archbishop," I said, trying to bring our focus back to the topic, "this question is for people who feel that interdependence profoundly and are so compassionate that it makes them world-sick and heartsick. This person wants to know how she can find joy in her life while there are so many who are suffering."
"Yes. Very good," he said, looking down and reflecting on the question. "As an old man, I can say: Start where you are, and realize that you are not meant on your own to resolve all of these massive problems. Do what you can. It seems so obvious. And you will be surprised, actually, at how it can get to be catching.
"There are very many, many people--I mean, my heart leaps with joy at discovering the number of people--who care. How many people walked in New York City for the environment? Imean, it was incredible. Nobody was going to pay them anything. But there they were in droves. There are many, many people who care. And you will be surprised when you begin to say, Well, I would like to do something relating to the aged. You will be surprised at the number people who come forward and want to help. Why are there so many NGOs? I mean, it is people who say, We want to make a better world. We don't have to be so negative.
"Hey, remember you are not alone, and you do not need to finish the work. It takes time, but we are learning, we are growing, we are becoming the people we want to be. It helps no one if you sacrifice your joy because others are suffering. We people who care must be attractive, must be filled with joy, so that others recognize that caring, that helping and being generous are not a burden, they are a joy. Give the world your love, your service, your healing, but you can also give it your joy. This, too, is a great gift."
This post is part of a series produced by The Huffington Post to mark the occasion of the one-year anniversary of the adoption of the Sustainable Development Goals (SDGs, or, officially, "Transforming Our World: the 2030 Agenda for Sustainable Development"). The SDGs represent an historic agreement -- a wide-ranging roadmap to sustainability covering 17 goals and 169 targets -- but stakeholders must also be held accountable for their commitments. To see all the posts in the series, visit here.
Popular in the Community