While countless Americans have spent the past week sprinting through their respective towns and cities taking advantage of the best holiday shopping deals, a growing number are even more excited at the prospect of giving back during the most charitable time of the year. Henry Timms, the founder of #GivingTuesday, joined HuffPost Live host Caroline Modarressy-Tehrani to discuss how today's philanthropic focus was born and why so many people have come to support it since its introduction two years ago.
"A couple of years ago, a group of us here at the 92nd Street Y were thinking, 'Okay, we've got Black Friday and we've got Cyber Monday, which are two days great for getting deals. What about Giving Tuesday? What about a day after two days of getting deals that is really all about giving back?'" said Timms.
After transforming the idea into action, Timms and his team witnessed an evolution of sorts in the minds of Americans, one recognizing the importance of helping others as individuals as well as a community during the holiday season.
"What we've really seen over the last couple of years is just a real surge of engagement and interest in people thinking about how they give, why they give, and what they give, too," he said. "What's happening today is people around the world are connecting because we want to do good. We want to connect and think about how we can make the world a better place, and at a time when so much often feels like it's unraveling, it's very powerful, certainly in my mind, to see people coming together around philanthropy."
To hear more about the origins of #GivingTuesday and how you can participate, watch the full HuffPost Live clip in the video above.
Related
Before You Go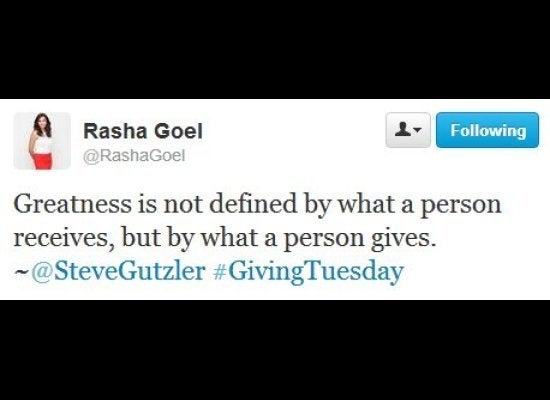 18 Giving Tuesday Quotes