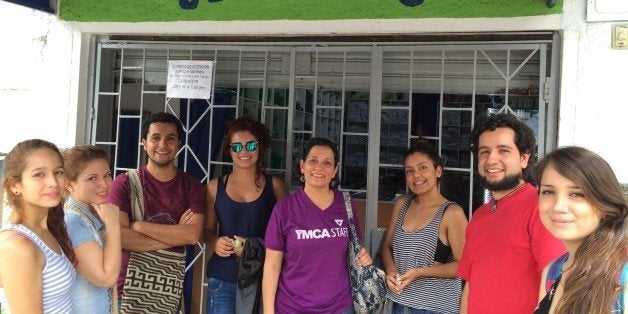 All young people have amazing potential. Unfortunately, many lack the financial resources and mentors to advance their education and find meaningful employment. The intensity of this disparity struck me earlier this year during a visit to the YMCA Vocational Training Center (VTC) in Jericho in the West Bank. The first student I met was Bara', a talented first year metal works apprentice. The second of 12 children, Bara' had heard about the VTC from a friend. He left his family and village outside of Hebron and traveled almost 50 miles to the VTC, determined to enroll when the doors opened on the first day of classes. Like many Palestinian youth, he did not have enough money to pay for vocational training, even though the tuition and dorm fees were modest. He still showed up. Inspired by his determination, the YMCA staff allowed him to sleep on the floor for more than a month until a bed became available and provided fee assistance.
Bara' is fortunate. People opened doors for him (literally and figuratively) and he is now developing skills and making connections that will help him find steady, meaningful work. Too many young people worldwide, however, never get that chance. As a result, youth unemployment (ages 15-24) in places like the West Bank, South Africa and Colombia exceeds 20 percent. It is no coincidence that these are also places with some of the highest rates of youth violence in the world.
The good news is that modest financial support and access to mentors can change lives in significant ways. Langa from Pietermaritzburg, South Africa is a great example. Langa is currently enrolled in a post-secondary technical school for electrical engineering. The fact that he has reached this milestone is incredible considering he lived on the streets by himself for several years. Like many South African township youth he grew up in a home with domestic violence, drugs and alcoholism. Langa tried to earn money as a "car guide," directing cars into parking spots. He worked on tips -- often the equivalent of a couple cents -- to save enough money to finish his secondary education and move forward into the next phase of his education. His earnings, however, were not adequate. Without resources or options to make money, Langa was at a crossroads that far too many young people experience. Luckily, the local YMCA-Justice program for street kids learned about Langa's situation and helped him. Over the course of a year, young adult South African and American volunteers helped Langa with his math, reading and computer skills and eventually raised funds to help him complete his matriculation exams. He tested well enough to enter technical school and is excited -- and hopeful -- for the future.
In my experience, when someone receives help, they tend to pay it forward and help others. One of the most inspiring examples of this comes from the infamous Comuna 13 neighborhood in Medellín, Colombia. Drugs, prostitution and street violence are chronic issues and college is the best pathway to move out of poverty. The challenge is that the university entrance exams are highly competitive and tutors are cost prohibitive. The Medellín YMCA helped a group of Comuna 13 students prepare for and pass the entrance exams. Once at university, these students wanted to give back and provide the same life-changing opportunity to others from Comuna 13. They created an affordable, volunteer-led YMCA academy to help students pass the entrance exam. The volunteer teachers are all university students from Comuna 13 who understand firsthand, the importance of educational access. One volunteer shared, "Each day when we come here to teach, we know we are contributing to social change."
There are so many young people who just need a little help and they'll do the rest to build a productive future for themselves and their families. Through my work I've witnessed countless examples of individual transformation ignited by a single opportunity or the guidance of a caring mentor. Our world is becoming smaller and by helping more people access resources to earn a living and escape poverty, we create stronger, more stable communities, which benefits everyone.
Donating to a worthy cause and/or volunteering your time as a tutor or mentor to help others are powerful ways each one of us can help more young people succeed. This #GivingTuesday, consider how you can give back and help young people to reach their full potential.
This post is part of a series produced by The Huffington Post and the 92nd Street Y, founders of #GivingTuesday, a global day of giving that will take place this year on December 1. These stories highlight the work of organizations and people around the world who are committed to giving back and doing good this #GivingTuesday.
Calling all HuffPost superfans!
Sign up for membership to become a founding member and help shape HuffPost's next chapter