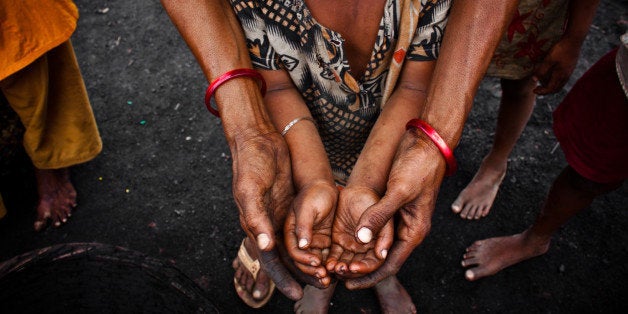 I grew up surrounded by love in a small town outside Atlanta. Our family often struggled to put food on the table. Some of this was the result of circumstances beyond our control. My mother suffered from depression, which was not understood well and difficult to treat at the time.
I know what it feels like not to fit in, to feel trapped and to wonder "Is there a way out of this"? Those difficult days weighed heavy on my heart but through the support of my grandparents and other extended family along with our church, we slowly found a way out. Even as we struggled, we never lost sight of the opportunities we did have. My father worked hard and took care of my brother and me the best he could under the circumstances. Plus, he was always helping other people, trying to find a job for a neighbor or looking in on a relative. The positive thing I learned growing up was that living a fulfilled life means giving back to others in the same way people helped our family.
Those opportunities opened the door for me to become the first person in my family to graduate from college and led me to a very successful, 30-year career at Delta Air Lines. I felt I had made it. I was happy, financially stable and felt successful.
But even when we feel we're on the right path, life can throw you a curve ball. That day came 10 years ago when my friend Shirley Franklin, former mayor of Atlanta, looked me straight in the eye and said, "I really believe in the power of what one person can do. When are you going to do something really great with your life?" It stopped me cold and changed my life.
That question led me to my work today, where, as Global CEO of Opportunity International, I spend each day helping people around the world. We provide loans, savings programs and business training to help clients work their way out of poverty, create jobs, transform their lives and strengthen their families and communities. These are not handouts. Loans are repaid and that money is re-loaned to others in need. It's a sustainable model of success that has improved millions of lives since Opportunity International was founded in 1971.
I travel tens of thousands of miles each year and have met women who have survived genocide, mothers who watched as their children were swept away in Typhoon Haiyan, and fathers who work tirelessly in the fields of the Democratic Republic of the Congo for just a few dollars a day to provide for their families. And while I don't pretend to fully comprehend their struggles, their stories struck a chord in me as I think back to my own childhood - and my father - and why I do the work that I do.
What drives me is our clients' commitment to create a better life and better future for their children. We can all do things to give back to our world. And to me, giving back is a marathon, not a sprint. As we recognize #GivingTuesday and kickoff the holiday season, think about the choices you make, find what inspires you, commit to give back, and each day please do something that touches the lives of others either in your local community or in our global community. If you're like me, it will change your life.
Vicki Escarra is the Global CEO of Opportunity International, a global non-profit organization that helps people in developing nations work their way out of poverty, strengthen their families and improve their communities. The organization currently provides loans, savings programs, insurance and other financial services and training to more than 5 million clients in 22 countries across Africa, Asia, South America and Europe. Clients use the resources to expand businesses, provide for their families and create jobs in their communities. Previously, Vicki served as President and CEO of Feeding America, the nation's largest domestic hunger relief organization, for six years. Vicki's leadership in the nonprofit sector followed several decades in the corporate sector where she served as chief marketing officer for Delta Airlines Inc.
Related
Popular in the Community