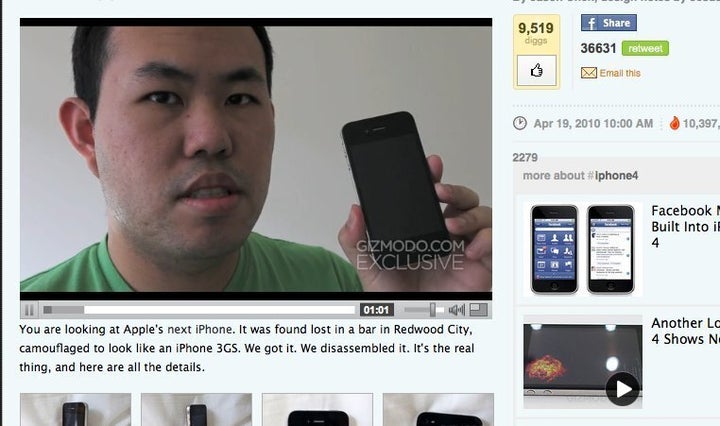 REDWOOD CITY, Calif. -- A judge has ordered officials to unseal an affidavit used to obtain a search warrant for the home of a popular tech blogger who posted images of an Apple iPhone prototype online.
A San Mateo County superior court judge on Friday granted the requests of The Associated Press and several other media organizations to make the document public.
Among other information, the affidavit reveals that on April 19, the very same day Gizmodo published its story on the "next iPhone," Apple CEO Steve Jobs personally reached out to Brian Lam, Gizmodo's editor, to ask for the return of the lost iPhone prototype. Lam, however, refused.
According to an email, Lam told Jobs he would return the phone only if Apple provided "confirmation that it is real, from Apple, officially," CNET offers details on the exchange:
"Right now, we have nothing to lose," Lam wrote. "The thing is, Apple PR has been cold to us lately. It affected my ability to do my job right at iPad launch. So we had to go outside and find our stories like this one, very aggressively." (Gawker Media has offered to pay anyone who gave them or lent them Apple prototypes.)
The court documents also confirm that Apple initiated the investigation. The company told investigators the "prototype was so valuable a price could not be placed on it," writes CNET.
Investigators with a special high technology police unit last month searched the Fremont home and car of Jason Chen, an editor at Gizmodo.com, in connection with the suspected theft of the 4G iPhone. Chen's company said it paid $5,000 for the device to someone who claimed to have found it in a bar.
No one has been charged. San Mateo County prosecutors said making the affidavit public would jeopardize the investigation.
Find out more about the investigation into the lost iPhone prototype here.
Popular in the Community