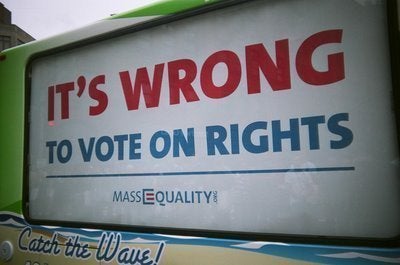 In this exclusive interview, Neil G. Giuliano, President of the Gay & Lesbian Alliance Against Defamation (GLAAD) addresses Prop 8, the religious right and the future of civil rights for LGBT Americans. Since Mr. Giuliano took the reins at GLAAD in 2005, the national organization's media programs work has more than doubled its scope to include advocacy efforts in the worlds of sports, religion, faith and values, young adult; and the 2007 acquisition of Queer Lounge, a venue at independent film festivals for LGBT and LGBT-friendly film professionals. All of GLAAD's programs work towards GLAAD's mission to ensure fair, accurate, and inclusive representation of LGBT people and events in the media and to respond when defamatory statements about the LGBT community are made.
1.California, Florida and Arizona voted to amend their constitutions against gay marriage. Are you as upset about this as I am, and how can we turn this around?
Well, we're very upset and we have to acknowledge that homophobia and misunderstanding and the powerful influence of our adversaries' money won the day this time. So, it's a setback and we have to work hard now to keep moving on our quest for equality and the fundamental rights that our Community deserves. And we will continue to do that. So I view this as a setback, certainly not the end of this situation by any means.
2.Why did the No-on-8 campaign fail?
Well, why don't I give you a little history too. You have to remember 8 years ago, this same issue was on the ballot in California and we failed then by 9-10 points greater than we came up short this time. So, there has been progress. There has been cultural change. I think if there's any one single thing that hurt our campaign, it was the fact that our adversaries had their financial resources much earlier than we did. They were able to inundate the media and control the message and essentially put the 'No on 8' Campaign on the defensive in the beginning.
They started in October with about $12 million and we had about $2 million. And they helped define the campaign for a lot of people who were unsure. And it was tough when the resources finally came in for 'No on 8', which they did, which was terrific, a wonderful outpouring of support that came in. The timing was such that those resources came in a little late for us to make and have the kind of impact that we needed to have in fighting the lies and misinformation of our opponents. So, a good message out here for all of us is that we have to fully fund our efforts early and to the strongest degree possible rather than waiting until we feel like we're on the ropes and then everybody kinda kicks in their support.
3.Being that Prop 8 wasn't only about gay marriage but our LGBT civil rights was our message effective?
Let's put it this way, we knew all along from intense polling that 40% of the electorate was clearly on our side and 40 some % were clearly our opponents and the 20 or so% that was in the middle was very conflicted. What we know is they were not necessarily supportive of same sex marriage, but we also know that they did not want to be viewed as intolerant or bigoted because of that view. So I think the messaging that was used was the appropriate messaging to meet that demographic that was still unsure, not those of us who have already made up our minds or any of our allies who already made up their minds, but the messages were right for the people who were still unsure.
We just got outfunded and we got outflanked from the standpoint of them helping define the message. They used the images of children which is a total misrepresentation and a lie. So from a campaign standpoint, they ran a tactically very smart campaign against us and we did all we could with the resources we had at the time to combat that. It just wasn't enough. Although in the last five weeks of the campaign the gap was closed significantly, it just wasn't enough.
4.In our film "OUTTAKE", Arline Isaacson, Co-Chair of the Massachusetts LGBT Political Caucus, states that if interracial marriages were voted on in 1948 it would have been the same outcome. What's your thoughts on this?
I agree with that. I think that's a fair and very accurate statement of what the time was like at that time with the views of the majority of people at that time. So, I agree with you.
Voting on Civil Rights is never something that should be desired and it shouldn't have to come down to that. When it does, like in this situation, we have to fight as hard as we can to get the messages out as strong as we can. Of course, we didn't win. Now, we'll see what this California Supreme Court says about the fairness and the legality of the initiative in the first place.

5.Do you think we should be voting on civil rights of minorities?
It's not appropriate. Whether the Justices in California are going to want to re-engage on this issue, I don't know the answer to that. I don't know if anyone knows the answer to that today.

6.How did the Religious Right buy votes with lies?
Well, they clearly used a lot of misinformation about what would have to be taught in schools about marriage which is totally false and wrong. And I think their whole fundamental argument that if this were voted down this would somehow force religious institutions to do something they didn't believe in. Of course we know that is false, but that resonated with some folks and we have to do a better job in communities of religion and faith. That's why we have a really strong communities of religion and faith media program at GLAAD now for the last year or so and it needs to get stronger quite frankly. We need to do more. We need more resources to fund that kind of a program because those are the communities where we still have a lot of work to do. We still have a lot of hearts and minds that we need to change.

7.In Massachusetts in order for gay marriage to get on the ballot it had to go through the State Legislator where it was defeated. Since it's easier in California to get issues on the ballot couldn't we have seen this coming?
For all of us in the Community to remember that we're in this for the long haul. And, we're in this until we receive full equality that we deserve as American citizens. And so, we may have had a bit of a setback with this election, but that doesn't deter us, that doesn't take us out of the game by any means. In fact, we've seen in the last week or so, it only encourages us to be more powerful and more united in our message and in our cause. We've seen that very clearly and so it's a setback, yes, but our day is going to come and we will persevere and we will achieve full equality.
To continue Mr. Giuliano's interview about Prop 8 being the second Stonewall, Obama & the future of LGBT issues in America click here.
Popular in the Community