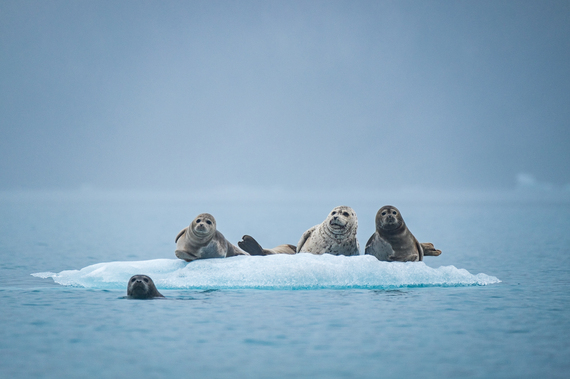 Harbor seals bask on an iceberg as the fog rolls in near Bear Glacier in Kenai Fjords National Park. Photo credit: Jonathan Irish
A lot of people ask us what has been our favorite park so far this year and that question is practically impossible to answer because each park is so special in its own way. Perhaps a better way to answer that question, or to even ask it of ourselves, is to tweak it a bit--"what park would you have wished you had more time to spend in and definitely want to go back to?" That seems more appropriate... Kenai Fjords National Park in Alaska is definitely one of them.
This park and its surrounding area has some huge draws for the outdoor set--great camping, a cool local scene, and pristine Alaskan wilderness sprawling into the mountains and to the seas. These are just a few of the reasons people want to visit the Kenai Peninsula. The things that motivate us to return are the experiences had while there... once you experience the landscape, you will undoubtedly want to explore it more in a variety of different ways.
This article is a mashup of topics including where to land on the Kenai Peninsula, what to do while there, and the outfits that can help you fulfill your adventures--the last of which becomes immensely important when trying to make a park experience great in a region that is notoriously complicated to navigate, while keeping within a budget and timeframe that meets your needs. So with that, here it goes!
Seward, Alaska
The waterfront town of Seward is the jumping off point into Kenai Fjords National Park. It's a little bit like Hawai'i and Southern California combined in terms of its laid back attitude, but with snowcapped mountains and dramatic glaciers in the backdrop. Each night during the summer, fisherman arrive at the docks to pull in their daily catch and weigh it dockside for onlookers to gasp at outside of Chinook's Restaurant--the kind of place we longed for in Washington, DC but never really found--good food, great beer, cool atmosphere, interesting people, and a view of the people behind-the-scenes who makes it all happen. Outside on the docks, you can watch boats come and go while seals and sea otters frolic in the bay and bald eagles and gulls noisily glide overhead. Seriously, what's not to love? There is something awesome to see and do in every direction, and 600,000 acres of protected wilderness cradling it all. If we could figure out a seasonal lifestyle, Seward could be a summer-time contender.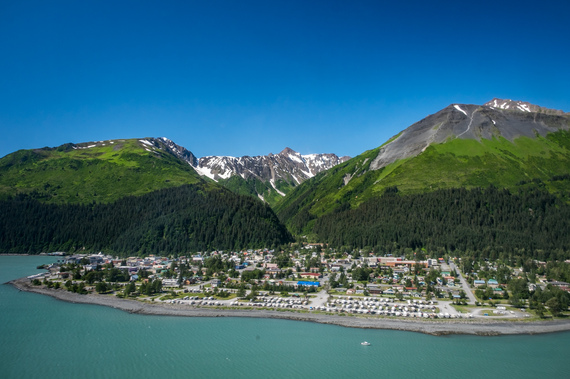 The waterfront community of Seward, Alaska, is your jumping off point into Kenai Fjords National Park. Photo credit: Jonathan Irish
Waterfront Camping
There are six waterfront campgrounds operated by the City of Seward that provide some of the best RV camping we've experienced this year. Iditarod, Resurrection, Marathon, Harborside, Alice, and Williams Park are all in close proximity to jumping off points into the national park--some sites have hookups, some do not; all have great scenery. What makes a site great in our estimation (and as such, makes this camping great) is when it meets the following criteria: seclusion and space, easy access to dump/filling stations, sites that are level and spacious, inclusion of fire pits, and close proximity to iconic sites in the national parks. As we've learned in the last nine months of camping throughout America, that is actually a very tall order. However, this area on the Seward waterfront delivers and it makes us want to return with Wally the Airstream when we have more time to stay and play. Word of advice: book well in advance! We aren't the only ones who love this camping area.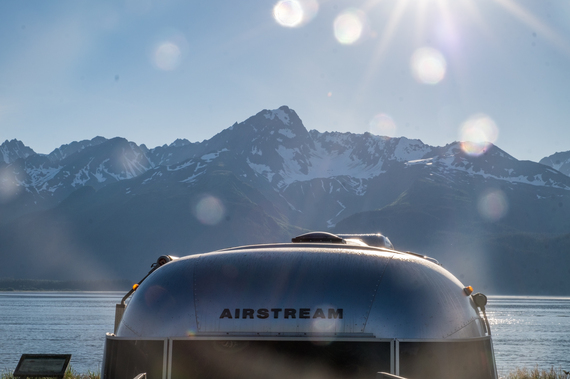 Wally the Airstream found a perfect camping spot in one of Seward's awesome waterfront campgrounds, just a couple of minutes from the Liquid Adventures' office from where we would push off to explore the Kenai Peninsula.Photo credit: Jonathan Irish
Explore the Kenai Fjords and surrounding areas
Whether you are intrigued by the fjords, icebergs, glaciers, mountains, or the sea--where you can see aquatic marine life, photograph delicate sea ice, strap on some crampons and hike across a glacier, run to the top of a mountain, or paddle among seals in protected lagoons--it's all right there for the taking, all of that wild magnificence that is so distinct to Alaska, just a couple of hours driving from the capital city of Anchorage.

Backcountry camping and kayaking through icebergs
If you want to find yourself floating in a parallel universe, this is your jam. Next to the largest glacier in Kenai Fjords National Park is a protected lagoon where icebergs rise from the sea and seals float among them, in a thick fog of silence, with a wilderness backdrop of green velvet mountains that are reminiscent of dreams... this is Bear Glacier.
Our experience at Bear Glacier is hands down one of the most exceptional we've had this year. The landscape, wildlife spotting, camping, and guide expertise was simply above. The trip goes like this: travel with an experienced captain to bypass a difficult inlet current with a flat-bottom boat; set up camp on top of a moraine with the sea on one side and a protected lagoon in the other; push off to paddle among icebergs and seals basking comfortably and free of predators in the fresh water cove; let the rest fall in.
Paddling through icebergs is incredibly visceral, as all of your senses are effected--warmth of the sun matched by cooling wind off of millions of year old ice, the thunderous sound of glaciers calving into the still water and echoing throughout the area, a black bear peeking its head out of the dense alder brush, flatulent harbor seals barking from the distance... surreal.
Our guide was an experienced pro with a wilderness leadership degree (oh how we wish that was offered when we both matriculated!) and the other guests were matched up with us based on their experience and ability level. Call it profiling, maybe it is, but when you are thrust into the wilderness, you want to be with others who are at a similar skill-level for the sake of everyone's comfort. The result was bouts of hilarious conversation, challenging paddles, and wilderness friendships that we will cherish forever.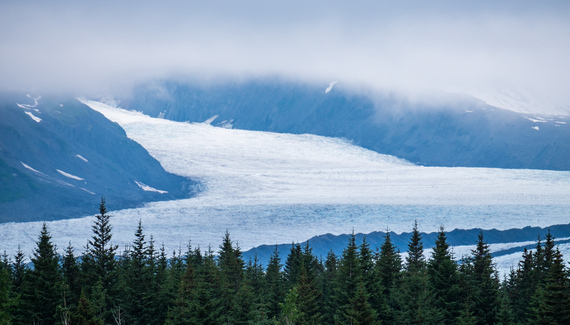 Bear Glacier, an offshoot of the Harding Icefield. It is the largest glacier in the park. Photo credit: Jonathan Irish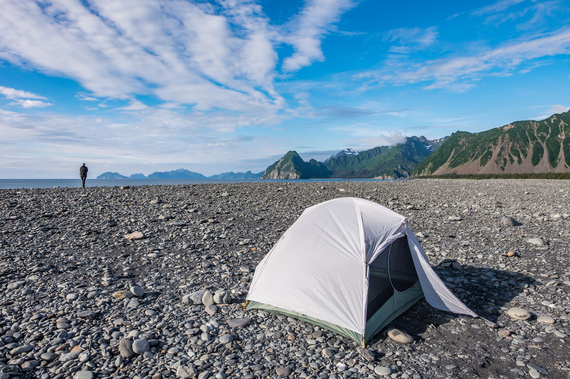 Our Mountain Hardwear tent set up for the night atop a moraine near Bear Glacier in the Kenai Fjords... it was a champion again, as it has been for the duration of this Great American Road Trip. Photo credit: Stefanie Payne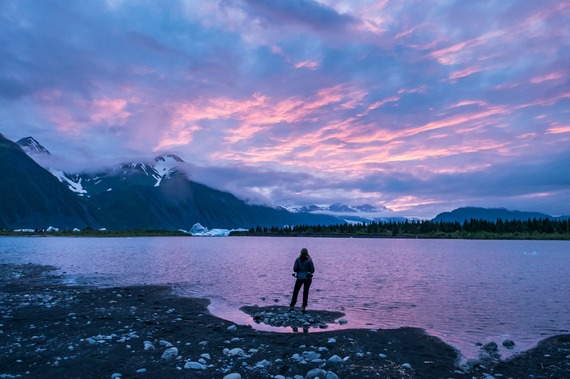 A rare pink sky explodes at night near Bear Glacier in the Kenai Fjords, just following dinner and a long day of paddling through icebergs. This entire experience was surreal, challenging, eye-opening, and totally awesome. Photo credit: Jonathan Irish
Paddle aside an actively calving glacier
Sitting at the head of Aialik Bay is a dramatic ice-face named Aialik, a very active tidewater glacier that is one of the great draws in the park. One of the best ways to see it away from the fray of the tour boat congestion is on a kayak. The experience of hearing a glacier pop, crack, and boom is unlike any other; especially when the falling ice causes ripples in the water beneath your self-propelled sea vessel several minutes later. To get there, we arranged an all-day adventure (7:00am to 6:00pm) that started with a 2-hour scenic boat ride scouring the icy seas in search of marine wildlife that the area is known for, including Orca and Humpback whales, harbor seals; and black bear on the coastal shores. After landing in a small bay, we pushed off on kayaks to explore the Aialik Bay. While there are plenty of cool creatures and geologic features to see, the star of the show on this trip is the dynamic Aialik Glacier, calving before your eyes. This full day excursion packs in some of the best that the park has to offer, returning you to Seward in time for sunset.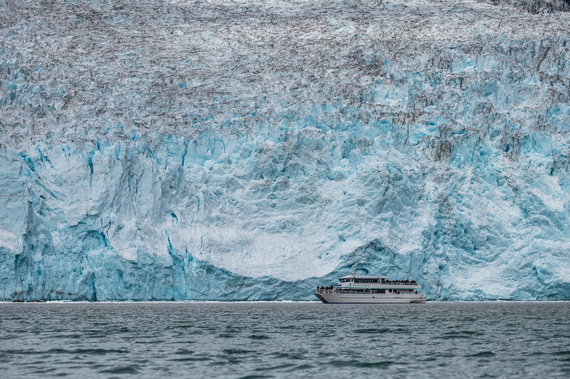 One of the coolest things to see near the Aialik Glacier is the perspective of size and scale that a large tour ship lends as it glides right aside the massive ice face. Photo credit: Jonathan Irish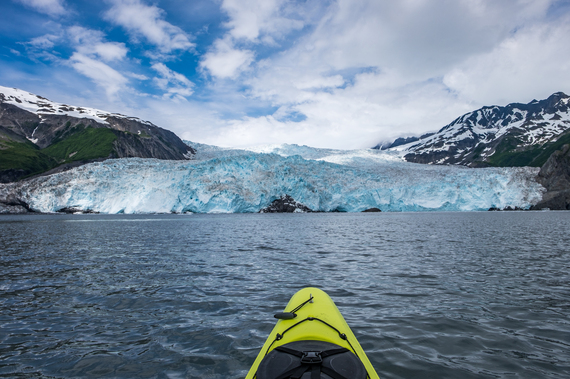 Heading toward the Aialik Glacier on a memorable day paddle that brought us near wildlife, geological formations, and to an active glacier that took our breath away each time it loudly dropped a piece of ice into the bay. Photo credit: Stefanie Payne

Heli flight to glacier hiking
This adventure took us outside of the technical boundary of Kenai Fjords National Park, but all of Alaska aside of Anchorage should be called a national park, so it joins the party! Here, we lifted off in a helicopter from the local airport in Seward and soared above Resurrection Bay and rugged mountains on a scenic heli-flight to the Godwin glacier, where we would strap on some crampons and take our inaugural glacier hike of the Greatest American Road Trip. Our guide stomped with us across the immense alpine icefield, pointing out moulins and crevasses, all the while feeding our curious minds with information about the history of mountaineering--an activity quite beloved to Alaska's adventure elite. If you want to pack a lot of adventure into one day, this trip will do it.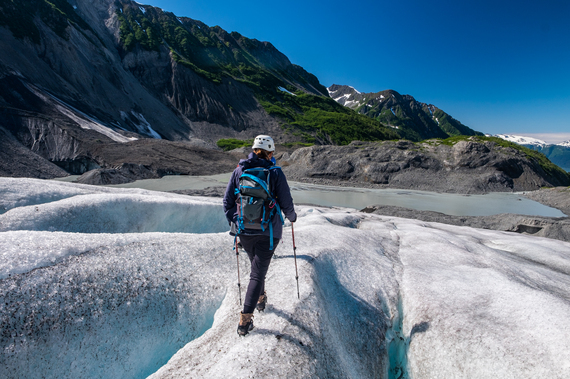 Fording atop the Godwin Glacier, emphatically avoiding moulins and crevasses, while gaining some knowledge that would turn out to become important in future glacier exploration... Photo credit: Jonathan Irish

Who to call, our guides in Kenai Fjords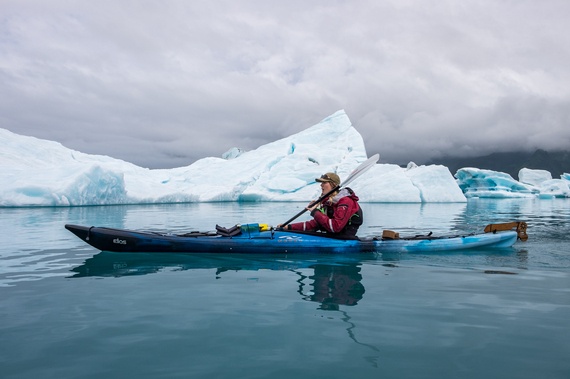 Libby, our expert route finder and wilderness wizard in Bear Glacier, from Liquid Adventures. This is one seasoned guide--special hats off to her for her knowledge and passion for the Kenai wilderness and the rest of the world! Photo credit: Jonathan Irish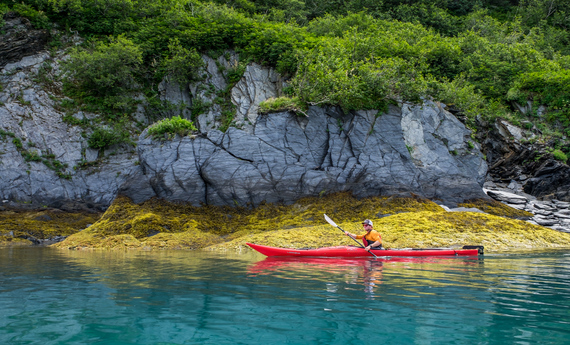 Josh, our "I'll teach you about geology, marine biology, and also glaciers" guide, in Aialik Bay. Photo credit: Jonathan Irish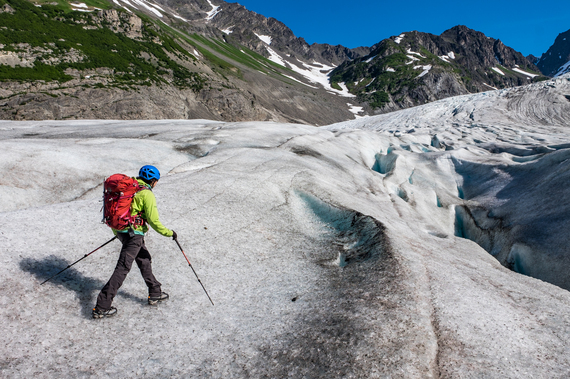 Gaby, our "Want to know about glaciers and the history of mountaineering? I've got you!" guide in Godwin Glacier. Photo credit: Jonathan Irish
There is enough sunshine inside the bayside office at Liquid Adventures that it could light up all of Alaska during even the coldest of winter months. The staff and ownership is passionate and knowledgable about the area, and they truly want to be there and it shows. The company rule is that all guides must have at least three years of experience to lead trips--and when you (as a guest) are in a place that is as wild and crazy as Alaska is, the feeling of safety while in the backcountry is extremely important. The owners are young and completely hands on, guiding many of the trips themselves and welcoming back seasonal staffers year after year. The guides whom we traveled with, time after time, touted how exceptional the owners are, and without any prodding. With such a broad collective of positive mojo, it's difficult not to feel great when heading out on an adventure--and that is before the spectacular Alaskan wilderness even shows itself.
Liquid Adventures' sister company, Exit Glacier Guides, are the mountain-based operation to the Liquid operation--the pioneers of glacier guiding on the Kenai Peninsula. All of the glacier guides are Wilderness First Responders, and extensively trained in glacier-specific scenarios. Liquid Adventures and Exit Glacier Guides know this area better than anyone and provide outdoor experiences that are customizable and scalable to meet your budget requirements. Just tell them what you are looking to spend, and they will get you out there to experience Kenai Fjords in a wonderful way. We will without a doubt travel with them the next time we are in Kenai!