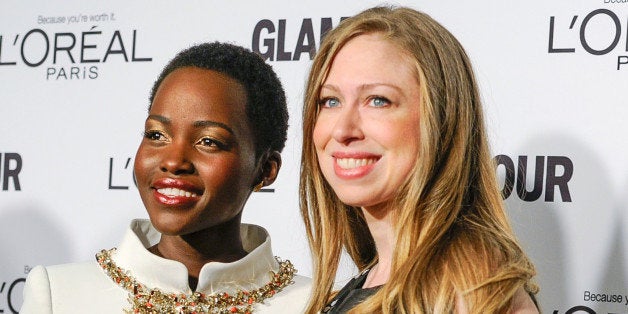 "You are women and you get shit done."
Comedian James Corden summed up the spirit of Glamour's 2014 Women of the Year Awards in one simple sentence. Because both the women being honored at the Nov. 10 event at Carnegie Hall and the women in the audience get a whole lot of shit done. (Hillary Clinton and Anna Wintour were among the attendees, to paint a clearer picture.)
The night, which marked the launch of The Girl Project, a nonprofit founded by Glamour to send girls around the world to secondary school, honored 9 women including Mindy Kaling, Lupita Nyong'o, Laverne Cox and Chelsea Clinton, with introductions from women like Whoopi Goldberg, Jodie Foster, Arianna Huffington, Shonda Rhimes and HuffPost honorary woman, Stephen Colbert. (Backstage we witnessed a Colbert-Whoopi-Amy Schumer BFF-fest, so it was a pretty awesome night, to say the least.)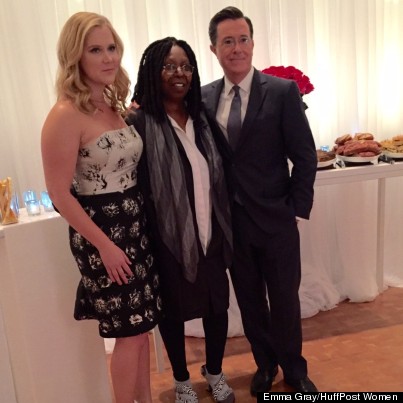 Amy Schumer, Whoopi Goldberg and Stephen Colbert pose for a photo backstage at Carnegie Hall.
There were moments of intense hilarity (Amy Schumer quipped that, "If you looked inside me right now... you'd see a UTI"), ones that melted even the coldest of hearts in the audience (10 school-age girls joined actress Freida Pinto onstage when she introduced The Girl Project; Lupita Nyong'o burst into tears during her beautiful acceptance speech), and moments when we realized we were in the presence of greatness (Mindy Kaling led those watching in a standing ovation for oceanographer and explorer Dr. Sylvia Earle; Corden commented that Hillary Clinton was "a mother I'd like to follow into the White House").
But the best part of the Glamour Women of the Year Awards was the message behind it all: Get off your butt and out of your cushy seat. Speak out. Do more. As Glamour's Editor-in-Chief Cindi Leive said, "We are all capable of greatness."
Here are nine lessons from last night's honorees and presenters:
1. Don't let fear be an excuse for inaction.
"At one point, we were all fearful," said GMA anchor Robin Roberts. "But as you get older, it's the things you don't do that you regret, more so than the things you do. When fear knocks, answer."
2. If the rights of any woman are threatened, the rights of all women are threatened.
"It is my hope that this moment will inspire people to understand that the issues of transgender women are women's issues," said Laverne Cox. Preach. We live in a world where trans people still experience high levels of verbal harassment, physical assault, poverty and suicide. Feminism includes fighting for the right of any individual to express their gender identity authentically without having to worry about violence or social stigma.
3. Your story is powerful. So tell it authentically.
"The best stories are often true," said Shonda Rhimes as she introduced Robin Roberts -- a woman who has an amazing story. "The narrative of human life is most beautiful when told truthfully and without boundaries."
4. You don't need balls to be courageous.
During Amy Schumer's touching -- and hilarious -- tribute to the late Joan Rivers, she explained one thing that Rivers taught us all: "Having balls has nothing to do with it." Damn straight.
5. Women's equality isn't just an idea. It has real consequence for all of us -- and for our children.
"We need to close the imagination gap for women," said Chelsea Clinton, touching on how the current climate of gender inequality impacts the girls who will grow up to be the women of tomorrow, including her newborn daughter Charlotte. "I want Charlotte to grow up whatever she dreams to be, wherever she dreams to do it, however she chooses to become it."
6. Ignorance isn't bliss. It's damage.
"The biggest problem is ignorance," said Sylvia Earle. "If you do not know, you can't care."
7. Being the first is great, but being one of many is better.
"I live for the day it's not groundbreaking to have an Indian woman with her own TV show," said Mindy Kaling, who is often singled out simply for existing as a successful woman of color in the entertainment industry. "I long for the time when there are so many women who look like me that I am no longer a model minority."
8. "To be a woman is to be human."
And as Lupita Nyong'o explained, our humanity is the most beautiful part about us. "To be human is to seek perfection and find joy in never attaining it," she said.
9. Do what you can, because every bit of change matters.
As U.S. ambassador to the U.N. Samantha Power so eloquently stated: "Just try to change your slice of the world and the rest will follow."
More photos of 2014's Glamour Women of the Year Awards...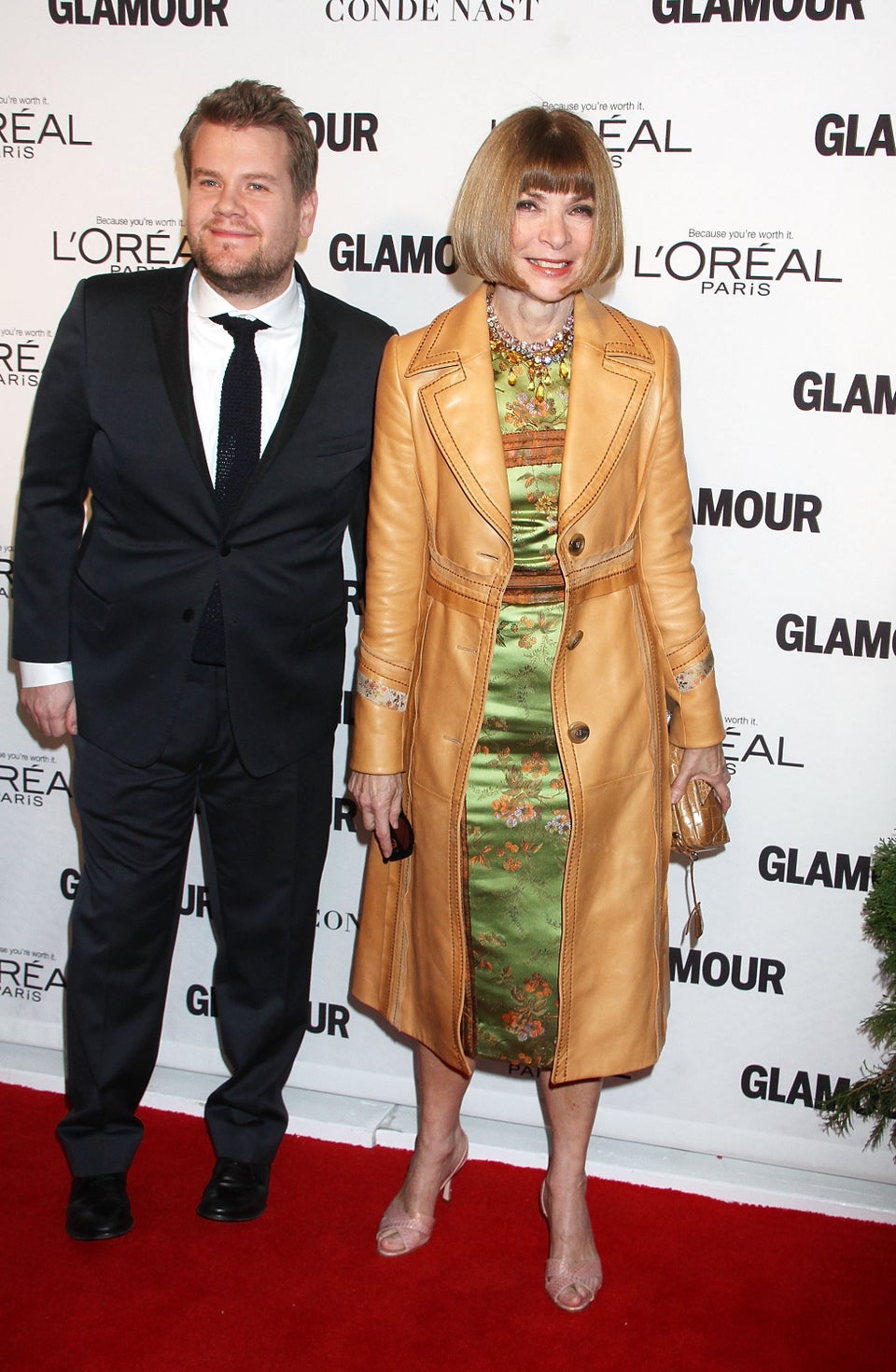 The 2014 Glamour Women Of The Year Awards
Related