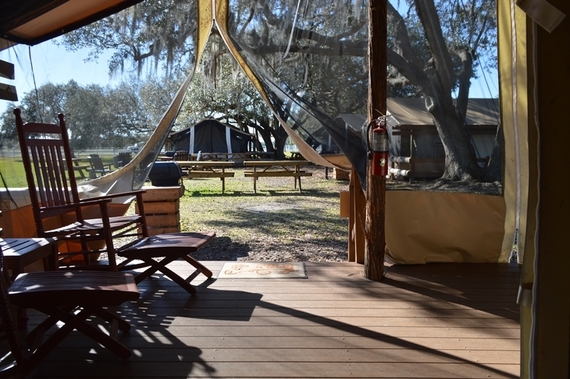 I had one of the most unique, memorable birthday trips I've ever had this year. Just an hour and half from Tampa, Florida is the Westgate River Ranch, a real life dude ranch in the Lake Wales area. Two of my close girlfriends came along for this glamping adventure at a Florida dude ranch and we completely immersed ourselves into the cowgirl way of life over an extended weekend of adventure, laughter, and new experiences.

What is glamping? If you haven't caught on to the growing trend, glamping is "glamorous camping". It's the fun parts of camping with modern conveniences. It takes away the hardships associated with traditional camping, like sleeping on the ground and not having air conditioning or heat. It can be as fancy as you would like it to be or you can keep it simple.
Since we couldn't check into our glamping tent until later in the afternoon, I scheduled a horseback riding trip via the resort website a couple of days before our arrival. I had a feeling that getting ahead of the weekend rush would prove to work in our favor and I was right. We ended up being the only two on the ride which made for a much more intimate experience with our awesome guide, Brittany.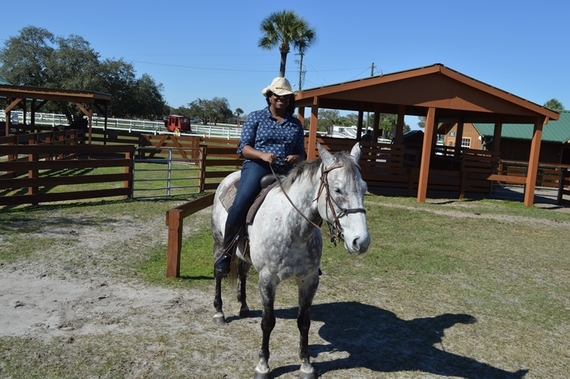 We walked along at a very easy slow pace with our horses following behind our guide obediently. It was a clear, beautiful day with just enough of a breeze to keep it comfortable. I felt so at ease atop my horse, Tough, the general manager of the rodeo.
We even rode right through the pasture where the rodeo bulls grazed lazily without a care in the world. What massive beasts those bulls are! When you see an animal that large in person you can't help but give them a wide berth and the respect they deserve. I was a little intimidated to cross into their turf but they were completely unconcerned by our presence.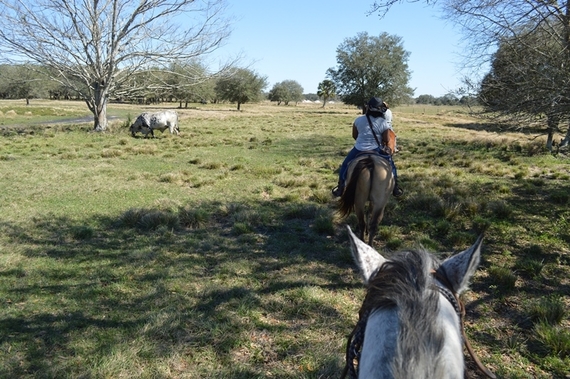 We did have one tense stare down with a bull that was directly in our path but Brittany charged at him and he decided it wasn't worth the trouble to stand his ground. We weren't really in danger. The horses are used by the ranch hands to herd the bulls all the time so the bulls know who's really in charge.
Brittany was awesome. She made us feel completely safe the entire ride and provided a wealth of information about the animals on the ranch. We also got a glimpse of the highly anticipated luxury glamping teepees that are under construction. I'm looking forward to planning another stay when construction is complete. One of my favorite moments was getting to walk through the stables and give treats to the horses for a job well done.
The highlight of the weekend was the luxury glamping tents. We were provided with a cute s'mores kit at check-in and then our personal concierge escorted us to the glamping tents area. The tents are all situated together in a gated access compound across the street from a field of grazing bison and directly adjacent to the small Westgate Airport Strip.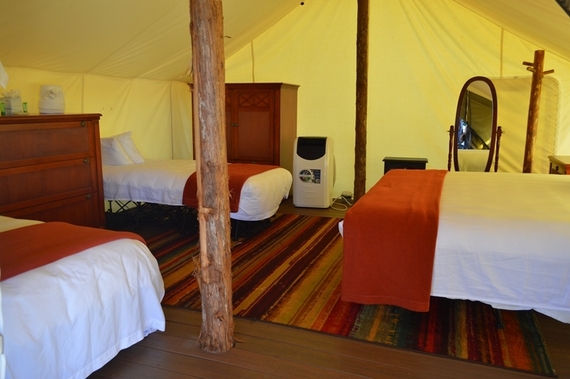 The tents are super cute inside! There is a king size bed and 2 twin beds. It was appointed with ranch style décor, floor rugs, dressers, coat rack, tables and lamps. Most importantly we had a heat/air unit and a space heater. The temperatures at night were pretty cool so we definitely needed the heat. There is a mini-fridge and freezer and microwave as well as plenty of space for storage. The only thing you don't have is a television which is really not a requirement for proper glamping. As a nice surprise there were board games in one of the dresser drawers.

Another nice feature is the netted front porch. This allows you to sit outside but still be protected from the elements. My favorite thing to do in the morning was to sit on our front porch in the rocking chair and drink hot chocolate. Our concierge delivered a breakfast spread of delicious cinnamon rolls and fresh fruit and coffee each morning. Much like a hotel, housekeeping comes daily to make the beds and replace towels if needed.

The glamping tents are grouped together in clusters. There's a couple of picnic tables and community fire pit for each cluster of tents to share. Each tent does have its own gas grill.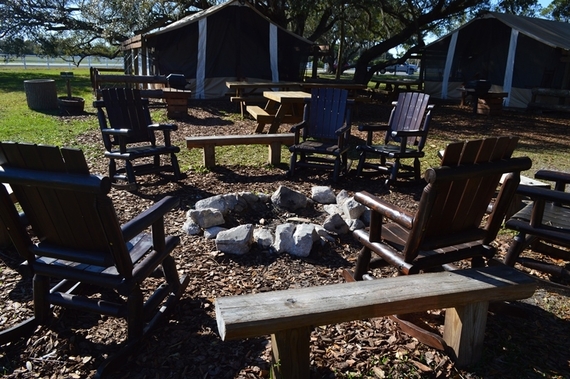 While the beds were reasonably comfortable, they are actually not real mattresses. The beds are air mattresses on cots. Our assumption was that having a real bed out in the elements in a tent might present a concern for bud begs or harboring other critters. If that's the case I can understand. However when I think luxury, I was expecting a real mattress. It would have been nice if this were disclosed in the list of accommodations on the website. Nevertheless I had 2 great nights of comfortable sleep. It beats a sleeping bag for sure.
So what about the bathroom? It wouldn't be luxury without a decent bathroom arrangement. What wasn't clear from reading the website was how the private bathroom was set up. It's actually in a separate building. We were provided a key that opened our designated bathroom. Each bathroom suite is numbered to match the tent number which makes it very easy to find the correct one. The only people with access to it are you and your tent mates.
The bathroom suite was very spacious. I was impressed. The toilet and shower are in one open space with dark tile floors. The shower is large and very clean. Soap, shampoo, and conditioner are available if you happened to forget your own personal supplies. Towels are also provided as well as toilet paper (yes, the good 2 ply kind). This was by far cleaner and nicer than any campground bathroom facility you will ever find.
There is no shortage of activities at the Westgate River Ranch. If you are bored on this dude ranch then it's entirely your own fault. We did archery, took an airboat ride on the Kissimmee River, a dinner hayride, and we also did trap shooting. The other activities available are fishing, boat rentals, petting zoo, mini-golf, and rock climbing.
Trap shooting is when the machine shoots a plastic disc up in to the air to simulate a bird and you have to hit your target with a shotgun. I was a little nervous about handling such a large firearm but I've always wanted to yell, "Pull!!" just like the do on TV. I hadn't used anything remotely close to this powerful before. I was surprised at how comfortable I was with my 30 gauge double barrel shotgun so quickly. I really enjoyed it! I felt just like Val Kilmer in Tombstone.
Special thanks to Marvin, our staff instructor. He was a great teacher and very patient. We had pre-scheduled our airboat ride but misjudged the amount of time for the trap shooting session. We had to leave in the middle of our session but Marvin was kind enough to let us come back after our boat ride to get in our remaining rounds. Tip: The trap and skeet shooting sessions will take at least an hour and half so plan your other activities accordingly if this is something you would like to do.
This is one of the coolest petting zoos I've ever been to. There were goats, donkeys (the non-kicking kind), ponies, geese, sheep, llamas, pigs, emu, chickens, a pheasant, peacocks, a ram and turkeys. The over the top experience for me was interacting with the 2 deer! They had a doe and a buck. They were both super friendly and gave us lots of hand licks. I prefer to see them in the wild but it was still a neat experience because wild deer won't let you get that close normally. We also got to pet a sweet little colt as his mama looked on. The morning seemed to be a lively time for the animals. In the afternoon they were much less active.
Every Saturday night there is a Westgate River Ranch Rodeo. This is a separately ticketed event and one of the lowest priced activities on the ranch. At the time that we went it was just $17. It was my very first time experiencing a rodeo and I really had a blast. We enjoyed cheering on the bull riders and the trick riders. I admit that if it was a familiar bull from our horseback ride I may have been rooting for the bull.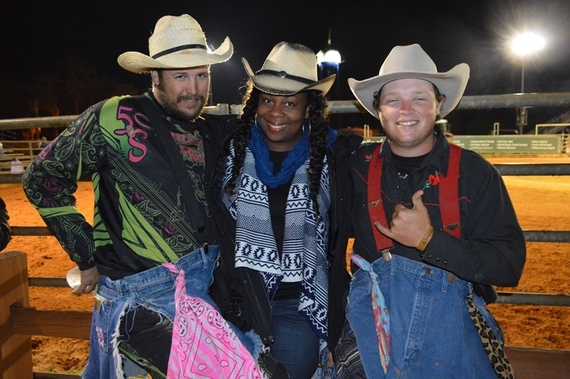 After the rodeo there's a fun block party with a DJ and a mechanical bull in front of the saloon. You can also go inside the saloon and get a boot-full-o-beer, which I did because...well just because. I'll tell you a secret, I don't even like beer like that but I wanted that boot!
Tips to recreate your own outdoorsy adventure!
Schedule your activities prior to the trip on the resort website.
Each of the activities is an additional cost so you will need to budget for that. Check the website for the current rates. We spent less than $150 total on all of the weekend activities. That's more than one excursion costs when you go on a cruise so in my opinion it was totally worth it.
You do not have to be a guest at the resort to participate in the activities or the rodeo! This makes Westgate River Ranch a prime destination for a little staycation if you are within a reasonable distance.
There are numerous types of accommodations to fit your needs and your budget. There are lodge rooms, glamping tents, cottages, and soon luxury teepees.
If you choose to have the glamping experience just know that the level of peace and quiet you can achieve is highly variable depending on those around you.
There is a fitness center and post office. There is also a general store with a Starbucks and quick service food like pizza and homemade cake. There is one restaurant on site and they also serve drinks. The saloon serves drinks but no food.
Get snacks, water, and food for the grill from the grocery store on the way. Once you leave civilization there won't be one nearby for many miles.
Would I do this again? Absolutely! We had a great time. I have my heart set on those new luxury teepees Westgate River Ranch has recently unveiled. What made it the most fun was really immersing ourselves 100% into the moment. We wore our jeans and boots and cute cowboy hats every day. We also weren't afraid to try things that were outside of our wheelhouse. You should definitely give this unique glamping adventure a try. Get more glamping inspiration from Outdoorsy Diva's glamping Pinterest board.
While I was provided a special rate for my stay by Westgate River Ranch, it in no way affects the honesty of my review. No activities or meals were provided by the resort property.