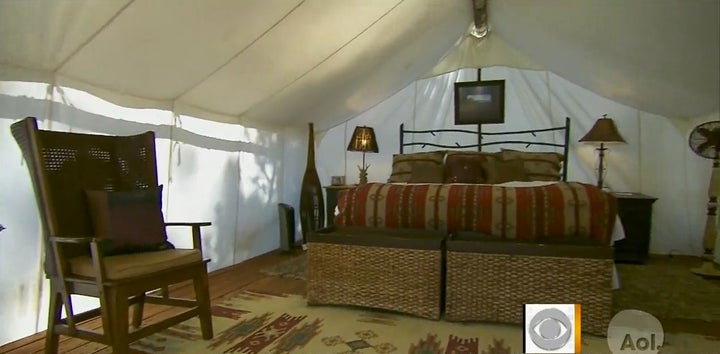 Are you really camping if there's a heated tile floor involved?
For many Americans, visiting parks and pitching tents on rough patches of ground are a fun and affordable way to spend time with family and friends. But, according to the video below from "The Early Show," roughing it doesn't cut it anymore for some people.
Glamor camping, or "glamping," offers an upscale camping experience for those who want to enjoy the outdoors, but don't want to give up the amenities of home or a luxury hotel.
The video explains that one of the nicest of these resorts is "Paws Up" in Montana. At the $900 per night resort, campers do sleep in tents. But these "Ritz Carlton-like" tents feature hardwood floors, electricity and bathrooms with heated tiles and walk-in showers.
Simple meals around a campfire are a thing of the past for these campers. Personal chefs prepare gourmet meals, and "the glamping version of wilderness guides" will even build your campfire and roast your s'mores for you.
Glamping, which has gained a following in North America and Western Europe, is not without its critics. Leave No Trace (LNT) is an ethical program that seeks to eliminate, or at least diminish, the environmental impacts of outdoor recreational activities. Supporters of LNT maintain strict guidelines for camping, including how to dispose of waste and how to respect wildlife.
According to the BBC, despite the surge in popularity of upscale camping in recent years, it is nothing new. Even a century ago, opulence and the comforts of home were no strangers to the British campsite. Early twentieth century outdoor enthusiasts in the United States weren't roughing it either in the Great Camps of the Adirondacks.
At some point into the "glamping" craze, perhaps we should ask -- has the act of camping moved from being one with nature, to invading nature?
Related
Popular in the Community