It's a Florida twist on the classic question: Is the glass-bottom boat half empty or half full?

Well, if it's a glass-bottom boat at Silver Springs State Park, it's full of people having fun, and crowds are likely to build as the attraction transitions into state park management.

Just east of Ocala, Silver Springs is one of the world's largest artesian springs, gushing up to 550 million gallons of clear water to form the Silver River, a 4½-mile shorty that feeds the Ocklawaha River and eventually the St. Johns. Glass-bottom boats were invented and launched here in the 1870s, and in the 1920s a pair of developers created what became the theme park -- and what many call Florida's first tourist attraction. Animal exhibits, rides and a water park joined the glass-bottom boats, from which visitors still eye fish and fossils beneath the surface, and turtles, alligators and myriad birds above it.

The state bought the land in the 1980s and created Silver River State Park, leasing the springs and attraction to a private company. Later, state park officials took over and made a pledge to restore the springs' volume and clarity. The newly dubbed Silver Springs State Park opened its gates Oct. 1.

Downstream, the rest of the 5,000-acre Silver Springs State Park embraces the river itself. Hiking, camping and biking are popular, but the premier experience is canoeing or kayaking down the gin-clear river. Keep an eye out for the park's critters: You might see nine-banded armadillos, white-tailed deer, wild boars, wild turkeys, foxes, American alligators, Sherman's fox squirrels, gopher tortoises, coyotes, bobcats and even Florida black bears.

Want an argument? Offer your story of how rhesus monkeys established a home in the park and its environs. One popular story says they escaped while Tarzan movies were being filmed here (as were TV shows such as "Sea Hunt" and movies such as "Creature from the Black Lagoon"). Other say nope, no monkeys in the six Tarzan films shot here. Tour boat operator "Colonel Tooey" turned 'em loose on an island in the late 1930s, and the skilled swimmers quickly spread out. No matter who wins the argument, all have a ball watching for monkeys.

Within the park, the Marion County School District's Silver River Museum and Environmental Education Center, open to the public on weekends and holidays, spotlights the area's cultural and natural history. It includes a late-1800s pioneer "Cracker" settlement and a 1930s one-room schoolhouse in which African-American students attended classes during the days of segregation.

One downer? No fishing allowed on the Silver River. But if you see the glass as half full, you can watch 'em even if you can't catch 'em!
If you go:
Where: Silver Springs State Park, 1425 N.E. 58th Ave., Ocala, Fla.
When: 8 a.m. to sundown year-round
Cost: $6 per vehicle (2-8 people per vehicle; $4 single occupant vehicle; $2 pedestrians, bicyclists, extra passengers, passengers in vehicle with holder of Annual Individual Entrance Pass; see website for pavilion rental and camping fees
Contact: Call 352-236-7148 or visit www.floridastateparks.org/silverriver


-- Steve Griffin has been a full-time freelance outdoors and boating writer since 1975. His work has included features, boat tests and Short Cast mini-features in Boating.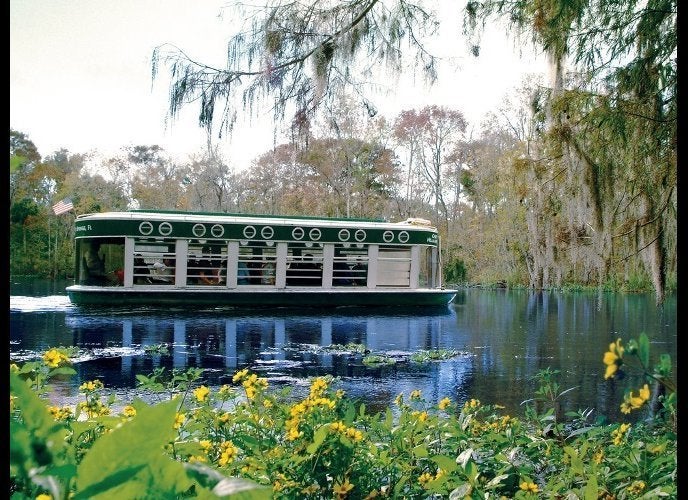 Silver Springs State Park
Related