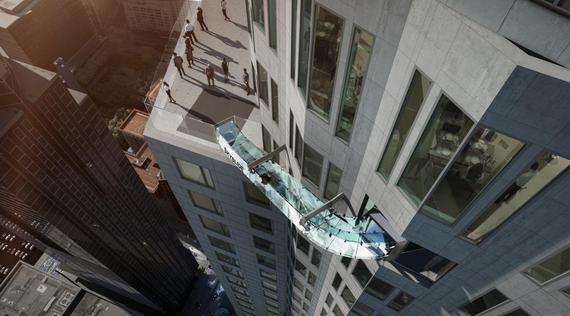 Yes, it's true, there is a glass slide at the top of a skyscraper in Downtown LA, and it's on the outside of the building, 1,000 feet up. I actually heard about it because someone posted a preview video of the daredevil slide on Facebook and tagged me in the caption saying, "I wonder if Alyssa Ramos would do this?" Needless to say, I immediately made it a priority to go see, even though I was leaving on a red-eye flight the night of the grand opening.
Does the thought of sliding down an all-glass slide at the top of a skyscraper sound scary to you? Don't worry, most of the people waiting in line for the grand opening last Saturday were pretty much freaking out before they went down, and laughing hysterically once they landed.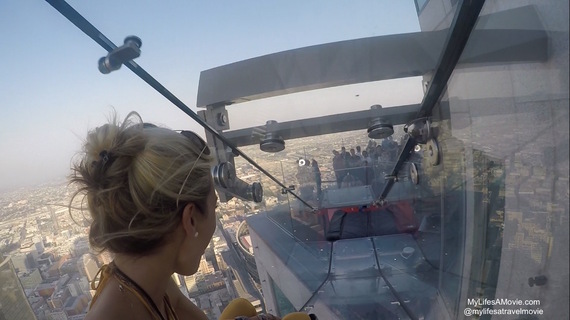 The glass slide, appropriately named Skyslide, is a part of the new attraction, OUE Skyspace, which is the highest open-air observation deck in California. It reminds me of the Top of the Rock observation deck in New York City, which also has glass-only walls and makes you feel like you're about to fall off the top of a building...in the coolest way possible. But, New York doesn't have a cool skyscraper slide, and Cali does. #winning
Anyway, the glass slide starts on the 70th floor of the U.S. Bank Building, where there's also a new private event space, and wraps around the outside of the building down to the 69th floor, where you land on a giant cushion. The actual sliding part only lasts for about four seconds, but gives you a pretty cool view if you remember to look down. And yes, in this case, you definitely should look down!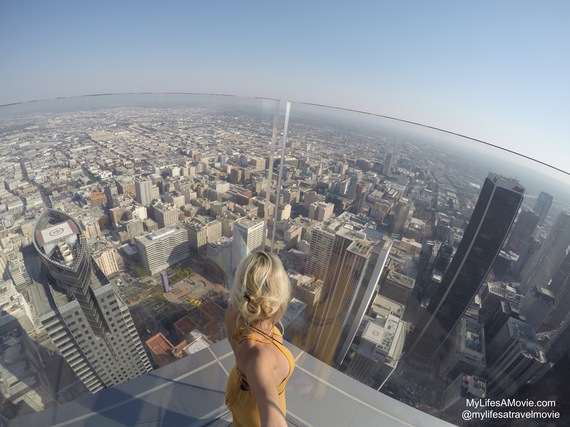 Admission for the Skyslide is only $8, but it goes by quickly for how long the line for it was, so make sure your GoPro is on and ready, or that you grab the card for your professional photo at the end!
Calling all HuffPost superfans!
Sign up for membership to become a founding member and help shape HuffPost's next chapter