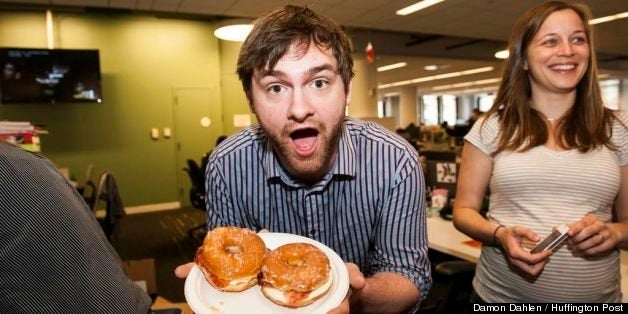 If you're getting a breakfast sandwich, you shouldn't hit a fast food joint in the first place -- bacon and eggs are much better fresh.
That said, if you're looking for a morning gut-bomb and you're heading into Dunkin' Donuts anyway, you might as well try their new Glazed Donut Breakfast Sandwich, available on June 7. Weighing in at 360 calories, this sweet-and-savory orgy of bacon, egg and doughnut certainly takes you to Flavor Town, USA.
But there were complaints about the consistency among this team's highly refined palates. Indeed, the feeling of what is essentially an egg patty while chowing down on a classic glazed doughnut is unnerving. It's also a little too sweet, probably because there's not enough of the (extremely thin) bacon.
Some here at the office couldn't get enough.
"Amazing," said HuffPost Live Producer Alexandra Schuster. "It tastes just like bacon with a side of maple syrup! Yum!"
You'll want to try this thing once, if for no other reason than to tell all your friends you did it via Instagram. But that's what Dunkin' Donuts wants.
PHOTOS (Story continues below):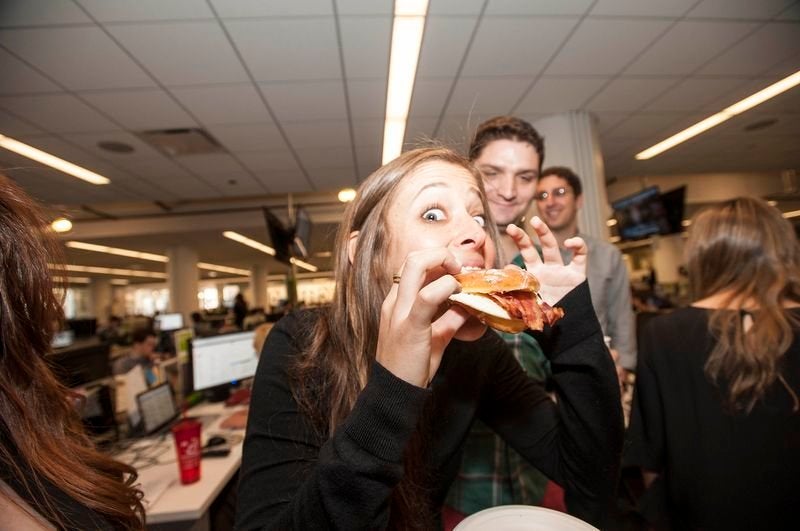 Glazed Donut Breakfast Sandwich!
The sandwich comes on the heels of the widely popular Doritos Locos Taco from Taco Bell. But we don't think Dunkin's creation will be as popular or as sustainable. The Glazed Donut Breakfast Sandwich is a little too sugary and shameful to order regularly, whereas the Doritos Locos Taco has the you-might-as-well-add-Doritos-flavor-to-your-taco factor.
At the end of the day, we probably wouldn't seek out another breakfast belly-buster, but we enjoyed it while it lasted. Its most successful feature is the idea; we're already talking about crafting our own by slicing a Dunkin' Donut in half and throwing on some thick-cut bacon with fresh eggs and cheese.
Tell us what you think on Friday!