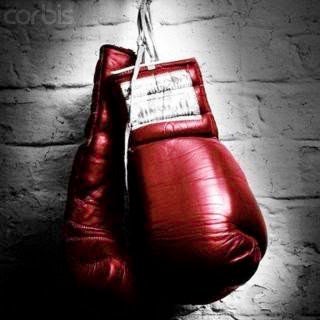 Nothing makes a girl feel as powerful as the moment she puts on a pair of boxing gloves for the first time. And why sit on a spin bike or climb the Stairmaster when you can get a sweat-inducing workout and pretend to punch [enter your boss' or ex-boyfriend's name here] simultaneously?
Gleason's Gym may be the oldest and busiest active boxing gym in the world (not to mention where Hilary Swank learned to box for "Million Dollar Baby"), but you don't have to be gunning for a title belt to work with one of its numerous trainers. Take Guy Verderosa, for instance. The man behind the company Boxing for Fitness has trained everyone from 8-year-olds to, well, me—a runner-slash-yogi who wanted to switch up her workout routine and channel her inner badass.
It's okay to lack muscle strength, but the wimpy at heart need not apply. During the one-hour sessions—which include everything from learning boxing footwork and punching combinations to jumping rope and doing squats with weighted balls—it's not uncommon for the tough-loving Verderosa to sound something like this: Left! Right! Body shot! Bend your knees! Lean forward! Turn! Why are you looking over there? Do you want to get punched in the face? Hands up! Faster!
You'll leave feeling like JELL-O from head to toe from the combination of cardio and strength training—but also confident that if [enter boss' or ex-boyfriend's name] crosses you, you'll be ready with a 1-2 combo.
Boxing for Fitness with Guy Verderosa 347-388-2708 $60/session (or $90/3 sessions)
Gleason's Gym 77 Front St., Brooklyn; 718-797-2872 Monthly membership: $85 Trainers work independently and charge varying fees.
Popular in the Community