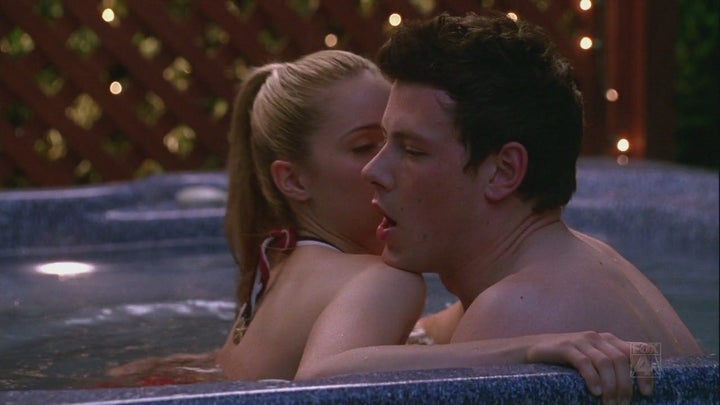 'Glee' is an idyllic look at a happy high school choir meant for children and their parents... except when the sex scenes kick in.
In a new profile in The Hollywood Reporter, 'Glee' creator and show runner Ryan Murphy opens up about his television musical juggernaut, including some of the not so PG moments in the show. He likes the risque, but sometimes, it gets a bit too much.
Talking about a Finn (Cory Monteith) masturbation scene (they may have meant the hot tub sex scene with him and then-girlfriend Quinn, or, instead, confused it with Jacob's library masturbation moment), Murphy said he may have gone a bit too far.
"I personally did not think it was too much, but I immediately heard from parents and even my gay friends who were like, 'I wasn't comfortable knowing that my 8-year-old niece in Maryland was watching that,'" Murphy told THR. "From now on, I will sweat every single word and how we're presenting it."
Potentially a good idea, according to recurring guest star Gwyneth Paltrow, who Murphy says warned him once the sexy GQ spread of the show's stars came out last fall.
"She said something like, 'Get ready.' It didn't cross my mind there would be this big controversy," Murphy said. "I think all parties involved learned a lesson about how parents look to the show as something inspirational and aspirational. We all realized that we have to be a little more careful when it comes to sexuality."
The one part of the show that irks the creator? When rock band Kings of Leon denied the show the right to use their songs.
"F--- you, Kings of Leon," Murphy relayed via the magazine. "They're self-centered assholes, and they missed the big picture. They missed that a 7-year-old kid can see someone close to their age singing a Kings of Leon song, which will maybe make them want to join a glee club or pick up a musical instrument. It's like, OK, hate on arts education. You can make fun of Glee all you want, but at its heart, what we really do is turn kids on to music."
For their part, the Kings of Leon didn't understand the controversy -- like some people just don't get Glee.
Popular in the Community