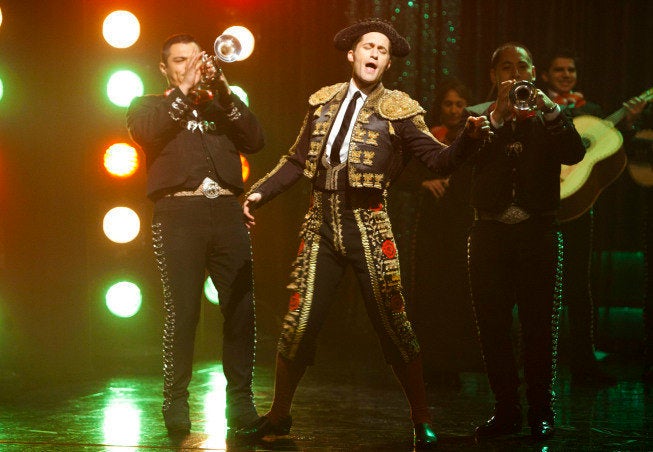 In order to regain control over his glee club, Mr. Schue, played by Matthew Morrison, challenges the new sexy spanish teacher to an Español-off.
"I go to night school now because I need to know how to speak Spanish so I can teach Spanish," Morrison dished to Access Hollywood. "He comes in and I bring him into the Glee Club and people like, really love him, he's a great teacher and stuff, so my job is kind of on the line now because the kids really love him."
So how does Mr. Schue plan to win back the New Directions?
"We have to have a kind of Español-off. So he does a song, I do a song," the "Glee" star told Access. "His will be an LMFAO song," said Morrison, confirming the Latin heartthrob performs the band's current hit single, "Sexy and I Know It." "Mine will be an Elvis Presley song -- in Spanish."
But it's not any Elvis Presley, it's his classic "A Little Less Conversation." Meanwhile, Sam (Chord Overstreet) is doing his best to win over Mercedes (Amber Riley) by serenading her with his Spanish mash-up of Gipsy Kings' "Bamboleo" and Enrique Iglesias' "Hero." Can you say swoon?
However, Morrison and Overstreet aren't the only ones tackling songs in Spanish. The other boys of the glee club also had to sing a song entirely in Spanish.
"It's the opening of the episode," Kevin McHale told HuffPost TV in a recent interview. "It's completely in Spanish, and it literally was the hardest thing. I don't even know if we did one take where we got all of the words right. Cory [Monteith] was like, 'You do know I'm from Canada, right?'"
Unfortunately, we're going to have to wait until the episode airs to listen to that song.
Calling all HuffPost superfans!
Sign up for membership to become a founding member and help shape HuffPost's next chapter