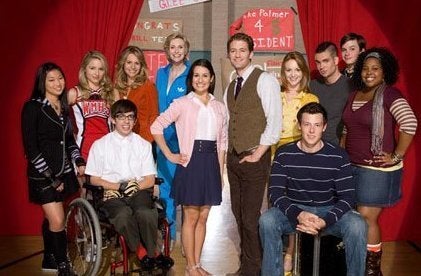 Here's the one drawback with TV series about kids: they grow up.
Unless a showrunner can suspend the laws of time and begin writing seasons that address just days or weeks, they eventually face a decision as to how they'll adapt their shows to older stars. Will they follow them from high school to new stages in life? Or bring in new characters? Perhaps both?
According to "Glee" showrunner Ryan Murphy, he's leaning toward doing the latter.
He confirmed to Ryan Seacrest that he's looking to move the current cast on from high school, with them graduating at the end of the third season, and bringing in fresh talent to the show -- which is the entire function of the new Oxygen Network show, "The Glee Project."
"That is true. I don't think of it in terms of eliminating or replacing. Because I think the thing about this cast is people love them and they are incredibly talented. They've left sort of an indelible mark," Murphy told Seacrest on his radio show. "The thing that I wanted to do and the cast wanted to do, we didn't want to have a show where they were in high school for 8 years. We really wanted it to be true to that experience. We thought it would be really cool if we were true to the timeline."
That would mean seeing Lea Michele's Rachel Berry, the show's leading character, graduate, amongst many others. Murphy said that, with two adults to rely on, he's confident of being able to make new stars.
"We've got Matt Morrison and Jane Lynch who will stay and be the male and female lynchpins of the series, but I think the fun thing about the show is it's a celebration of youth and talent and I think that just like with the original cast, I think finding those young unknown people and giving them an opportunity to break into the business and become stars is a really fun and exciting thing and is the spirit of the series."
Of course, there are options if he doesn't fully want to let his original cast leave; a number of TV shows, past and present have mapped out different courses he could take. There's the "Saved By The Bell" approach: that show series created two shows, following the original, beloved cast to College Years, and creating a New Class, as well. Then there's the "Gossip Girl" model, which put many of its stars in the local university and continued on in the same series.
LISTEN
:
Calling all HuffPost superfans!
Sign up for membership to become a founding member and help shape HuffPost's next chapter