Even before the April 11th installment of "Glee" aired, there was controversy. And Lauren Potter, who plays Becky Jackson on the series, can't say she didn't see it coming.
Eventually, the McKinley High students were released and shortly thereafter, the audience learned that Sue Sylvester's favorite Cheerio and the ultimate sassy sidekick, Becky Jackson, was the one who brought the weapon to school.
Just before the gunshots deafened McKinley, Becky told Brittany (Heather Morris), "The world out there is really scary ... Someday, they will make me leave here and I don't know what I'm going to do." "If you really prepare yourself, the world won't seem like such a scary place," Brittany told her. They locked pinkies and exchanged "I love you's," but apparently, it wasn't enough to give Becky the assurance she needed.
"Keep an eye on Becky, will you?" Sue, who took the blame, asked Mr. Schue (Matthew Morrison) before leaving McKinley for good. "She's tough, but like all the kids, she gets scared sometimes."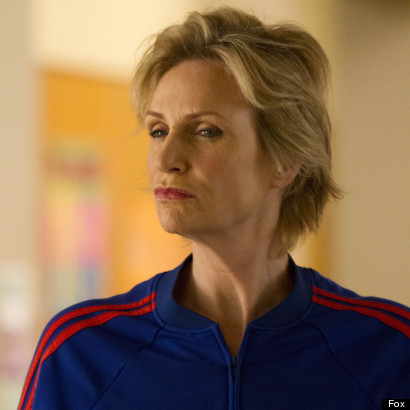 Potter -- who has been with "Glee" since Season 1, but really started stepping into the spotlight in Season 3 and the current fourth season -- and her mother Robin Sinkhorn took the time to speak with The Huffington Post via phone just before "Glee's" school shooting episode debuted.
Potter found out about "Glee" tackling a school shooting four days before filming began and long before her fellow castmembers knew what was about to happen. "I felt like they trusted me as an actress," Potter said of learning the news. "I was scared at first, but now, I feel comfortable."
The 22-year-old actress was confident, even as the controversy and negative attention rose. "Some of the stuff that Fox is hearing is, 'Why would Becky be the one to bring the gun to school?' They're dealing with controversy over that and, 'Why would you have this on 'Glee' because it's a glee club?' But I think that's the answer, really. Because it is a high school glee club and it is in the news every day," Sinkhorn said. "The shootings are still fresh in all of our minds. If Becky's going to be fully included on the show -- which they've done such a good job about that and giving her these juicy stories -- then why not Becky?
"Whether she has Down syndrome or not, it doesn't matter ... Why wouldn't it be somebody with Down syndrome because she's a kid. She's a teenager. She makes stupid decisions just like other teenagers do."
Becky's decision to bring a gun to school seemed to be coming from a different place than many real-life shooters in the news recently. "She's acting out of fear," Sinkhorn said. She didn't want to shoot anybody, she was just scared, Potter explained.
The actress said she was surprised to find out just how much Becky was struggling, even though she can remember having similar fears as Becky did in the episode. "She still does," Sinkhorn said with a laugh. "Thanks, Mom," the good-humored Potter interjected. "Lauren's as bright and eminent as always, but I'll just tell you as her mother, it was very scary -- that next stage," Sinkhorn admitted. "That was the scary time because it's like, 'What now?' ... I don't think Lauren was ever to the point that Becky was in this episode because she had the support system of her family and still does. That's pretty drastic."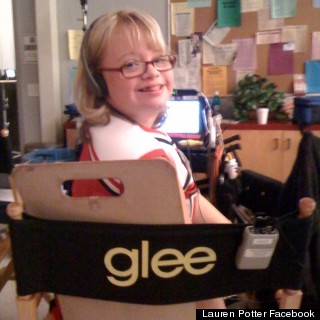 Are they at all worried, however, that Down syndrome will now be associated with school violence? "I hope it just opens up dialogue even more so. Lauren is acting the role of Becky Jackson. The writers and directors put her in that role; that's not Lauren Potter," Sinkhorn noted. "The main point I take away from this is, 'Wow. What a great actress that she can do this dramatic role just like any other actor out there.' And it kind of opens the door I think for more roles for people with intellectual disabilities ... This isn't Lauren at all! She'd never do that, but she can act it like you'll believe it. That's the thing. There's always going to be naysayers, no matter what. The point that people should take away is, this is a timely subject and they chose Lauren Potter to act that role, not anybody else in the cast. And it's not because they're saying, 'She has an intellectual disability so she's the only one that would do that' because I think most of the time that happens, it's not somebody with an intellectual disability that does it. But they said, 'You know what? Lauren's been great on the show for four years and she can act this role, so let's give it to her.' That's what I would say to those people. We know we'll get [negative feedback]. You do for everything. We get it when she does little sexy things and says, 'Hey, bitches.' We'll hear stuff. But then we hear other people saying, 'That was perfect.'"
Back in 2009, Potter beat out 13 other young women with Down syndrome for the part of Becky, who is known for her biting and hilarious remarks. "Glee's" school shooting episode certainly showed a new side of the character, whose inner thoughts were once voiced by Helen Mirren. "I met her at the [2013 Golden Globe] awards, which was really funny because I was there with my cousin Mary and I had these high heels on and my feet were hurting so I had to take them off," Potter said. "I realized there was a woman coming right toward me. She came up to me and said, 'I'm Helen Mirren. I'm your voiceover,'" the actress recalled with a laugh. "I was like, 'Oh my God. It's Helen! I just love you. I'm your biggest fan.'"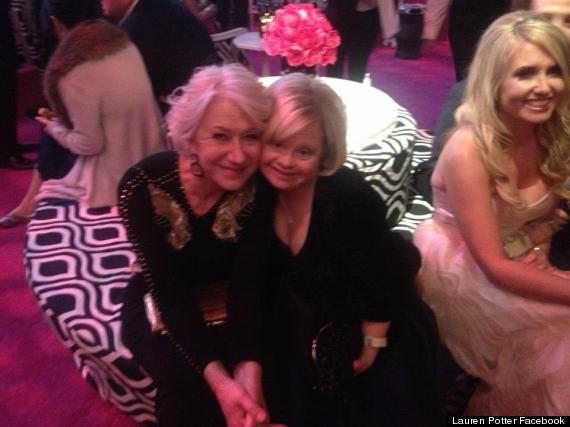 Potter is also a fan of Jane Lynch, but not so much her on-screen persona. "I just love Jane Lynch, but in the show, Sue's kind of mean. I don't like her that way," the actress said with a laugh. "But I really love her in real life. She is one of the nicest and most awesome women that I've ever met."
Potter has had a lot of amazing opportunities since becoming such a visible member of the Down syndrome community. She's on the President's Committee for People with Intellectual Disabilities and she's on the Board of Directors for Best Buddies. "I didn't get to meet the president, but I did meet the first dog," Potter said. "Bo is so cute. It was so much fun!" And with Best Buddies -- a nonprofit founded by Anthony Shriver that's focused on friendships, integrated employment and leadership development for people with intellectual and developmental disabilities -- Potter has met a slew of celebrities. These days, however, she's taking on Tom Brady.
At Hyannis Port on June 1, Potter will participate in the Best Buddies Challenge, a five-star, one-of-a-kind cycling event that ends on the beach in Cape Cod. "I want to recruit 200 riders or runners or walkers to join me and beat Tom Brady's team," Potter said enthusiastically. "It's a competition between him and me. Team Lauren's going to win!"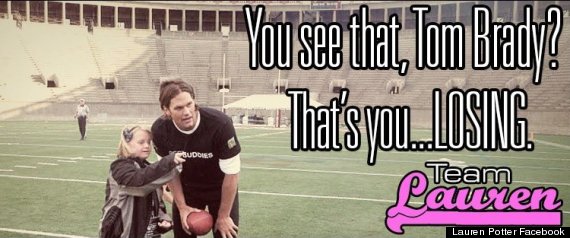 Potter candidly admitted that she's "not really" a football fan, adding, "When it comes to football, I eat buffalo wings."
Two hundred recruits shouldn't be too challenging for Potter. "Any place I go to, like restaurants and schools and stuff, people come up to me and say, 'Hey! Are you Lauren Potter? Are you Becky Jackson?' And I go, 'Yeah!'" Potter said with a laugh. "I say, 'Go ahead and take a picture.' I don't mind."
Potter said that she isn't overwhelmed by the fan reactions or by the pressure of being a spokesperson for those with Down syndrome. "I love it," she said. "I love speaking out to the whole world."
In addition to preparing to kick Tom Brady's butt right now, Potter's getting ready move out into the Glennwood House, a unique community for young adults with developmental disabilities. She's also wrapping up the fourth season of "Glee," but her lips are sealed when it comes to Becky. "I cannot say. I have to say, 'No spoilers,'" she told The Huffington Post. (Ryan Murphy has taught her well.)
Sinkhorn, however, hinted that fans will "see a little more of the background" of the "Glee" school shooting episode. "It is a high school glee club and it's light and fun and musical, but, you know what? It's not always light and fun and musical. People are scared and people react differently and because they're teenagers, they don't always do the right thing. If there is a message there to anybody or if kids can learn from that, then that's important too."
"Glee" airs Thursdays at 9 p.m. ET on Fox.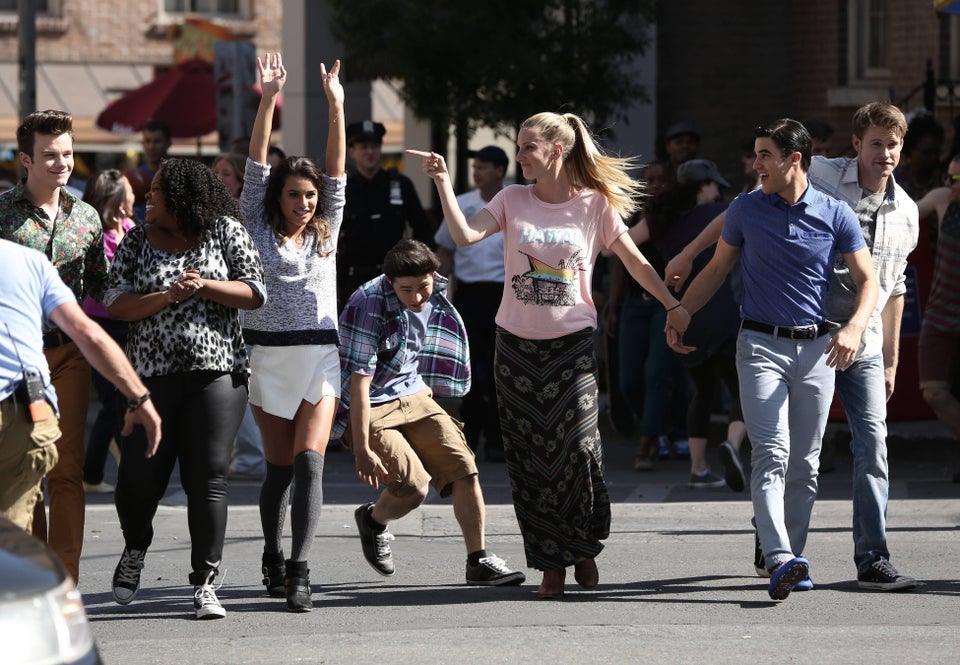 Glee Episode Stills
Support HuffPost
The Stakes Have Never Been Higher
Related
Popular in the Community