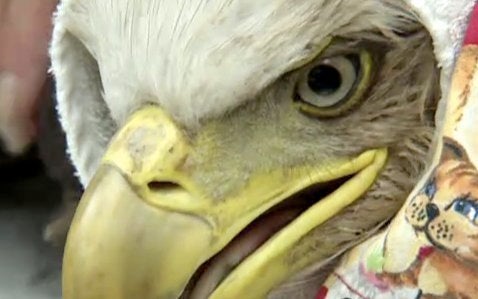 A good samaritan and a veterinarian in North Spokane, Wash., are being credited with saving the life of an injured bald eagle.
ABC News reports that Robert Hutton was driving home from work the evening of June 1 when he spotted the injured eagle "struggling in the middle of the road" at an intersection. He stopped traffic, got out of his car and wrapped the rare bird in a blanket from the back of his truck.
The bird was placed under the care of Dr. Luther McConnell, who thought that it had either been hit by a car or eaten something toxic. He carefully flushed out the bird's stomach and then administered an intravenous drip of fluids and antibiotics, according to the station.
ABC News reports that the bird was kept in a cage for the first 24 hours of its stay. It struggled to breathe and was barely able to open its eyes.
Doctors think that the bird, who was named "Glen" by hospital staff, has a 30 percent chance of survival, but hope that he will recover and one day be able to be released back into the wild.