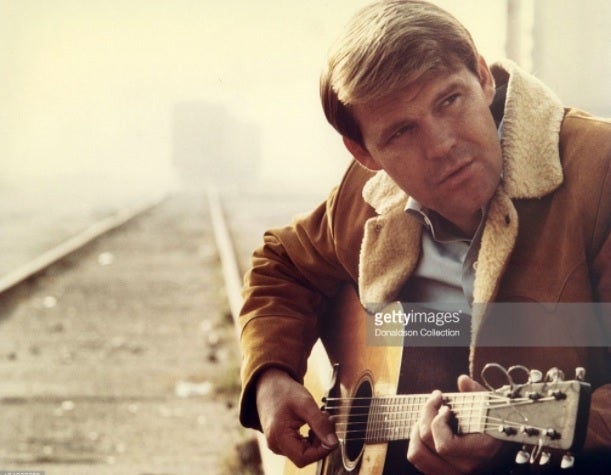 The sad news about the passing of Glen Campbell compels us to take a moment to reflect upon the life and journey of the legendary musician.
Campbell was not only a phenomenal artist. He helped generate greater public awareness about Alzheimer's by sharing his story with millions of fans. While Alzheimer's awareness has increased over the years, there still needs to be a change in the way society views those with memory loss. Thanks to celebrities like Campbell who courageously offered to share his memory loss journey, the stigma of this disease is finally being addressed.
The world first learned of Campbell's diagnosis more than five years ago. He and his family made the brave decision to share his diagnosis and progression of Alzheimer's disease with the public. They clearly maintained a positive attitude and laser-focused view of living life to the fullest, even in the midst of this unrelenting disease. Their selfless decision brought much-needed attention to the experiences facing millions of Americans – both those living with memory loss and their caregivers.
As his daughter told Rolling Stone Country, "He put a real human face on this disease that a lot of people are dealing with that we don't really hear about a lot in the media. That's the conversation we're hoping to start, that it's real." His 2014 documentary, "Glen Campbell: I'll Be Me," and the song that followed, "I'm Not Gonna Miss You," highlighted his concern, for his wife and children. Campbell demonstrated the highest level of sensitivity and insight in writing and singing a song that reflected his love and appreciation of his family, and only he could write a song that tells the story in such a poignant way. Both the film and song supported his family's efforts to bring attention to the disease and increase research in order to find a cure. His wife and children were his support system throughout his condition, which helped him and them to keep leading a fully engaged life.
For those facing a recent diagnosis, Glen's story serves as inspiration for how to keep living life to the fullest and not giving up on yourself or your relationships.
Continue Doing Things that Give You Purpose in Life
Despite the grief, fear and uncertainty often associated with Alzheimer's, it's important to continue to find meaning and purpose in life.
It's so important to remain engaged with loved ones and friends, keep setting goals and remain active for as long as possible. Following his initial diagnosis, Campbell and his family worked together on the documentary, and he continued to record music and even tour for several years. Music was his therapy and helped him remain connected with his family, friends and legions of fans.
However, music isn't only therapeutic for musicians. It has the power to help you stay connected and communicate with your loved ones. As we learn more about the powerful effects of music, we're seeing music programs become an important therapy and engagement tool for anyone with memory loss. Music evokes memories and emotions and also encourages both emotional and physical closeness that can sometimes be lost as the disease progresses.
The power of music may even help strengthen your bond with a loved one. For instance, there was a heartwarming story around Valentine's Day last year about a husband and wife who've only grown closer during the man's illness, thanks to music serving as their new "language of love." He serenades her daily with their favorite love songs. Cherish the small moments and realize opportunities to connect still exist.
Find Strength Through Support Groups
Following a diagnosis, families may feel isolated and afraid of what the future will bring. Please don't disconnect from the world around you during this difficult time. Instead, try to understand that you are not alone and that there are millions of other individuals dealing with the same concerns and issues as you. The Alzheimer's Association, assisted living communities, such as Sunrise Senior Living, and other organizations offer valuable resources and support that can benefit the person with Alzheimer's and their family. As caregivers witness the progression of this disease, it can be emotionally taxing for them. Support networks can be a therapeutic option, as well as help navigate through this journey with Alzheimer's.
Diminish the Stigma and Increase Awareness
Many misconceptions still remain about dementia and how it affects relationships with friends, families, neighbors and others. It's not uncommon for someone experiencing memory loss to start noticing their relationships with colleagues, friends and even relatives starting to change; it might be perceived as they're distancing themselves or treating that person differently. However, one can – and should – remain actively engaged in society. Whether you have memory loss or not, we all share basic human needs to feel loved and cared about, express our feelings and continue to have purpose.
So if you know someone with dementia, lean in! Spend time together, find ways to communicate, and seek support if you need help figuring out how.
Live Your Life to the Fullest
An Alzheimer's diagnosis doesn't mean an end to living a life full of purpose. Glen didn't allow his diagnosis to stop him from pursuing his artistic passions and enjoying the time he had left with his wife and children. Find hope through his example. Campbell demonstrated the art of living well even in the midst of a challenging disease, and this Rhinestone Cowboy's legacy of raising Alzheimer's awareness shines greatly alongside his many outstanding artistic contributions.