A top Republican leader in Tennessee not only doesn't want Syrian refugees coming to his state, but he also wants to round up and kick out all recent refugees from the war-torn country.
"I'm not worried about what a bureaucrat in D.C. or an unelected judge thinks. ... We need to gather [Syrian refugees] up and politely take them back to the ICE [federal immigration] center and say, 'They're not coming to Tennessee, they're yours,'" Tennessee state House GOP Caucus Chairman Glen Casada told The Tennessean Tuesday.
More than half of the nation's governors have called on the United States to stop admitting Syrian refugees in the wake of the Paris attacks, with most of them promising to do everything in their power to prevent them from entering their states.
Legal scholars agree that it would be unconstitutional for governors to take such a course of action. But Casada said he still thinks the state should try. 
"We need to activate the Tennessee National Guard and stop them from coming in to the state by whatever means we can. ... Tennessee is a sovereign state. If the federal government is forsaking the obligation to protect our citizens, we need to act," he said.
During World War II, the government also rounded up a group of people -- Japanese-Americans -- but it sent them to internment camps rather than kicking them out of the country. They, too, had done nothing wrong but were instead victims of nativist hysteria. The internment is widely viewed as one of America's most shameful acts.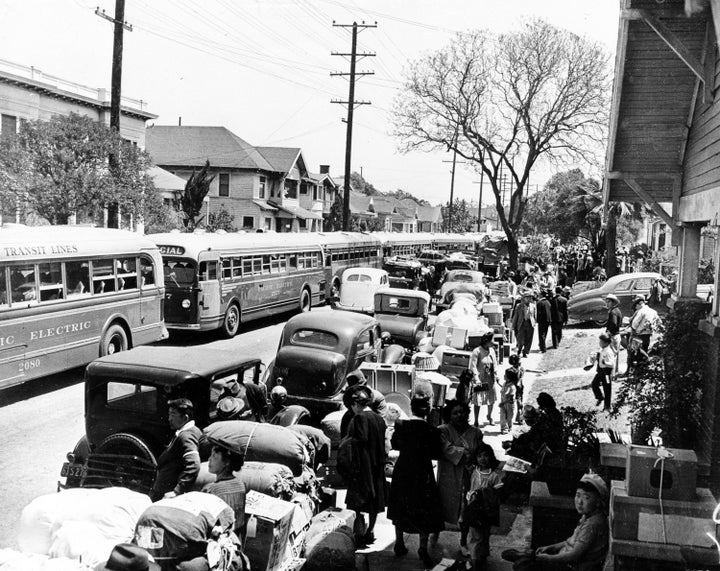 Tennessee state Senate Majority Leader Mark Norris (R) told The Tennessean he did not think it was appropriate to round up recent Syrian refugees, although he didn't elaborate. 
In fiscal year 2015, there were only 30 refugees from Syria settled in the state, out of 1,601 total refugees. Refugees are legally permitted to be in the U.S. and move freely between states. They cannot be deported unless they've been convicted of a serious crime. They are required to apply for a green card within a year after being admitted into the U.S., and then can become citizens five years after that. 
PHOTO GALLERY
These Are The Terrifying Syrian Refugees Coming To The U.S.
Calling all HuffPost superfans!
Sign up for membership to become a founding member and help shape HuffPost's next chapter