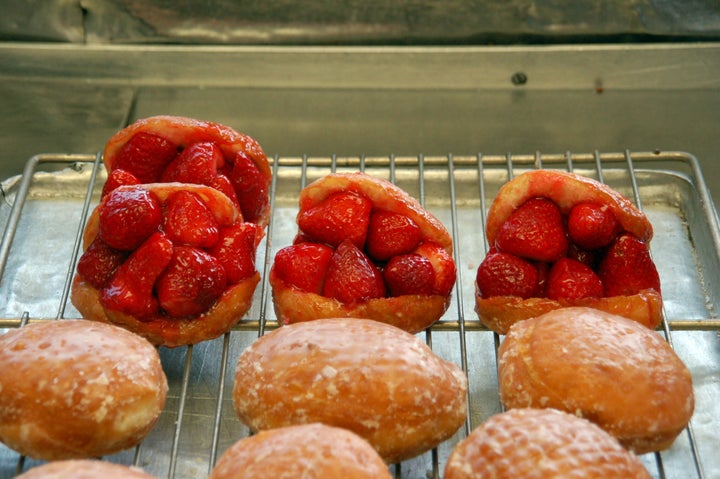 GLENDORA, Calif. -- You might think that, after nearly 40 years in the donut business, Jim Nakano would be out of new ideas.
But Nakano, who founded the Donut Man shop here that has been featured on PBS and more food shows than one can count, was waving plastic forks around eagerly Wednesday as he showed his wife and business partner, Miyoko, his newest creation: a cream puff filling made with cream cheese and extra-rich chocolate that he says could make its debut here as early as Friday.
It will just be the latest new offering from Nakano, whose most famous products are $3 doughnuts filled with fresh strawberries and peaches -- a concoction he claims to have invented and suggests be eaten "like a hamburger."
Those doughnuts are what keep the Donut Man busy 24 hours a day, seven days a week, to which the hundreds of empty strawberry boxes behind the store attest. But the customers are what keeps Nakano and his wife in business at their single small shop. The students from nearby Harvey Mudd College are favorites, but so are the construction workers and foodies alike, who visit at all hours.
Nakano likes to ask people where they're from; he keeps track and says about half drive more than 10 miles to get here. Those out-of-towners include Shane Schneider, who was visiting the Donut Man Wednesday before he headed off to start school at the University of Washington later in the evening.
"I gotta come here before I leave," Schneider said as he went to order a Tiger Tail, a stick doughnut with chocolate twisted inside it that costs $1.40 -- about 50 cents more than a regular glazed.
Nakano smiles and nods as he hears this, and recalls his own journey to becoming the Donut Man. He spent a few years growing up in an internment camp for Japanese-Americans, then he eventually joined the Navy. Later he worked for a department store and then, after meeting Miyoko on a train while vacationing in Europe, he went into the doughnut business in 1972 because, as his wife puts it now, she "wanted to eat hot doughnuts."
There have been ups and downs, he says -- the '80s were tough after the fast-food shops started serving breakfast, and California's trans-fat ban has made it difficult to serve up the same taste as before -- but Nakano says he'll remain the Donut Man until he gets sick of doughnuts.
No sign of that yet -- and he's had two a day for 39 years. That's something like 28,470 donuts, but we won't try to count the calories.
Below, watch a video from Glendora's Patch site about the Donut Man:
Related