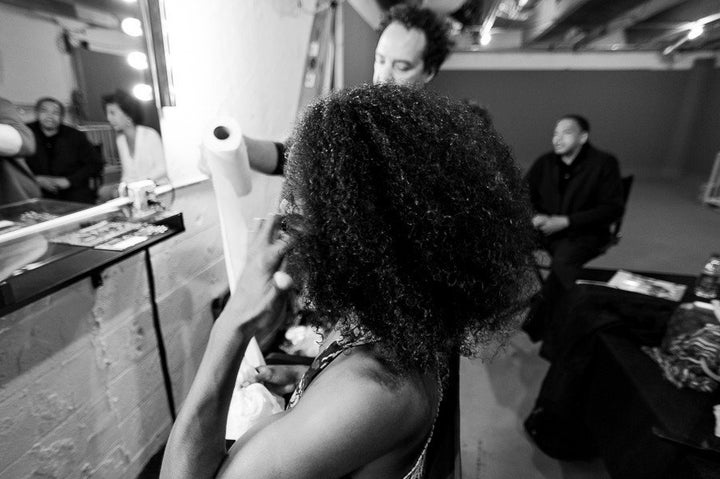 The Huffington Post caught up with Nunez via email to get the scoop on the new project, to see how the shoot went and to snag a behind-the-scenes sneak peek of the campaign (see slideshow below).
Tell us a little about your project with Andre Walker...how did it come about?
This project was a promo shoot for Andre's new line of natural hair care products. Andre saw "The Coiffure Project" on The Huffington Post and he really liked my work. His people reached out to me and we set it up.
Were you excited about getting the gig?
What?!!!! I was extra hype!
What was it like working with Andre?
It was amazing! You never know what to expect no matter who the client is. But Andre is very cool and laid back. Andre listens and observes more than he speaks. I admire that about him. He is also very knowledgeable. We had a great conversation about lighting. You can tell he loves what he does.
I also got a chance to work with the legendary Reggie Wells and Dianne Hudson. Reggie has been Oprah's makeup artist since 1989. I think he is retired but still does freelance makeup work for celebrities. He is the makeup master behind all 80 covers of O Magazine. Reggie is full of energy and he is hilarious! He is also from Baltimore so I was hype about that.
Dianne Hudson's résumé is impeccable. I'm not going to attempt to state all of the amazing things she has done but a quick Google search will show you what an amazing woman she is. Dianne allowed me to take her photo for "The Coiffure Project."
Did Andre share any fun stories about Oprah?
I made it a point not to ask about Oprah. I know that they probably get the same questions all of the time. I would be annoyed if I was in their shoes. I was more interested in learning as much as I could about Andre. The team had dinner on the first night. He briefly talked about his experience working with Oprah over the years. He still works with her.
Are you getting tired of photographing pretty girls with pretty hair?
Yes! But I think that happens to every artist sometime during a project. I read somewhere that there are different phases to an art project. One of the phases (the one that I am in) is the annoying part of the phase. You are tired of seeing the work. Tired of seeing the same stuff over and over so you put it down for a while. But then you realize that you are close to the finish line and you might as well finish.
How did this shoot compare to the projects you usually work on?
Things were the same with the exception that we were working in a new studio location. It was the first time shooting in a studio that was not my own. We shot at No 2nd Takes Studio in Miami. It was tough to hand over some of the responsibility to someone else. I am used to doing everything on my own but it was great to have someone I could trust to help out. Derrick Reyes the owner of the studio held me down.
What's next for you? Any other big projects on the horizon?
Not sure. Nothing planned but that is the life of a freelancer. I work on personal projects until the phone rings. The important part is to keep creating new work. New work brings new paying projects.