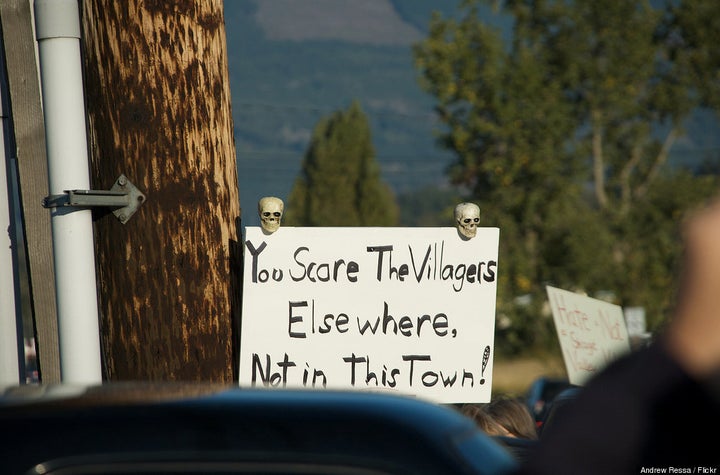 Glenn Beck received the key to his hometown of Mount Vernon, Wash. Saturday at a ceremony that drew about 800 protesters, according to the spokeswoman for the town's fire department.
It's unclear how may protesters were there to support the Fox News commentator or demonstrate against him. The Skagit Valley Herald reports that there were twice as many people protesting against Beck than supporting him, while The Seattle Times reports that it was more evenly split.

Among the protesters was Bellingham resident Minnie Pollett, who drove to Mount Vernon with about a dozen others... She said she wanted to protest because she resents Beck's presence here.

"I believe in our Democracy. I believe in tolerance and President Obama, and the positive power to make a difference -- not this," Pollett said.

The Seattle Times reported from inside McIntyre Hall, where the ceremony was held, despite efforts by Fox News and Glenn Beck's representatives to limit press at the event.
Inside McIntyre Hall, there was a problem with the sound system at first. "It's a left-wing conspiracy" shouted one woman, to much laughter...

Mt. Vernon Mayor Bud Norris gave thanks to some of the public officials who showed up to the event -- including two Mount Vernon city councilmembers, the mayor of La Conner, and state Sen. Val Stevens. He introduced his son-in-law, who he said had completed six tours of duty in Iraq and Afghanistan, to much applause. Then he asked other people who had served to stand up -- and dozens did. Norris thanked the police for making it a safe place: "It's a pity we had to spend the kind of money we had to" to make it safe, he said. "But it's the price we pay for free speech."
Before visiting Mt. Vernon, Beck made an appearance at Seattle's Safeco Field as part of an event called "Take the Field With Glenn Beck."
The Associated Press reports that support for Beck in Seattle was evident. He drew cheers for declaring that winning the war on terror was more important than health care reform and boos erupted as photos of Obama and Democratic Washington Gov. Chris Gregoire appeared on a large screen.
Beck said 7,000 people attended the event. A few dozen people protested. They expressed displeasure with Beck for calling Obama a racist who hates white people.
Related
Popular in the Community