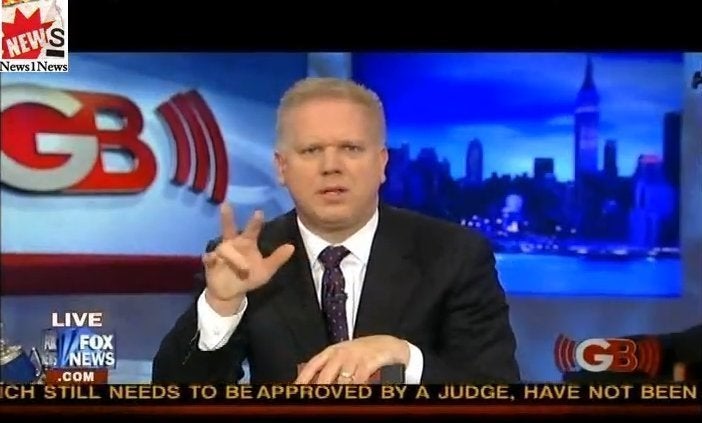 Glenn Beck's penchant for envelope-pushing rhetoric and personalized political attacks often lands him in hot water. But the strangest complaint about the controversial Fox News host's big mouth may have come on Wednesday.
A non-profit group whose goal it is to "promote the understanding of Polish America and Poland, and to advocate for their needs and interests in America" released an statement on Wednesday, admonishing Beck for deliberately butchering Rep. Jan Schakowsky's surname.
The Piast Institute noted that Schakowsky's name "is only three syllables long," and that "its original spelling was altered to make it easy for English speakers to say." And yet, the Michigan-based group adds, Beck "made a hash of pronouncing the surname."
"Our names are a key to our identity, self-esteem and our pride in our heritage and family," the statement reads. "To fail to pronounce them correctly, especially on national television, is a mark of disrespect. This is a serious matter. The prejudice the Polish-Americans have suffered has usually begun with the mockery of our names. We would ask Mr. Beck and all others in the media to make the effort to pronounce our names correctly. All television stations have guides for pronunciations of foreign names and places. We ask that they also develop a handbook for the correct pronunciation of Polish American and all other American names."
The irony of it all is that Beck's mispronunciation of "Schakowsky" may have been the most innocent portion of the entire segment. Earlier, the Fox News host spent several minutes trashing Schakowsky's husband, Robert Creamer, for a past conviction for federal bank fraud.
He also insisted, for the second straight night, that the Obama White House was tainted for extending an invitation to Creamer -- a highly-respected voice in the progressive community -- to the president's first state dinner.
Scoffing at a Polish surname was, it seems, the final straw.
UPDATE: Schakowsky, it turns out, isn't even Polish. Her staff, which first told the Huffington Post she was a Polish-American, emailed to clarify that she's actually of Russian descent.
Calling all HuffPost superfans!
Sign up for membership to become a founding member and help shape HuffPost's next chapter