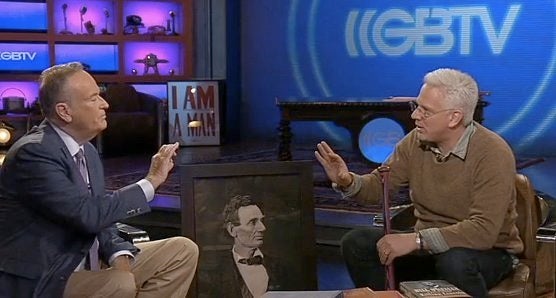 Bill O'Reilly managed to shock Glenn Beck into silence for a moment on Monday with a comment he made about the 2012 election.
O'Reilly was appearing on Beck's new GBTV network for the first time since it launched. The two were discussing the GOP's candidates when O'Reilly started criticizing Rick Santorum, who is one of Beck's favored candidates. He said Santorum was too much of an ideologue to be president.
The country, he said, needed a "problem solver, primarily an economic problem solver," rather than an ideologue. "Ideology needs to take a back seat until we get the economy straightened out," he concluded.
After a few audible gasps and hesitations, Beck responded, "I don't even know how to start on that one...How do you fix something without an ideology?"
Beck went on to refer to what he called the "toolbox" of problem solving techniques that comes with a particular ideology. O'Reilly worried that people might take office and rigidly adhere to ideologies, even when a problem may call for a contrasting resolution.
After the audience applauded Beck, O'Reilly turned to the audience and said, "yeah, that's because you got in for free."
WATCH
Calling all HuffPost superfans!
Sign up for membership to become a founding member and help shape HuffPost's next chapter