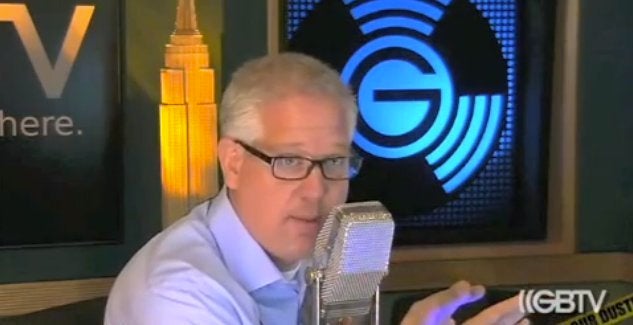 The radio host was reflecting on his Restoring Courage rally in Jerusaleum, where he said the term African American did not apply. He asked his co-host Pat Gray, "Correct me if I'm wrong but didn't you feel ridiculously stupid everywhere in Africa, in Europe, in South America, in Jerusaleum when you would say the words African American?"
Beck asked, "Now how can people be one thing in one country and nowhere else in the world?" (Perhaps because the term "African American" only applies to people from the United States?)
When Gray asked what the right term was, Beck responded, "It's black!" and repeated the word "black" three times to reiterate his point.
Beck implied that "colored" was a better term, saying, "It's not a bad thing, only here. Why are we made to feel bad?" He held up South Africa, where apartheid was repealed just twenty-one years ago, as an example. He said, "In South Africa, it's 'black' and 'colored.'"
He even found the term insulting to American patriotism. "You weren't over in Africa. Your great great grandfather was, your great great great grandfather may have been, but you weren't," he said. "Sure, this country sucked for blacks. Sucked. Beyond sucked, for a long time. But it doesn't now. It doesn't now. Be proud to be an American,"
LISTEN:

UPDATE: Beck responded to this story during his Wednesday program, taking issue with a description of his preference for the terms "black" and "colored" over "African American." Beck has consistently indicated that he dislikes the term "African American" and was emphatic on Tuesday that "black" is his preference. At that time, he also responded to a reference to the term "colored" by saying, "It's not a bad thing. Only here. Why are we made to feel bad?" He backpedalled on Wednesday, saying, "I'm explaining what's happening in South Africa." The complete audio of his original comments is available on this page, as it has been since the story was published, and readers are invited to evaluate it for themselves. Separately, HuffPost has replaced the word "insisted" with "implied" as Beck spoke about these terms in a similar context but didn't compare them directly.

A reference in this story to South Africa has been corrected. Beck pointed to the country as an example in terms of language, but not specifically as one "for America to follow." Beck did not take issue on his program with this previous description, but it was a more accurate reflection of his words to remove it.
Related
Popular in the Community