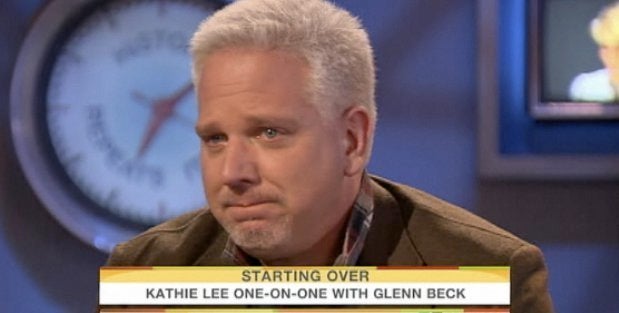 Glenn Beck talked about his childhood and cried about his parents and his mother's apparent suicide in an interview with Kathie Lee Gifford that aired on Wednesday's "Today" show.
Beck opened up about his new book, "The Snow Angel." Though the book is a work of fiction, Beck drew from childhood events as inspiration. Beck said he grew up in an alcoholic and abusive household. He also discussed how his family never really addressed his mother's apparent suicide. Beck told Gifford that his mom drowned and the cause of death was still undetermined. Beck grew emotional when he discussed his parents. He was brought to tears when he said that "abuse is generational."
Gifford also discussed Beck's new media venture, GBTV. Beck said he had no sad feelings about leaving Fox News in June 2011 and said that he did not "really care" if his show attracts advertisers and sponsors.
"I don't owe a man a dime," Beck said. "I think the networks are a thing of the past."
When Gifford steered the conversation to Occupy Wall Street, Beck said that he understood some of the frustration felt by the protesters. Regarding "other parts" of Occupy Wall Street, Beck said "I go back to what I said in January and I stand by it. Radicals, revolutionaries, communists, socialists, and Islamists who are not on the same page on a lot of stuff, will gather together to end the capitalist system and the Western way of life."
Gifford highlighted that Beck traveled with a large security detail that was just a "reality of life" for Beck and his family. When asked if it was "all worth it," Beck responded, "I wouldn't want to be my children...I wouldn't want to be my wife."
Watch the "Today" interview below and scroll down for a slideshow of more teary Glenn Beck moments.
Calling all HuffPost superfans!
Sign up for membership to become a founding member and help shape HuffPost's next chapter