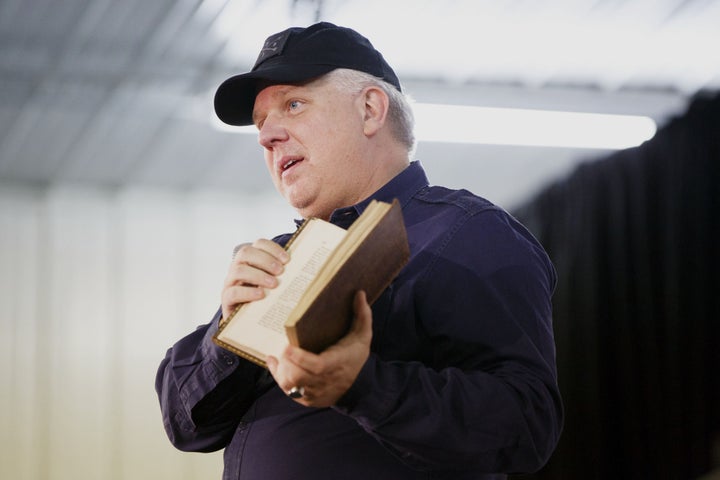 NEW YORK -- As Glenn Beck has campaigned for Sen. Ted Cruz (R-Texas), the conservative host has repeatedly wielded a copy of a Don Quixote he claims was purchased by George Washington the day the Constitution was signed.
Beck, who has compared Cruz to a modern-day Washington, showed off the book at campaign stops in Iowa last month.
"He wrote two lines [in his diary] on the day of the signing of the Constitution," Beck said of Washington during a Jan. 30 stop in Ames, Iowa."First line: 'Signed the Constitution today.' Second line: 'I pick up my copy of Don Quixote.' This is his copy of Don Quixote that he picked up that day."
"I brought it because here's the most amazing thing anybody had ever done, but he had such confidence in it," Beck continued. "He knew the brighter days for all mankind -- not just America, all mankind -- were just on the horizon. He had done his job and he could sleep at night."
But the museum at Mount Vernon, Washington's Virginia home, says the copy of Don Quixote in question, which Washington purchased in Philadelphia on Sept. 17, 1787, is stored safely in its collection. A Mount Vernon spokeswoman told HuffPost that it's in the rare books vault at the Fred W. Smith National Library for the Study of George Washington, the presidential library in Washington's home. Mount Vernon even displays images of the book on its website.
Spain's ambassador gave Washington a Spanish-language version of the book later that same year. A spokeswoman said the Spanish version, too, is stored at Mount Vernon.
In a statement to HuffPost, Beck acknowledged the book he's displayed at rallies is not the copy of Don Quixote that Washington purchased on that day. However, Beck said he possesses another copy of the book, dated 1796, from Washington's library.
"The lesson that I take from Washington's diary where he says 'Signed the constitution. Bought Don Quixote' is that we are never done in our service to God and Country," Beck said. "I have incorrectly stated that my copy is the copy that Washington purchased the day he signed the Constitution. That version is one of the copies owned and housed in Mount Vernon. I take full responsibility for connecting my book (which is dated 1796) to the book Washington purchased that fateful day of September 17th, 1787. But make no mistake the copy in my possession is from the private library of George Washington."
Experts at Mount Vernon noted that the ownership of the 1796 volume is complicated, and that it's uncertain whether that later edition, owned by Beck, was in Washington's library or was purchased by Washington as a gift for his friend Colonel Tobias Lear. The 1796 copy of Don Quixote was later passed down to Lear's son, Benjamin, who identified it in records as having been received from Washington.
A Mount Vernon spokeswoman said it would need to see Beck's copy in person to authenticate it.
The copy of Don Quixote isn't the only artifact related to Washington that Beck has shown off at Cruz events in recent weeks. He has also brought out a compass that belonged to Washington, arguing that America needs someone like Cruz who displays the exactness of a surveyor.
This article has been updated with comment from Beck and additional information from Mount Vernon.
Popular in the Community