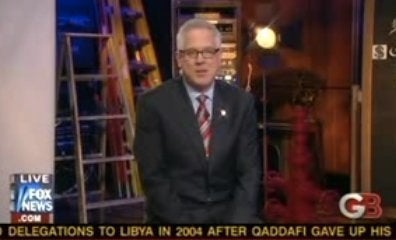 Glenn Beck confirmed his imminent departure from his daily Fox News program during the start of his Wednesday show. Beck and Fox News announced earlier on Wednesday that he will "transition" out of daily television, and will instead produce specials for the network.
"I am going to leave this program later this year, but I am not leaving Fox, and I will explain at the end of the program," Beck said. "There is much more important news than 'what's the big fat chunky guy on TV going to do in his future?' This show has always been about our country's future."
WATCH:
At the end of the show, Beck said that he initially had rejected Fox News' offer to start a show, but had changed his mind because "I thought that I had something important to share. I really thought that if I could prove my case that something wicked this way was coming...America would listen. And they have."
Beck said he didn't take the job to make a career for himself. "Paul Revere did not get up on the horse and say, 'I'm going to do this for the rest of my life,'" he said. "He got off the horse and fought in the revolution."
Finally, Beck addressed his viewers directly. "We will find each other," he said. "I'm developing other content for Fox...I will continue to tell the story, and I'm going to be showing you other ways for us to connect. But I have other things to do."
WATCH:
Popular in the Community