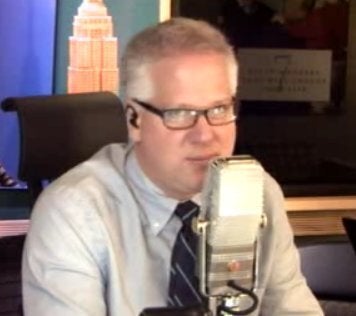 Glenn Beck returned from his week-long vacation on Monday, and used his first day back on the job to respond to a widely-discussed New York Times piece that said that Fox News was "contemplating life without" him. Beck launched into a nearly 15 minute monologue which his website, The Blaze, estimated contained 2,640 words.
Among other things, Beck touched on his relationship with God, the situation in the Middle East, global warming and his fan base. But he also delivered a cryptic message about his future plans: "the only thing in life that is constant is change."
The Times piece said that Beck's public controversies were becoming an increasing burden on Fox News, and that the station was mulling whether to keep him or not when his contract comes up in December. Beck lambasted the article, and lavished praise on Fox News and its CEO, Roger Ailes:
"Yes, my contract is up at the end of the year. Contracts do that. Fox and I have had a great relationship and the current contract does come to an end in December. My admiration for the people that work at Fox and the people that have built Fox cannot be overstated. In short, Roger Ailes has built not only the most powerful name in news in America but he has built the most powerful name in news on planet Earth. And much to the left's amazement and chagrin, he's done it all without bashing America. Isn't that weird?"
But he also said that he and his fans would "find each other" no matter what happened:
"The only thing in life that is constant is change. And so while things, and I don't know which, will change, all things do, but I know that we'll continue to find each other whether on the radio, the Internet, on stage, in movie theatres, in the pages of books that the New York elite will never read or on Fox that the New York elite will never watch."
WATCH: