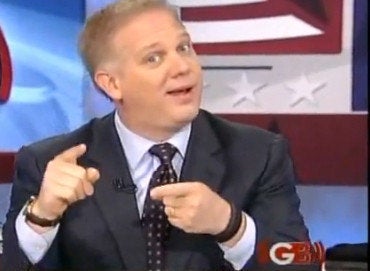 UPDATE: Press will be allowed to cover the Mount Vernon, Washington event where Glenn Beck will receive a key to the city, after all.
There will be five press passes, Norris said. He said he hasn't quite figured out how they will be doled out, though.

"Maybe some kind of drawing, maybe we let the media people decide among themselves," he said.

Norris said the story about limiting press access was due to "the way I interpreted what they [Glenn Beck's representatives] had to say. Something was lost in the translation."
The Seattle Times has also corrected its original story, which included awkward language that suggested Fox News was behind the media blackout [see below]. Fox News has nothing to do with the event.
Original Post: Glenn Beck will receive the key to his hometown of Mount Vernon, Wash. in a ceremony this Saturday. But don't expect to hear or see much coverage of the event.
According to The Seattle Times, no national or even regional press will have access to the official city event.
Just one local reporter--selected by Mount Vernon's mayor-- will have access.
According to Mayor Bud Morris, The media blackout comes at the request of Fox News and Glenn Beck representatives. The Seattle Times:
Norris, who planned the instantly controversial evening, said the directive came from Fox News and syndicated-radio personality Beck and his representatives, and that he wasn't told why: "No, I didn't ask for a reason." Norris said he would be choosing the one reporter allowed but hadn't decided who it will be.
KIRO Radio reports that an advocacy group claims 16,000 signed a petition to cancel "Glenn Beck Day."
The New York Times interviewed a Mount Vernon barber who said most people believe Beck should stay away:
"It's probably at least 60 to 40 against," said Fred Lee, a barber on First Street who has trimmed prominent heads in Mount Vernon for more than 30 years. "That's just a straw vote of people who come in here. It's leaning that he probably shouldn't come, mostly because of the controversial nature of the person."
Calling all HuffPost superfans!
Sign up for membership to become a founding member and help shape HuffPost's next chapter