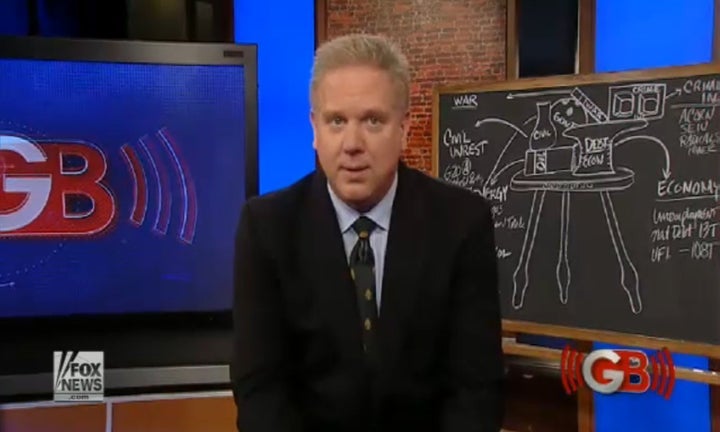 Glenn Beck has hit a new low for the year -- literally.
Beck's Fox News program saw its worst ratings of 2010 Friday, averaging just 1.776 million total viewers. Of course, that's more than his competitors -- MSNBC's "Hardball" (528,000), CNN's "Situation Room" (481,000) and HLN's "Showbiz Tonight" (197,000) -- combined, but it represents a continuation of a trend that began last month.
Friday's program was Beck's fifth worst since joining Fox News.
Politicususa's Jason Easley notes that Friday's total was "50% off of [Beck's] peak audience of 3.4 million" total viewers.
Beasley also writes that Beck is losing viewers because he sees himself as a political force more than an entertainer:
The root of the problem remains Glenn Beck himself. Beck fancies himself to be a political leader now, not an entertainer. On his radio show on April 20, Beck said, "When we were, and I've never told this story before, when we were starting the TV show, there were things that I did that I wouldn't do now because I had to be more of an entertainer to get people to go what is this show at five o'clock? I never said anything I didn't believe, but I may have said things in an entertaining fashion." The problem is that viewers don't seem to like the new serious Glenn Beck.
This, however, directly contradicts a statement Beck gave to Forbes in April.
"I could give a flying crap about the political process," he told the magazine. "We're an entertainment company."
Related
Popular in the Community