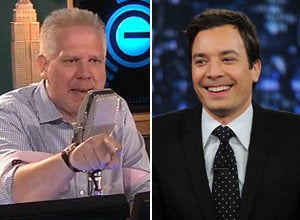 Speaking on his Tuesday show, Beck called Fallon a "despicable, reprehensible human being," and called for the late night host to fire his house band, The Roots. (This has not occurred, though Fallon has since apologized.)
"Jimmy Fallon, you should be ashamed of yourself," Beck said. He added that if someone did that at his own show, he would fire them immediately. Beck turned to his co-host and said "if you ever did that, I'd fire your ass so fast your head would spin!"
He then said that Fallon probably would not fire his house band because he was "a girl...playing little girl games." Speaking to Fallon, he added "everything is a little funny game to you. The Republic is at stake." He said the host was guilty of "violating basic human decency."
WATCH:
Related
Popular in the Community