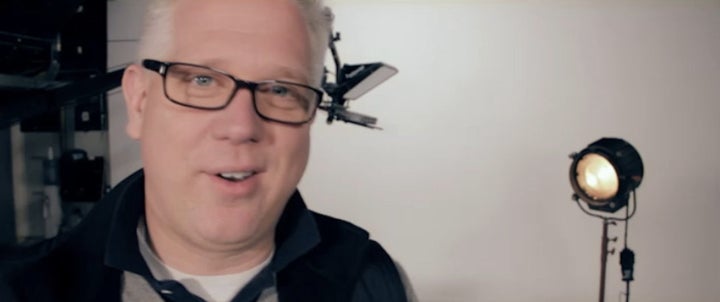 NEW YORK -- Glenn Beck promised radio listeners Tuesday that his forthcoming subscriber-based online network will not be "like anything else you've seen on the Internet."
"Think of this as Netflix, except for entertainment, information, news," Beck said.
Beck and his associates have been hinting at possibly starting a channel in recent months. And on Tuesday, Beck started rolling out details for GBTV, which launches on Sept. 12. Beck, who's leaving his 5 p.m. Fox News show at the end of June, will host an online-only program from 5 p.m. to 7 p.m when the network launches.
On Tuesday, Beck emphasized that GBTV will not be for everyone, but will gear its programming to what subscribers -- and presumably fans of Beck -- want. "This is not mass," Beck said. "This is for a group of Americans that know what they believe, know where they're headed, and want to move forward."
Beck boasted that GBTV will "craft the way news is delivered in a completely different way." He also said he plans to break into fake news territory; GBTV will have a libertarian host to rival Jon Stewart and Stephen Colbert, who comes from the viewpoint that "both parties suck."
"This network will not have an agenda other than the truth and man's freedom, not politics," he said.
Beck spoke Tuesday about trying to circumvent the middleman and promoted GBTV as being different from major television networks. "You're tired of a network telling you, 'well, no, you can't do this because this will hack off this sponsor or this will hack off this particular group or you have to watch out for this,'" Beck said. "That's why the shows you get on entertainment television are so homogenized."
By launching his own network, Beck may avoid some of the problems he encountered with Fox News over the past 2.5 years, from the growth of his personal brand to facing an advertiser boycott over incendiary comments.
While Beck handily tops his cable news competitors at 5 p.m., the conservative host's controversial statements -- like calling Obama "a racist" with a "deep-seated hatred for white people or the white culture" -- prompted an advertiser boycott that reportedly includes 400 companies.
Beck has also clashed with Fox News management, which tries to maintain tight control over on-air talent. Fox News chief Roger Ailes told The Daily Beast this week that Beck's goals were different from our goal" and that he "need[s] people focused on a daily television show." Beck, with his daily radio show, personal website, The Blaze, best-selling books, speaking engagements, and rallies -- whether in Washington D.C. last August or in Jerusalem this August -- clearly wasn't satisfied with just hosting a cable news show.
Also, Fox News, as New York magazine recently reported, is increasingly trying to emphasize its hard news anchors over its popular conservative commentators and past promotion of the Tea Party movement. With Beck leaving, the network won't have to grapple with its 5 p.m. host making controversial statements or weaving intricate conspiracy theories as the lead-in to its evening newscast, "Special Report with Bret Baier."
With GBTV, Beck will not have to worry about the show that comes after him -- or about pleasing network executives with ratings. Mercury Radio Arts president Christopher Balfe told The New York Times that "we're not trying to keep viewers, we're trying to please subscribers." And Beck can stay on for more than two hours if he chooses. "It's my network, so if I want the show to run 2 hours and 15 minutes one night, it will," he told the Times.
It's unclear exactly how Beck's new show will be different from his current one and whether Fox News viewers will flock online at 5 p.m. Subscribers can watch Beck's two-hour, daily show for $4.95 a month or get access to all of GBTV for $9.95 a month. Beck said he'll do some things like his Fox News show, albeit in a "much more concentrated fashion." And there will be a chalkboard on the web show, he promised, but with one difference: he wants it to be in the shape of a 3D cube.
Watch the video pitch Beck's making for GBTV today:
Watch Beck talk about GBTV on his radio show:
Related
Popular in the Community