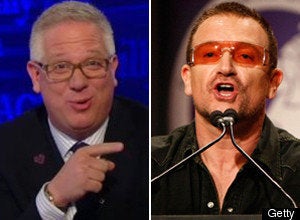 Glenn Beck took his devotion for the Spider-Man musical to a whole new level when he met Bono, the co-writer of the show's music, and gave him suggestions for how to retool the show he has called the best he has ever seen.
Beck said that he went back to see the musical and got a text message during the show, inviting him backstage to meet Bono when it was done.
He duly went, and the two talked, he said, for "like 30 minutes...about the American spirit, and he gets it." Beck was full of praise for Bono, telling him that a song from the musical called "Rise Again" was "the song for today. It's the point I've been trying to make--that you have a choice to make and you can be the hero."
Bono, he said, told him how much he appreciated Beck's mega-raves--not for himself, but for everyone who had worked so hard on the show and who were craving a decent review amidst the continually bad press for the show. Beck also advised Bono on how to retool the show--he wanted a reprise of a big song at the end.
"He put his hand on my shoulder and he pointed to everybody and he said, 'he has to come back Friday,'" Beck said. It turned out that Bono had had the exact same thought, and that there would indeed be a reprise of the song inserted into the show. Beck assured Bono that he would be there.
WATCH:
Calling all HuffPost superfans!
Sign up for membership to become a founding member and help shape HuffPost's next chapter